October Meat of the Month – Brandt Natural Beef Boneless Chuck Roast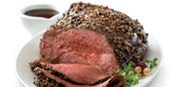 It's that time of the year for a good old fashioned pot roast. Our Brandt natural beef boneless chuck can be slow-roasted in a crock pot, Dutch oven or a cooking bag and makes a great meal for the entire family. Don't forget the potatoes, carrots, onion and celery. Top that off with a fresh Julian Pie, available at all of our locations, your family with be smiling!
Price: $5.99/lb.
View our Meat Department Page.
Find a location nearest you.