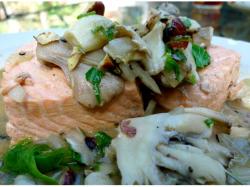 The Monterey Bay Aquarium's popular "Seafood Watch" guide is advising shoppers and fish buyers to avoid wild-caught salmon from Oregon and California, saying the population of salmon that originates in the Sacramento River and migrates to Oregon waters is too depleted.
The aquarium announced the change to its sustainable seafood guide for consumers last week. It comes in the midst of the first commercial salmon fishing season in three years south of Cape Falcon, near Nehalem on the northern Oregon coast.
Commercial fishing from Cape Falcon through California was closed in 2008 and 2009 because of concerns about historically low Sacramento returns. The Pacific Fishery Management Council allowed a limited season this year after projections indicated that Sacramento returns should perk up.
The aquarium's guide lists wild-caught salmon from Alaska as the "best choice" and wild-caught salmon from Washington as a "good alternative." It recommends avoiding salmon caught in Oregon and California. But it doesn't draw a distinction between fish caught south of Cape Falcon and fish caught to the north, which typically come from the relatively healthy Columbia River system.
To read the rest of the story, please go to: The Oregonian.