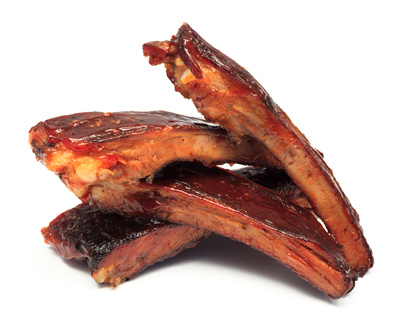 There is nothing more delicate and messy than a great rack of ribs on the barbeque. Chef Mike has prepared a great recipe for his Memphis Ribs. Enjoy!
What you'll need:
All natural pork baby back ribs –2 racks, lightly salted and peppered – both sides
Preparation – Dry Rub:
½ TBS Sweet Paprika
½ TBS Chili Powder
½ TBS Kosher Salt
1 Tsp Black Pepper
1 Tsp Garlic Powder
1 Tsp Onion Powder
1 Tsp Dry Thyme
1 Tsp Dry Oregano
1 Tsp Mustard Powder
½ Tsp Ground Coriander
½ Tsp Celery Seed
Mix all ingredients and set aside.
Preparation – Mop Sauce:
In a non-reactive bowl, mix 1 cup of Cider Vinegar, 1 TBS of Kosher Salt, and 2 TBS of Dry Rub – stir until salt dissolves and set aside.
Cooking Instructions:
Place ribs on grill, bone side down over medium, direct  heat.  Cook until that side is golden brown – approximately 30–35 minutes.  Flip the racks and cook meat side down until golden brown, approximately 20-25 minutes.  (Ribs should be able to be pulled apart with fingers)
Remove ribs and generously brush with Mop Sauce.  Season with as much of the Dry Rub as desired, and serve with Harvest Ranch Barbecue Sauce.
For any questions about recipes, or grilling tips email Chef Mike.