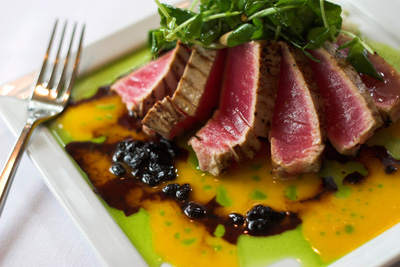 Ahi is one of the most delicate, flavorful fish varieties. At Harvest Ranch and Jonathan's Market, we sell only the best Sushi Grade Ahi delivered fresh every day. Try out this recipe, and you will be sure to love it! Key is, don't overcook it!
What you'll need:
Fresh Ahi steaks
¾ cup Soy Sauce
½ fresh lime – squeezed and juice reserved
½ Tsp Wasabi Powder
2.4 oz jar of Sesame Seeds
Preparation:
1. Mix together Soy Sauce, Wasabi Powder, and lime juice.
2. Dip Ahi steaks into mixture, plate, and then coat with Sesame Seeds
Cooking Instructions:
1. Preheat oven to 400.
2. Heat a heavy pan or griddle on stove top until hot.
3. Add Ahi and cook until you see browning from the side, approximately 1 ½ to 2 minutes.
4. Flip and cook another 1 to 2 minutes.
5. Put steaks on an oven safe platter and place in preheated oven for 5 minutes.
Serve with rice, prepared Wasabi, Soy Sauce, fresh lime wedges and Jicama Sticks.
For any questions about recipes, or grilling tips email Chef Mike.