This Friday our wine tasting events continue at our stores.
Here is the lineup for El Cajon. Click here for store location and directions.
Date: April 15th, 2011
Time: 5:00-7:00PM
Price: $15.00 EA
Location: El Cajon Store 619-442-0355
Wine Tasting must be purchased by 5:30 to guarantee a taste of each wine, thanks.
Special: Purchase any bottle of wine at Harvest Ranch Market on Friday*. Present your receipt at our neighboring Junction Steakhouse and we will waive your corkage fee. An $18 value!
This week's featured wines:

2006 Domaine Carneros by Taittinger Brut Sparkling Wine California
Harvest Ranch Price: $29.99
Description: Domaine Carneros by Taittinger 2006 Brut Sparkling Wine. Festive and vibrant, but rich and complex, with bright aromas of fresh cherry and lemon that lead to luscious flavors of raspberry, yeasty pear and crisp mineral. Rated 91 Points The Wine Spectator, November 2009
History:In the late 1970's, Claude Taittinger, the president of Champagne Taittinger, proclaimed his faith in the future of American wines and began the search on U.S. soil for a suitable winery site. In 1987, Champagne Taittinger, along with partner Kobrand Corporation, selected a 138 acre parcel in the heart of Carneros, a viticultural appellation they recognized to have the potential to produce world class sparkling wines. Also in 1987, Claude Taittinger selected Eileen Crane to oversee the planning and development of the property, as the winery's first and only winemaker.




Tobin James Radiance Chardonnay Monterey County
Harvest Ranch Price: $14.99
Description: Intense fruit; pineapple, grapefruit, mango, kiwi, and more, gush from the glass. The luscious tropical flavors overwhelm your senses.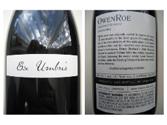 OWEN ROE 2008 Ex Umbris Syrah Columbia Valley
Harvest Ranch Price: $24.99
Description: Deep plum and dark cherry perfume precedes the velvety texture with bushels of blackberry, peppercorn and black licorice playing against plush tannins.
History: 'Ex Umbris' is Latin for 'out of the shadows'. Originally made as a one-off due to a wildfire that resulted in tremendously smoky grapes, this wine has become a NW signature Syrah. The current vintage is a blend of fruit from Mike Sauer's Red Willow Vineyard, Art DenHoed's Erickson Road Vineyard, and Bruce Morford's Slide Mountain Vineyard, each located in western Yakima Valley. The blend is balanced by fruit from the cooler, smoky Lewis Vineyard in The Dalles, and the unctuous fruitiness of Elerding Vineyard located in Alderdale, WA.



2007 Caravel Cabernet Sauvignon California
Harvest Ranch Price: $12.99
Description: Versatile, this wine can pair with a filet of beef, a leg of lamb, or a good old fashioned cheese burger! Varietal blend: 98% Cabernet Sauvignon, 1% Merlot, 1% Petite Verdot
History: Our 2007 Caravel Cabernet Sauvignon offers an amazing value from this prized vintage in California winemaking history. Praised as one of the best years in history for California Cabernet, we at Caravel feel that we were able to steal our seat on this thrill ride before it was too late! Sanguine and scarlet colors are complemented by ripe berry and plum aromas with a touch of toasty oak and vanilla. On the palate, dark fruit flavors are framed and balanced by silky tannins and bright acidity; a lingering finish conjures up memories from a day's past. We sourced our grapes from California's best coastal growing regions, known for producing Cabernet with rich, concentrated fruit flavors and balanced complexity. Gentle handling enabled us to minimize bitterness, warm fermentation maximized color and flavor extraction. The firm structure of the Cabernet was tempered with the Petit Verdot, which added depth, a hint of smoke, and juicy red berry fruitiness. The wine was aged one year in new and used American and French oak.



2007 Hess Collection Mount Veeder 19 Block Cuvée Napa Valley
Harvest Ranch Markets: $39.99
Description: Vintage: 2007
Blend: 74% Cabernet Sauvignon, 17% Malbec, 4% Syrah, 4% Merlot,
1% Petit Verdot
Appellation: Mount Veeder, Napa Valley 
Analysis: Alcohol: 14.6% | Ph: 3.81 | TA: 0.58g/100mL 
Cooperage: 16 months in French Oak (50% new) 
Vineyard: Hess Veeder Summit Vineyard – Altitudes ranging from 1,300 to 2,000 feet above sea level. 

Tasting Notes: Aromas of plum and black currant intermingled with caramel and molasses. The silky entry melts into an ultra-rich core of dark fruit. A supple finish is testament to this wine's immediate approachability.


For more information about our wine tastings, visit our wine page at harvestranchmarkets.com.