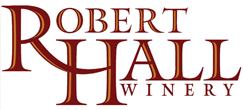 "The Robert Hall Tasting"
We've had spectacular results with Paso Robles wine and this weekend we're sampling an interesting assortment of varietals from one of the area's leading winemakers, the Robert Hall Winery.
The Hall family fell in love with Rhone-style wines and winemaking during a visit in the 1980's and in the  early-90's, Robert and Margaret Hall discovered the perfect terroir in the Paso Robles appellation featuring soil rich in nutrients, coupled with warm days and cool nights.
We'll start off with a crisp Sauvignon, move on to a delicious Viognier and then into a supple Cabernet Sauvignon. For a change-of-pace this weekend, we'll end with an Orange Muscat and a Port, both of which make terrific dessert companions.
We invite you to stop by and enjoy these excellent wines that are discounted for the events and join your fellow tasters and another varied assortment of cheeses and other goodies with your host, Bill Callahan.
Harvest Ranch El Cajon Wine Tasting Event:
Friday, October 17th, 2014  5pm – 7pm
Saturday, October 18th, 2014  3pm – 5pm

759 Jamacha Road
El Cajon, CA 92019
619-442-0355
View Map
This weekends selections: $15.00

Robert Hall Sauvignon Blanc 2013       ($13.99 During Tasting)

A vivid straw-green in color, this wine greets the senses with crisp apple and citrus aromas with hints of pear. It exhibits bright fruit flavors of grapefruit, lime, apple, lemongrass and pear that echo the aromas.
Robert Hall Viognier 2013        ($16.99 During Tasting)
Featuring orange blossom and sweet spice aromas, this wine shows flavors of white peach and honeysuckle with a hint of lime zest. On the palate the wine has a luscious body and finishes with a balanced mouth-watering acidity.
Robert Hall Cabernet Sauvignon 2012      ($16.99 During Tasting)
A full-bodied, flavorful cab with an intense dark ruby red color and scents of black currant, cedar and spice along with cocoa aromas echoed by rich persistent flavors of plush ripe fruit, dark chocolate and anise.
Robert Hall Orange Muscat 2013     ($13.99 During Tasting)

A vivid yellow-gold in color, this wine entertains the senses with fresh citrus and orange blossom aromas with a touch of sweet ginger spice echoed by bright, sweet tropical fruit flavors. It features a balancing crisp acidity that pairs with spicy cuisine, as an accompaniment to dessert or as an aperitif.
Robert Hall Vintage Port 2010     ($24.99 During Tasting)

This traditional blend of five Portuguese grapes produces a classic vintage port. Deep ruby red in color, and beautifully balanced, the wine delivers a burst of berry fruit flavors with a velvet smooth finish of spice and tobacco. Enjoy on its own or pair with a full-flavored cheese or "rich" dessert.