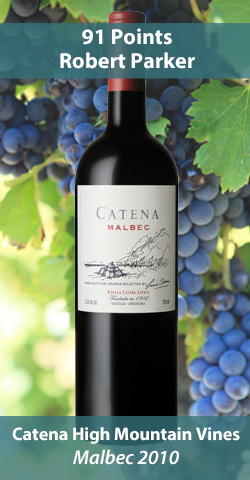 Friday night and Saturday afternoon in El Cajon, we'll sample some terrific wines we've brought in from Argentina and balance that with some Napa gems that will provide a wide variety of tastes for your sampling
We'll begin with a white from a mile-high vineyard, an Hermanos Torrentes that earned a 90-point rating from Robert Parker followed by a fruity Molnar Family Pinot Noir from Carneros.
Then we'll turn back to Argentina for more full-bodied wines. The Diamandes Perlita is a sensational buy for under $10, dynamite blend of Malbec and Syrah from Mendoza followed by an always-dependable Catena Malbec, this time the 2010 which won a 91 from Parker.
Next up will be a unique Napa Grenache from T-Vine Cellars, a winery that always promises bold-tasting offerings. We'll finish up with a 2007 Jaffe Napa Metamorphosis, structured in the traditional Napa style.
Please stop by and join in the merriment with your gregarious host, Bill Callahan.
Harvest Ranch El Cajon Wine Tasting Event:
Friday, January 17th, 2014  5pm – 7pm
Saturday, January 18th, 2014  3pm – 5pm
759 Jamacha Road
El Cajon, CA 92019
619-442-0355
View Map
Featuring "Argentina and more Tasting"
This weekends selections: $15.00

Hermanos Torrentes Valle de Cafayate 2011   ($14.99 During Tasting)

"Finca Domingo's 2011 Torrontes comes from a Cafayate vineyard located at 5500 feet of elevation. Its fragrant tropical fruit aromas set the stage for a dry, medium-bodied, vibrant wine with a lingering, fruit-filled finish.''  — Wine Advocat. 90 Points – Robert Parker
Molnar Family Pinot Noir    ($25.99 During Tasting)
This Carneros juice is loaded with focused, fresh fruit from the initial aroma to the flavors on the palate. What at first seems like a more delicate wine, with overtones of just-picked red plums and cherries filling the glass, turns much broader in the mouth.
Diamandes Perlita Malbec/Syrah 2010   ($8.99 During Tasting)
Terrific buy on a tasty, full-bodied blend of 80 percent Malbec and 20 percent Syrah from a French-backed vintner in Argentina's Mendoza Valley. Great with barbecues.
Catena High Mountain Vines Malbec 2010    ($21.99 During Tasting)
Catena wines consistently achieve high ratings and the 2010 Mendoza maintains that tradition. The taste is rich and concentrated, with blueberry and blackberry notes and a touch of leather and cinnamon that finishes with exceptional length. 91 Points – Robert Parker
T-Vine Napa Valley Grenache 2008    ($27.99 During Tasting)

The winemaker writes "I like my wines the way I like my families and friends…obnoxiously forward" and this bottle of one of the world's most planted grapes definitely has its own unique personality and vibrant taste.
Jaffe Metamorphosis Cabernet Sauvignon 2007    ($44.99 During Tasting)

A classic Napa Cab with ripe fruit flavors, most prominently Bing cherry and plum. This is a thoroughly contemporary bottling made in a traditional style of balance, elegance, restraint and longevity.
See you all this weekend!