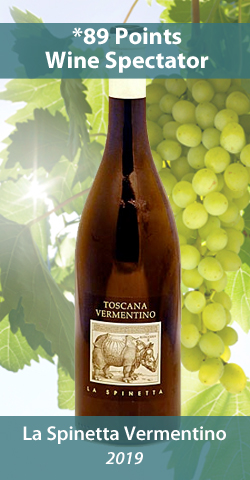 Friday night in El Cajon we'll complete our two part Italian tasting with a sample of Tuscany.   When most people think of powerful wines from Italy, they think of Super-Tuscans or Brunellos.  We'll taste some, as well as some fantastic Chiantis.
We hope you'll join us for this amazing tasting!
~ Patrick Campbell
Harvest Ranch El Cajon Wine Tasting:
Friday, October 4th, 2013 5pm – 7pm
759 Jamacha Road
El Cajon, CA 92019
619-442-0355
View Map
Tuscany Wines
This weeks selections: $15.00

La Spinetta Vermentino 2009    ($16.99 During Tasting)

Wonderful aromas of peach, papaya, citrus and rosemary, flavours of apricot and peach with a refreshing minerality and long, crisp finish. Delicious and invigorating. A great wine with sashimi and raw oysters. 89 Points – Wine Spectator.
Fontodi Chianti Reserva 2001   ($59.99 During Tasting)
Very fresh on the nose with lots of dried flowers, berries and crushed fruit. Medium- to full-bodied, with good tannins and a bright, fruity finish. Solid, beautiful yet refined … as always. 91 Points – Wine Spectator
Fontodi Chianti 2006  ($32.99 During Tasting)
Beautiful aromas of rich plum and black cherry follow through to a full body, with velvety tannins and a long, rich finish. 90 Points – Wine Spectator
Cupio Brunello 2004   ($32.99 During Tasting)
Intense perfume of cherries, raspberry, smooth tannins, nicely structured, powerful, ripe and balanced.
Poggio Bonelli 2005   ($47.99 During Tasting)

The intense and persistent bouquet of red jams and spices (pepper, cinnamon) gives way to hints of tobacco and cocoa and closes with a burnt earth and leather sensation. Powerful tannins on the palate. 85% Sangiovese, 15% Merlot
Fabius 2004   ($24.99 During Tasting)

Big, juicy and caressing, with loads of ripe fruit, plum and blackberry character. Full, long and delicious. 100% Syrah. 91 Points – Wine Spectator
See you all tonight!