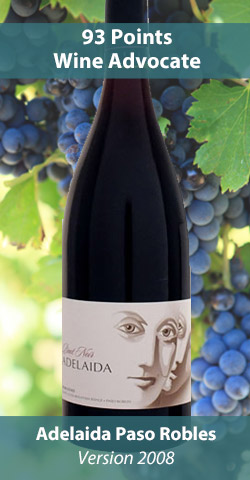 As January blends (Get it? That's our theme.) into February we invite you to join us and our friends Friday night and Saturday afternoon in El Cajon for a sampling of an assortment of red blends and a budget-friendly, tasty Chardonnay.
While the Super Bowl crowd back in New Jersey (not New York) fights off the chill we'll begin our toasty afternoons with one of Patrick Campbell's bargain finds: a sensual Carmenet '12 Chardonnay that is delicious.
We'll move on through and assortment of blends that combine classic Bordeaux and Rhone combinations from California vintners, including a return of the Steltzner claret (this time an '08) that was your favorite a few months ago. JAM's fruity blend of Sonoma grapes, another killer from always-dependable Adelaida in Paso Robles and an '05 Panacea Merlot-based Napa blend will follow.
We'll wrap up with BV's '09 Beaurouge that the winery describes as "a symphony of tastes." No surprise considering it's a blend of Merlot, Cabernet Sauvignon, Zinfandel, Syrah, Petite Sirah, Touriga and Mourvedre. It carries great fruit flavor without being jammy.
Stop in, pick out your favorites for your Super Bowl party and enjoy yourself with your gregarious host…
Bill Callahan
Harvest Ranch El Cajon Wine Tasting Event:
Friday, January 31st, 2014  5pm – 7pm
Saturday, February 1st, 2014  3pm – 5pm
759 Jamacha Road
El Cajon, CA 92019
619-442-0355
View Map
Featuring "Blend of the Month" Tasting

This weekends selections: $15.00

Carmenet Chardonnay 2012   ($8.49 During Tasting)

We scored a terrific buy on this tasty, fruity Carneros Chardonnay and stocked up on it. This is a great bargain for the price.
JAM Sonoma Red Blend 2011   ($17.99 During Tasting)
A Cabernet Sauvignon-based blend that is fruit-forward with strong flavors of blackberry and raspberry with hints of vanilla and clove.
Panacea Vendetta Napa Red 2005   ($19.99 During Tasting)
Interesting blend of Cabernet Franc, Merlot, Petit Verdot from the Spring Mountain District opens up nicely to berry flavors.
Steltzner Napa Claret 2008    ($17.99 During Tasting)

You loved the '07 and we think the next vintage of this Bordeaux-styled blend is better with 68% Cabernet Sauvignon, 20% Merlot and 12% Cabernet Franc.
BV Napa Beaurouge 2009    ($24.99 During Tasting)

Wow! Kitchen sink blend of Merlot, Cabernet Sauvignon, Zinfandel, Syrah, Petite Sirah, Touriga and Mourvedre. Great fruit flavor without being jammy.
Adelaida Paso Robles Version 2008   ($29.99 During Tasting)
Our friends on the Central Coast crafted this classic Rhone-style blend of Mourvedre, Syrah and Grenache that is impressively rich and smooth in flavor. 91 Points – Wine Enthusiast 
See you all this weekend!