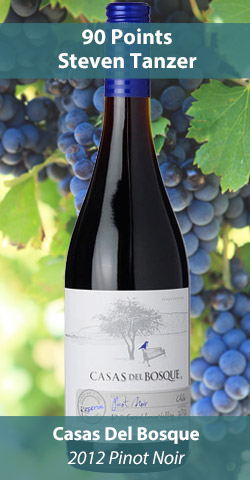 Casas Del Bosque is a family boutique winery established in 1993 and is located 70 km from Santiago, the capital of Chile. Its grapes come from the Casablanca Valley, the preferred place for premium wine production in Chile
Their wines consistently score high ratings and are reasonably priced and we'll share them with you this weekend. We'll have some Casas Del Bosque representatives joining us to share their knowledge of these excellent wines, including a Sauvignon Blanc, Chardonnay, Pinot Noir, Carmenere and Cabernet Sauvignon.
Please join us. – Bill Callahan
Harvest Ranch El Cajon Wine Tasting Event:
Friday, February 28th, 2014  5pm – 7pm
Saturday, March 1st, 2014  3pm – 5pm
759 Jamacha Road
El Cajon, CA 92019
619-442-0355
View Map
Featuring the "Bueno Chile!" Tastings

This weekends selections: $15.00

Casas Del Bosque Sauvignon Blanc 2013   ($11.99 During Tasting)

Intense notes of key lime, grapefruit and fresh ginger dominate the nose and in the mouth there are bright flavors of ginger and citrus. – 90 Points Tanzer
Casas Del Bosque Chardonnay 2012    ($13.99 During Tasting)
Aromas of walnut, ripe pear and quince dominate. In the mouth a citrus backbone finishes with a subtle smoky/woody note. – 90 Points Tanzer
Casas Del Bosque Pinot Noir 2012     ($16.99 During Tasting)
Rich notes of crushed strawberry and bramble dominate the nose followed by spicy notes of cinnamon, cedar and red cherry. – 90 Points Tanzer
Casas Del Bosque Carmenere 2012     ($11.99 During Tasting)

On the nose, notes of black pepper, black cherry with a hint of fresh rosemary. In the mouth red plum, sweet tobacco and cinnamon surface. – 89 Points Tanzer
Casas Del Bosque Cabernet Sauvignon 2012     ($13.99 During Tasting)

Deep ruby red, on the nose this wine exhibits lifted notes of dark cherry, plum and expresso bean. In the mouth ample flavors of cassis, cinnamon and nutmeg dominate. – 91 Points Tanzer
See you all this weekend!