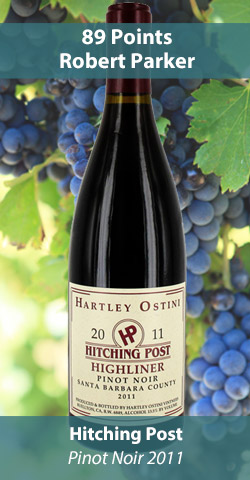 Valentine cards and candies may be nice and sweet but we feel there's no better way to share a day celebrated to love than with a nice bottle of wine with your sweetheart. This weekend we'll be sharing a charming international assortment of wonderful flavors.
We'll start off with an essential for any Valentine's Day celebration: the bubbly. Ours is a pleasing French brut, Placere, which takes its name from the Latin word for "pleasure."
That leads to the Hitching Post, or in this case, a Hitching Post Central California smooth and charming Pinot Noir. By now passions are beginning to rise and who embraces love more than the Italians, from whom we present a passionate Sicilian Merlot followed by another salute to love from Argentina – the delicious Enamore, a blend that is made in the Amarone style.
An absolute favorite of our customers, the Stephanie Cabernet Sauvignon, which draws nothing but loving reviews from anyone who has taken home a bottle will be next. A perfect pairing with an intimate Valentine's Day dinner.
Finally, what would love be without sex and our final wine with be the 2012 Sexual Chocolate, a seductive blend of syrah, zinfandel and petite sirah from Napa, Sonoma and Santa Barbara.
Please join your favorite cupid, Bill Callahan this weekend and enjoy the wine and company.
Harvest Ranch El Cajon Wine Tasting Event:
Friday, February 7th, 2014  5pm – 7pm
Saturday, February 8th, 2014  3pm – 5pm
759 Jamacha Road
El Cajon, CA 92019
619-442-0355
View Map
Featuring "Be My Valentine" Tasting

This weekends selections: $15.00

Placere Les Filantes Champagne NV   ($25.99 During Tasting)

The name for this French champagne is taken from the Latin word for pleasure and this tasty brut is a pleasure to share with your Valentine.
Hitching Post Pinot Noir 2011   ($25.99 During Tasting)
Hook up with this Central Coast offering of nice berries tasty enough to smooth over the bumps in any relationship. – 89 Points Robert Parker
Feudi del Pisciotto Valentino Merlot 2008    ($27.99 During Tasting)
Ah, from the Italians, who claim to have invented love, comes this Sicilian Merlot brimming with the island's passionate approach to life.
Allegrini & Renacer Enamore 2011    ($25.99 During Tasting)

Marry Argentinean Cabernet Sauvignon, Cabernet Franc, Bonarda and Malbec for a wine that delivers a flavor crafted in the Amarone style. Absolutely delicious.
Stephanie Cabernet Sauvignon 2008    ($46.99 During Tasting)

 Cupid's instruments of love: a bow, an arrow and a harp. The harp's on the front of this fabulous Napa Cab. A fantastic gift to share with a sweetheart  – 96 Points Wine Enthusiast
Sexual Chocolate 2012   ($22.99 During Tasting)
A delicious blend of 60% Syrah, 30% Zinfandel and 10% Petite Sirah the winemakers warn sweethearts to "enjoy responsibly, just not conservatively."
See you all this weekend!