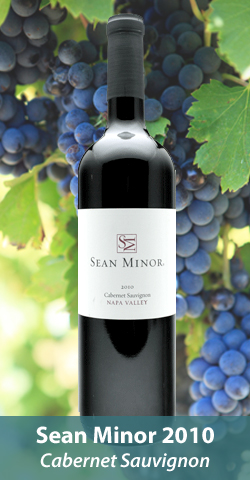 If you had to pick one, Napa Valley would probably be our favorite region for big Cabernets and Red Blends. Alexander Valley, Washington, and Paso Robles have had their champions as well, but could not match the sheer numbers of great reds that Napa produced. Recently, however, we've noticed some stellar new big reds from Paso, and so decided we should examine the situation a little more closely.
Join us Friday at El Cajon, as we compare Paso Robles Cabs and Blends to similar Napa productions. We'll try some high end, some low end, and believe it or not, one that's a blend of Paso and Napa fruit!
Harvest Ranch El Cajon Wine Tasting:
Friday, July 12th, 2013 – 5pm – 7pm
759 Jamacha Road
El Cajon, CA 92019
619-442-0355
View Map
This weeks selections:
Sean Minor Cabernet  2010 (Regularly $14.99) $12.99 During Tasting

Displays aromas of lavender, cedar and raspberry fruit. Flavors of blackberries and raspberries combined with hints of savory spices coat the palate. The soft tannins and sweet oak lead to a long and lingering finish.   
Louis Martini Cabernet 2010 (Regularly $26.99) $22.99 During Tasting
Concentrated flavors of black cherry and blackberry are framed nicely by cedar and toast notes on the finish. Rich and broad in the mouth, this wine has a long finish with an expansive palate.
Niner Fog Catcher  2008 (Regularly $54.99) $47.99 During Tasting
Complex aromatics and flavor layers that evolve in the glass, beginning with wood characters followed by tart berry and lovely notes of rosemary and thyme. Flavors are full and big but not overripe. Gold SFC
Mirror Cabernet  2010 (Regularly $79.99) $67.99 During Tasting
The palate offers layers of complexity – a soft, ripe entry of dark cherry with hints of  leather followed by a concentrated core of blackberries, with highlights of vanilla, cinnamon and cedar.  Its balanced acidity delivers a seamless harmony of fruit and rich tannins that integrate into a clean and long lasting elegant finish.
The Paring  2010 (Regularly $24.99) $21.99 During Tasting

Established as a cousin winery to Napa's acclaimed Screaming Eagle, Jonata's first commercial vintage in 2004 caused a stir. Then Robert Parker called them "one of California's most exciting new wineries" in a review, and the floodgates blasted open with collectors and connoisseurs scrambling to find their wares. The Paring over-delivers in a big way. Dark berry and plum flavors meet creosote and toast in a bottle of wine that dares you to look at its price tag and find something amiss.
See you all at the tasting!