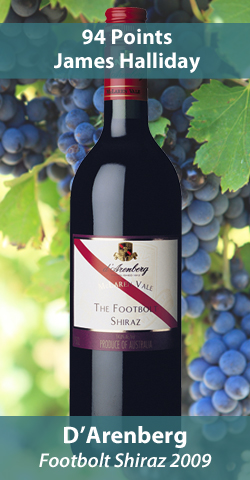 Syrah or Shiraz is a dark-skinned grape grown throughout the world, but traces its origins to the Rhone Valley of southeastern France.  The wines that made Syrah famous were those from Hermitage and the Cote Rotie, or "Roasted Slope". These wines have for centuries had a reputation for being powerful and excellent. This area attracted many eonophiles of the day, such as Thomas Jefferson. Syrah continues to be the main grape of the northern Rhône and is associated with classic wines such as Hermitage and Cote Rotie.
In the southern Rhône, it is used as a blending grape in such wines as Chateauneuf du Pape.  Syrah is also widely used as a blending grape in the red wines of many countries due to its fleshy fruit mid-palate, balancing the weaknesses of other varietals and resulting in a "complete" wine.
Friday in El Cajon, we will compare some of the best French, California,  and Australian versions of the Syrah grape ~ don't miss this fascinating study of one of the greatest varietals!
Harvest Ranch El Cajon Wine Tasting:
Friday, July 26th, 2013 – 5pm – 7pm
759 Jamacha Road
El Cajon, CA 92019
619-442-0355
View Map
This weeks selections: $20.00

Stepping Stone Rose of Syrah 2010 ($16.99 During Tasting)

"This lovely pink has it all- focus, balance, crisp acidity and delicately rich fruit.  Offers notes of raspberry, spice and smoky vanilla." 90 Points – Wine Spectator
Dom. Stephan Cote Rotie 2006 ($98.99 During Tasting)
Ripe and juicy, but with nice cut, as olive, briar, cassis bush and violet notes lead the way for the core of blackberry and damson plum fruit. Not shy with a hint of animal in the mix, but the long, minerally finish leaves a mouthwatering feel.
Dom. Durieu CdP 2005 ($39.99 During Tasting)
"More complete and denser, but just as charming as its 2006 counterpart, the 2005 Chateauneuf du Pape exhibits a deep ruby hue, and a fleshy, medium to full-bodied personality filled with black fruits intermixed with hints of licorice, herbs, and lavender. A spicy wine with fine length." 90 Points – Robert Parker
JC Smoke & Mirrors  2011 ($21.99 During Tasting)
Pureness of fruit is the main focus of this wine, but there is definitely a dark and brambly side that lends intrigue. With notes of wild raspberries and blackberries, a hint of sweet cream and dark cocoa powder, this wine is complex enough to confound while remaining approachable and easy to drink.
JC Rockpile Syrah  2008 ($49.99 During Tasting)

"As much as we like the depth and wonderfully rich fruit evinced by JC Cellars Syrahs, we are even more impressed by the fact that their winemaker manages to go right to the brink without going too far and somehow achieves exceptionally fine balance in wines of such high ripeness.  This very rich wine is just such a case, and it exhibits a wealth of very deep, fully ripened blackberry fruit played against a full measure of oak and subtle touches of pepper and stones."~ CG  94 Points – Connoisseur's Guide / 93+ Points – Robert Parker
D'Arenberg Footbolt Shiraz 2009 ($18.99 During Tasting)

"Superb, bright clear crimson; it's not the first thing that normally comes to mind with d'Arenberg, but this is an elegant, fine, medium-bodied wine; the fruits are more in the red than black spectrum, and it is spice more than dark chocolate that joins the fruit, oak and tannins, all perfectly weighted."~ James Halliday – 94 Points
See you all at the tasting!