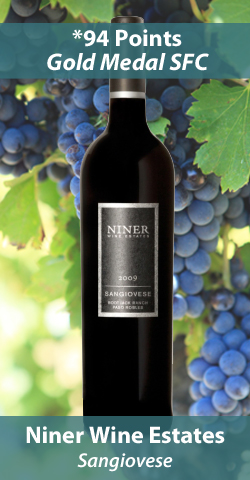 This Friday we will be sampling some great wines from Niner Wine Estates in Paso Robles.
More than a decade ago, 1996 to be exact, Niner Wine Estates owner Dick Niner came to Paso Robles to investigate a sunglass manufacturer called Dioptics that was in some sort of financial/management difficulty. Eventually Niner gained control of the company and in doing so, fell in love with the surrounding area. He began visiting wineries in the Paso Robles area and learned what he could about the groundswell of attention the entire Central Coast area was receiving on a national and international basis. He asked a bunch of questions and finally made the decision to attempt to acquire some property that he could make into a winery. Niner Wine Estates owns and operates three estate vineyards: Bootjack Ranch located on the east side of Paso Robles, Heart Hill Vineyard located on the west, and Jespersen Vineyard located in the Edna Valley.
Niner winemaker, Amanda Cramer, has held positions at Far Niente, Chimney Rock, and Paradigm and also furthered her craft in both Australia and Chile.
We are sure you will enjoy these wines.
Harvest Ranch El Cajon Wine Tasting:
Friday, August 8th, 2013 – 5pm – 7pm
759 Jamacha Road
El Cajon, CA 92019
619-442-0355
View Map
This weeks selections: $15.00

NINER SAUV BLANC ($22.99 During Tasting)

Balanced on the palate with bright acidity and tropical fruit flavors of kiwi, pineapple and lychee, this S/B lends itself to many food-pairing possibilities. 93 Points – Gold Medal Central Coast Wine Competition.
SUMMERS CHARDONNAY RSV ($22.99 During Tasting)
Fermented and aged sur lie for eight months in French Oak, this Alexander Valley wine possesses a golden color, lovely fragrance layers of pineapple, pear, apple and lemon cream pie, with a soft finish of nutmeg and citrus blossoms.
NINER SANGIOVESE ($22.99 During Tasting)
Aromas include malt chocolate, hot cocoa mix, a dried woody character and tart cran-cherry. Vanilla, caramel and nutmeg baking spices round out the velvety flavor profile, with big texture and good tannin structure. In true Italian-style, this Sangiovese simply begs for food! 94 Points – Gold Medal San Francisco Chronicle  Competition
 NINER TWISTED SPUR ($27.99 During Tasting)
This delicious estate blend of Syrah, Cabernet Franc, Petite Sirah and Carmenere is redolent with many of the qualities that we love in these varieties – notes of juicy blueberry, blackberry, mocha, caramel and sweet tobacco fill the glass. These flavors transition into beautiful earthy aromas of cedar, lichen and forest floor. 91 Points – LA Competition
NINER FOG CATCHER ($46.99 During Tasting)

Beginning with wood characters followed by tart berry and lovely notes of rosemary and thyme, the flavors are full and big but not overripe, with chalky tannins and a long, dry leafy finish. Gold San Francisco Chronicle Competition.
NINER PETITE SYRAH ($22.99 During Tasting)

This wine is well-structured with complex fruit characteristics of plum and blackberry intertwined with pleasing herbal notes. On the nose, there are hints of cedar. In the mouth, the wine is rich yet dry, with chewy tannins and an extended, lingering finish. 90 Points – Rhone Report
See you all at the tasting!