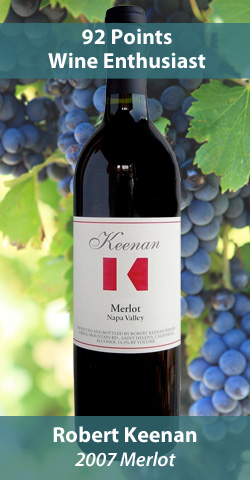 Friday night in El Cajon we'll taste some incredible wines from Northern Italy.  When most people think of powerful wines from Italy, they think of Super-Tuscans or Brunellos.  We'll make the case that Nebbiolo and Corvina grapes can produce wines just as powerful and age-worthy.
Saturday afternoon we'll demonstrate that Merlots have been unfairly relegated to secondary status in the American wine consciousness.  To help prove the point, we'll be pouring the most iconic Merlot California has ever produced!
We hope you'll join us for this amazing weekend!
~ Patrick
Harvest Ranch El Cajon Wine Tasting:
Friday, September 20th, 2013 – 5pm – 7pm
759 Jamacha Road
El Cajon, CA 92019
619-442-0355
View Map
Northern Italy
This weeks selections: $15.00

Anselmi San Vincenzo  ($10.99 During Tasting)

"Fresh and floral, with lovely finesse to the finely meshed flavors of ripe melon, exotic dragon fruit, mandarin orange and fleur de sel–tinged mineral, honey and ground spice. Delivers a clean, lasting finish. Garganega, Chardonnay and Sauvignon Blanc."  (Top 100 last vintage) – 89 Points – Wine Spectator.
Produttori Barbaresco 2008 ($33.99 During Tasting)
"The Produttori's 2008 Barbaresco is simply fabulous. A sweet bouquet melds into expressive fruit in a Barbaresco that is exceptionally polished and refined.  Unusually sweet, silky and refined, the 2008 will take the better part of a decade to show the full breadth of its pedigree …. one of the very finest values in ageworthy wine from anywhere in the world."~ Robert Parker 92 Points – Wine Spectator.
Campofiorin Corvina Blend  2009  ($14.99 During Tasting)
Intense, deep, dark ruby red color; very viscous with purple edges. Strong and attractive cherry aromas on the nose with a pleasing spiciness. Great power and balance on the palate, with aromas of ripe fruit, cherries and blackcurrants. Soft and well balanced tannins.
Palazzo della Torre 2008   ($18.99 During Tasting)
"This sleek, polished red offers juicy blackberry and black fruit flavors, backed by refined tannins and well-integrated acidity. Hard to stop sipping. Corvina Veronese, Rondinella and Sangiovese." 90 Points – Wine Spectator To 100.

Tommasi Amarone 2008   ($63.99 During Tasting)

"Rich, smooth and very dense, with wonderfully tactile flavors similar to the aromas. This very pure Amarone finishes creamy-sweet but fresh, thanks to sound acidity. An extremely successful entry-level Amarone made from grapes that were air-dried for roughly four months." 93 Points – Steven Tanzer
Grotta del Ninfeo Recioto 2008   ($29.99 During Tasting)

Round, full and velvety on the palate. It's the sweet version of Amarone, it shares the same production method for the drying of the grapes, however, ferments differently in that the process is interrupted before all the sugar turns into alcohol. A very concentrated wine.
Saturday, September 21st, 2013 – 3pm – 5pm
759 Jamacha Road
El Cajon, CA 92019
619-442-0355
View Map
Merlot ~ Love it or leave it?
Todays selections: $10.00

Roth Sauvignon Blanc   ($16.99 During Tasting)

For a cool, refreshing starter, this S/B features floral and pepper aromatics that complement the lemon, pear and apple flavors, along with crisp acidity. 89 Points – Wine Spectator
Stonestreet Merlot 2005  ($22.99 During Tasting)
Sourced from gravel benchlands in the Alexander Valley, this Merlot displays opulent restraint.  The palate flavors are both savory (espresso/walnut) and fruit driven (pomegranate/cherry).  The winemaker likes to say that it has "one foot in the New World and one in the Old".
Frog's Leap Merlot 2007  ($29.99 During Tasting)
This opens with fresh cherry and currant aromas which are underscored with notes of chocolate.  Ripe flavors of cherry, cassis and plum are laced with herbs and cigar box.  The famous "Rutherford Dust" essence is understandably reflected. 91 Points – Wine Spectator
Robert Keenan Merlot  2007   ($24.99 During Tasting)
"A delicious Merlot, drily tannic and rich in blackberries, cherries and chocolate. Nearly as good as the winery's much more expensive Reserve." 92 Points – Wine Enthusiast

Duckhorn Merlot 2010   ($50.99 During Tasting)

The aromas are rich and inviting with layers of amaretto, sweet spice and cedar. On the palate, lush flavors of plum, blackberry and cherry dominate, with the tannins adding structure and depth.  A lovely and age-worthy wine that shows how much Merlot can excel.  Typically a high scoring wine with the critics, the 10 is a recent release and has not been scored yet.
See you all at the tasting!