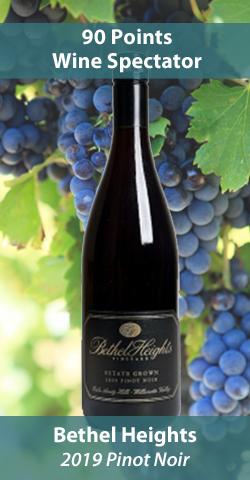 This Friday at Harvest Ranch El Cajon, due to popular demand, we will explore our favorite growing regions for Pinot Noir, with an eye toward contrasting the northern versus southern regions of our west coast.
We have found that there is more consistency year to year within places in the world that get their more stable influences from the ocean, places like Oregon and coastal California.  Differences begin to show when one accounts for latitude along the coast.  The most northern region, Oregon, arguably produces a more Burgundian style, in that French Burgundy is known for predominate earth and mineral notes and is a bit less fruit forward than most California Pinots.
The more northern parts of California, Anderson Valley and Sonoma/ Carneros, can seemingly produce either style, while the Central Coast, with its hotter climate, typically produces a riper, more fruit forward style.
Join us as we examine Pinot Noir properties Friday at El Cajon.
See you this weekend.
~ Patrick
Harvest Ranch El Cajon Wine Tasting:
Friday, September 6th, 2013 – 5pm – 7pm
759 Jamacha Road
El Cajon, CA 92019
619-442-0355
View Map
Pinot Noirs – North vs South
This weeks selections: $15.00

Bethel Heights 2009 ($19.99 During Tasting)

Polished, light and immensely appealing for its pretty raspberry, cream and floral aromas and flavors, lingering easily on the sleek finish. 90 Points – Wine Spectator
Champ de Reves 2010  ($25.99 During Tasting)
Very pure and sharply focused, with racy, precise strawberry and cherry flavors. 91 Points – Steven Tanzer
Domaine Carneros 2009  ($33.99 During Tasting)
Delivers cedar, juicy red fruit flavors, and a persistent hint of dark chocolate with a broad richness of even-tempered tannin that stretches into a long finish.
Talley 2011  ($29.99 During Tasting)
 "Wafts from the glass with exquisite aromatics and weightless, articulate fruit. Bright, nuanced and wonderfully delineated, this is a drop dead gorgeous wine." – 93 Points – Anthony Galoni
Lincourt 2009  ($24.99 During Tasting)

"Beautiful blackberry and lightly toasted oak on the nose and palate. Turns to spices and meat. Full-bodied, with soft tannins and a long finish. Balanced and pretty." 92 Points – James Suckling
Foxen 2011  ($33.99 During Tasting)

As Foxen's most fruit-forward Pinot Noir, this wine displays the bright red summer fruit of cherries and strawberries, with notes of cinnamon and clove, a velvety texture and a long lingering finish.
See you all at the tasting!