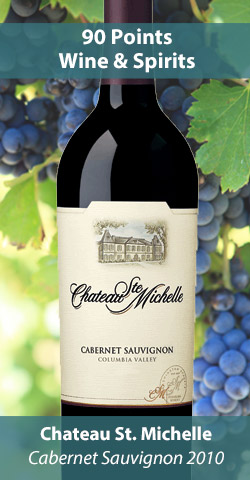 Please stop by and visit us this Friday night or Saturday afternoon in El Cajon and join in tasting an assortment of cabs. It'll be mostly Cabernet Sauvignon but we snuck in a very nice French-style Cabernet Franc as well. From the breezy Central California Coast to Sonoma, Napa and Washington's Columbia Valley we'll sample a variety of quality efforts.
As per our custom we'll start off with a white to get things rolling, this time an '11 Hill Family Estate Napa Valley Chardonnay. Paso Robles is making enormous strides in turning out quality wines and a Bianchi '10 cab will be next before we turn to the north and taste a great value: a '10 Chateau St. Michelle Columbia Valley Cab.
Turning back to Napa, next up will be an '05 Beaucanon Cuvee Louis Cabernet Franc, a grape usually used in blending but well constructed here to stand on its own.
An '07 Athair Sonoma Valley cab that's an Irish salute to fathers will be next and we'll wind up with an '02 Diamond terrace Napa cab from the Diamond Mountain District to add a touch of class.
Please stop by and join in the merriment with your gregarious host, Bill Callahan.
Harvest Ranch El Cajon Wine Tasting Event:
Friday, January 24th, 2014  5pm – 7pm
Saturday, January 25th, 2014  3pm – 5pm
759 Jamacha Road
El Cajon, CA 92019
619-442-0355
View Map
Featuring "The battle of the Cabs"
This weekends selections: $15.00

Hill Family Napa Chardonnay 2011   ($16.99 During Tasting)

This delicious "Carly's Cuvee" Chardonnay is made from Oakville and Russian River vineyards with only light oak influence
Bianchi Paso Robles Cabernet Sauvignon 2010     ($15.99 During Tasting)
Central Coast grapes aged for 22 months in French oak barrels produced a multi-layered cab with coffee-berry flavors.
Chateau St. Michelle Cabernet Sauvignon 2010    ($15.99 During Tasting)
This Columbia Valley cab highlights concentrated Washington red fruit in an accessible style with plenty of complexity. — 90 Pts Wine & Spirits
Beaucanon Napa Cabernet Franc 2005    ($25.99 During Tasting)

We snuck in an offering from a winery started by a Bordeaux winemaker maintaining the French touch with a classic Bordeaux grape.
Athair Sonoma Cabernet Sauvignon 2007    ($32.99 During Tasting)

Athair means "father" in Gaelic and this Irish-accented winery paid tribute to every "old man" out there with a complex offering from the vaunted '07 vintage.
Diamond Terrace Napa Cabernet Sauvignon 2002   ($44.99 During Tasting)
A nicely structured Diamond Mountain District cab that is full-bodied with a nice concentration of fruit. A great value!
See you all this weekend!