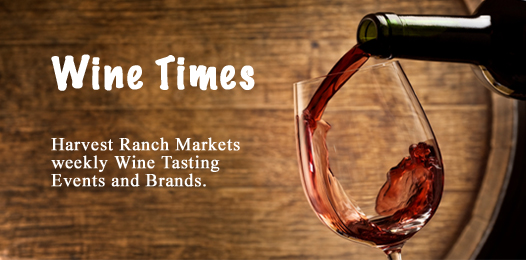 Hello Friends.

Happy Thursday everyone. Now that the sun is back out we can look forward to enjoying a great weekend ahead. We have a couple of announcements for you, which we are excited about:

First, we will be having a another one of our 20% Off Wine Sales this Saturday at our three stores. It is a one day only sale and there will not be another like it until the summer time.
Second, we are excited to announce that our new Barbecue will be up and running this Saturday from 4:00pm – 7:00pm at Jonathan's. We will be offering: 1/2 lb Kobe Beef Burgers for $4.99, as well as 1/4 lb "Big City Reds" all beef hot dogs for $1.99. So even if wine isn't your thing please stop by and enjoy a fantastic burger or hot dog with a cold beer or soda.
Also just to clarify, in our last email we posted that the hours for the wine tastings were 4:00pm – 8:00pm, that was an error, the regular wine tasting hours for Jonathan's are indeed 4:00pm – 7:00pm.
The "By The Glass" Specials remain the same below:

Whites:
Lloyd 2010 Carneros Chardonnay ($10.00)
2010 Beaucannon Sauvignon Blanc ($9.99)
Reds:
Bonnaccorsi 2007 Santa Rita Hills Pinot Noir ($10.00)
Von Strasser 2006 Cabernet Sauvignon ($15.00)
Our tasting selections are listed below for La Jolla this week.
Thank you very much for your continued support!
- Jason Perry
Wine Specialist
You can visit us online at any time at www.harvestranchmarkets.com


La Jolla Tasting Schedule:
7611 Fay Ave, La Jolla, CA 92037 – View Map
Friday, April 19th, 2013 – 4:00 – 7:00pm
Saturday, April 20th, 2013 – 4:00pm – 7:00pm
Contact: Jason Perry Email Jason

Wine's for this week:
Friday, April 19th, 2013
Lineup: Featuring Wines of California Meritage $20.00
Here are the wine's we will be sampling:
2011 Bridesmaid White ($19.99)
Barbie Blonde yellow a very pleasing color greets the eye and hibiscus flowers, lime blossom, kumquat, loquat stone, Yosemite minerals for the nose. Just the right amount of crispness satisfies the senses and finishes round and creamy like the meringue on a pie. Definitely pop corks on this wine and have a party!
2006 Stonestreet Fifth Ridge ($34.99)
"The 2006 Fifth Ridge Proprietary Red (a 3,500-case blend of 63% Merlot and 37% Cabernet Sauvignon) is a straightforward, richly fruity effort displaying notes of roasted herbs, bay leaf, mocha, coffee, and red berry fruit. Drink it over the next 7-8 years." Robert Parker Wine Advocate 87+ Points!
2008 Bridesmaid Napa Red ($39.99)
Cabernet Cauvignon 30%, Merlot 29%, Malbec 18%, Cab Franc 14%, Syrah 7%, Petit Verdot 2%. Blue and red make purple, right?! Dense color for the eyes and profuse berries and flowers greet the nose. Black cherry, blueberry, red rose petals, pipe tobacco all knit together for this big juicy mouthful. Oh so smooth finish with lots of length. All in this is a very seductive wine. Meritage gone wild, that's what Bridesmaid wines are all about. With their red blend, proprietors Pam Starr (Crocker & Starr) and Drew Neiman (Neiman Cellars) are going for full-flavored, whimsical blends of Bordeaux varieties, wines that are grown and produced with all the class Napa Valley terriore has to offer.
2006 Kristen Story Soiree ($39.99)
A profound offering of ripe blackberries, pomegranate, fleshy currant, wild plum, dark chocolate and caramel flavors is found in the 2006 Kristian Story Soirée Estate Meritage. The supple, silky, fine-grained tannins grace a soft finish. Will be at its peak between 2010 – 2015.
2009 Leviathan Red ($49.99)
If you're a fan of California cult wines, then you're probably familiar with the name Andy Erickson, who followed Heidi Peterson as winemaker at Screaming Eagle and has gone on to start or consult on a series of successfull labels including Favia, Ovid, Dancing Hares, Jonata and, of course, Leviathan. This formidable blend of 28% Syrah, 26% Merlot, 25% Cabernet Sauvignon and 21% Cabernet Franc comes from the same exceptional sources as Erickson's Favia wines, fit together like a puzzle. Ground pepper and coffee aromas are in the foreground, slowly revealing briar fruit, cherries, cedar, chocolate and cinnamon scents that are echoed on the palate. Full-bodied with round tannins and solid acidity, this powerful wine is already satisfying.
Saturday, April 20th, 2013
Lineup: Featuring Wines of Carneros $20.00
Here are the wine's we will be sampling:
2008 Domaine Carners Brut ($29.99)
This vintage brut from Domaine Carneros is comprisied of 57% Pinot Noir and 43% Chardonnay. It is the signature wine of the estate, which was founded by the Champagne house Taittinger in 1987. The grapes were completely sourced from certified organic estate vineyards in Carneros.
"A festive bubbly, with pretty floral cherry and lemon notes that lead to round, supple flavors of pear, raspberry and spicy vanilla. 90 points Wine Spectator!
2010 Merryvale Chardonnay ($29.99)
"Tight, with taut citrus, green pear, honeysuckle and spice notes that are slow to unfold. Most interesting on the finish, where creamy oak adds a nice touch. Drink now through 2018. 2,362 cases made." –JL Wine Spectator 88 Points!
2008 Donum Chardonnay ($54.99)
Both elegant and powerful, brimming with rich, ripe pear flavors and plenty of juicy, creamy-textured fig, dried apricot and apple tart notes. Hints of tobacco and spicebox chime in, but this remains graceful and smooth. Drink now through 2016. 157 cases made. –MW Wine Spectator 91 Points!
2010 Sean Minor Pinot Noir ($19.99)
Our Pinot Noir fruit is a blend of Pommard and Dijon clones from carefully selected vineyards in the Carneros region. All grapes are hand-picked at night and early mornings to keep the fruit at optimal temperatures. The fruit is then de-stemmed into bins and placed into open top fermenters. The fruit is cold-soaked for 3 days prior to initiating fermentation. Once fermentation begins, each tank is punched down two to three times per day to maintain consistent contact between the must and pommace throughout fermentation. Once the wine is fermented dry it is racked to barrels for completion of malo-lactic fermentation.
Donum 2009 Pinot Noir ($74.99)
"A pleasant earthy, loamy quality gives way to plush flavors of plum and black cherry, with wonderful finesse and generosity. Aromatic floral notes are seductive, and the finish goes on forever. Highly Recommended- Drink now through 2022. 400 cases made." –MW Wine Spectator 94 Points WOW!
A REMINDER ALL WINES IN THE STORE ARE 20% OFF THIS SATURDAY ONLY! STOCK UP!
El Cajon Tasting Schedule:
759 Jamacha Road, El Cajon, CA 92019 – Click here for Map – (619) 442-0355
Friday, April 19th, 2013 – 5:00-7:00pm.
Please note that to be included in our tastings in El Cajon all registrations must be made before 6:30pm.
Contact: Claire Peterson Email Claire

Wine's for this week:
Friday, April 19th, 2013 Lineup: $15.00
Here are the wine's we will be sampling today:
Husch 2011 Sauvignon Blanc Mendocino ($13.99)
The tradition of Husch Sauvignon Blanc began back in 1980, when the first Sauvignon Blanc crop from La Ribera Vineyards was harvested. The resulting wine – only about 200 cases – was an instant success. A tradition was born and the loyal following for Husch Sauvignon Blanc has continued to grow over the years.
When harvesting Sauvignon Blanc several passes are made through the vineyard to gain the wide spectrum of tastes and aromas which make this wine so special. Fruit that is picked earlier in the season offers a grassy component to the wine. Fruit picked later in the season typically has a tropical fruit character. This mixed approach yields a wine that is complex and nuanced with its flavors. The wine is cold fermented and aged in stainless steel tanks, preserving the crisp character of the varietal. The 2011 Sauvignon Blanc has zesty aromas of guava, lime, passion fruit and grapefruit. The wine's brilliant acidity enlivens the palate which is exploding with citrus and tropical fruits, as well as a fantastic minerality. A faint note of grass balances this wine's well-integrated fruit and crisp, yet slightly viscous texture. The 2011 Sauvignon Blanc is very versatile and pairs well with a wide array of foods from across the globe; Mexican, Thai, Greek or Indian cuisines all have flavors that play synergistically with this refreshing wine. Seafood, grilled asparagus or a crisp green salad with a Chévre topped crostini would also be a tantalizing treat for the palate.
Roth 2010 Sauvignon Blanc Alexander Valley ($19.99)
Roth Estate is committed to making wines with the truest and best expression of the diverse and idyllic growing conditions in Sonoma County. The 2010 Roth Sauvignon Blanc displays aromas of fresh flowers and dried citrus notes. On the palate, the wine is bright and refreshing with balanced notes of grapefruit, key lime and fresh tropical flavors. Fermented entirely in stainless-steel tanks, it has bright acidity and a minerality accent in its crisp, persistent finish. alcohol by volume: 13.2%. critical acclaim: "Pretty and delicate, featuring floral and white pepper aromatics that complement the lemon, pear and apple flavors. Sleek, showing a well-integrated, crisp acidity. Drink now. 15,000 cases made." 89 Points Wine Spectator
2010 Jules Taylor Wines Pinot Noir Marlborough ($19.99)
The wild fermentation along with extended lees maturation in a barrel has added complexity and texture to the palate on this Pinot Noir. This has created a supple wine with good weight and fruit intensity, which is already showing chocolate and cherry aromas mingled with hints of oak. The wine has a wonderfully vivid, violet hue.
Vinification The grapes for this Pinot Noir were grown in the Awatere and Brancott Valleys and picked by hand from late March as optimum ripeness was reached in each block. The wine was fermented completely using indigenous yeast and combined with rigorous hand plunging to ensure a good extraction of colour and tannins. Portions of the blend remained on skins post fermentation, while others were pressed at dryness and then transferred to French oak and stainless steel barrels for maturation.
Avalon Napa Cabernet Sauvignon 2010 Napa Valley ($19.99)
Our 2010 vintage shows aromas of plums, cranberries, allspice and dried ginger with barrel notes of cedar box. The blend of 88% Cabernet, 9% Merlot and a splash of Sangiovese and Zinfandel truly is reflected in its flavors. The dark, jammy core drinks of boysenberry pie, black cherry preserves and currants. Medium in weight, the wine shows silky tannins and just a touch of barrel spice. Pair this versitile Cabernet Sauvignon with everything from burgers, ribs, lasagna, or chicken Parmesan to smoked Gouda or cheddar cheese. It's also perfect to enjoy a glass before dinner or with friends.
alcohol by volume: 13.8%
Orin Swift Cellars "D66" Grenache 2009 (Maury, France) ($34.99)
D66 is the inaugural release from our new winery and vineyards in Maury, France. The small town of Maury is in the outer Roussillon very close to the Spanish border and nestled in the Pyrénées-Orientales. We own approximately 235 acres (93 ha.) of mostly Grenache vines with a little Syrah and Carignan. The majority of the vines were planted more than 60 years ago, with many of the vineyards being even older. The terrain is dominated by black schist with a couple small deposits of Granite and Limestone in red rocky soils known as Angile. Schist is a crystalline rock based soil that retains heat well but is poor in organic nutrients and nitrogens. In other words, these vines really have to struggle. The result is a very dark, concentrated, and rich wine. We can't say enough about this town, its people and the vineyards. With the help of our General Manager Richard Case and Vineyard Manager & Cellarmaster Bob Doyle, we hope to make a wine we can be proud of. Tasting Notes: The wine has a very dark, opaque red color with subtle aromas of toasted oak, ripe blueberry jam and dried rose petal. The entry is mouth coating and lush. Opulent plum and ultra ripe cherry are balanced with asian spices and a bright vein of minerality and acidity that give great structure, weight and balance to the long finish. The tannin chains are long and will lend to ageability for 5 to 10 years. 80% Grenache, 12% Syrah, 8% Carignan. 15.2% Alc./Vol. Aged in 100% French Oak, 25% new for 12 months. Bottle aged 10 months prior to release. Release date – May 5, 2011

Share: Please forward this email to any of your wine loving friends and family members by clicking on the Forward To a Friend link at the bottom of the page under the Harvest Ranch Market address. Also, make sure if you are on Facebook and Twitter to link up with us to receive updates.
Wine Pairings: In case you haven't checked out our website before, we have a wine pairings section there which you can use as a quick reference guide when pairing your wines.
We invite you to follow us on our social platforms on facebook and twitter to receive up to date information on specials and updates during the week.
If you should have any questions regarding our wine tasting events feel free to call or email Jason Perry in La Jolla or Claire Peterson in El Cajon.
Sincerely,
The Wine Team