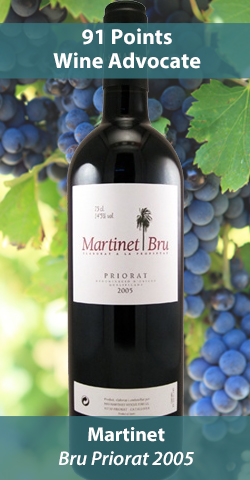 We had a request for Spanish wines so this Friday that will be our theme of the evening. This is our red wine lovers tasting since it will include just one white wine followed by four red wines.  The reds include wines all ranked 90 or higher in the wine advocate.  The evening culminates with the perennially highly acclaimed "Clio" from Jumilla Spain.  As usual it is a high octane blend of Cabernet and Monastrell. Although this vintage has yet to be rated, Clio has a history of mid ninety point rankings from Robert Parker.
On Saturday we will taste wines of California.  The lineup includes one Chardonnay from Solitude (it is that creamy rich style many of you enjoy) and one Sauvignon Blanc from Tamber Bey Winery.  We also enjoy three "big" California red wines.  When someone says "big red wine," what do you think of? I tend to think of a flavorful, full-bodied, rich wine with good concentration and balance. Big red wines also tend to be a bit heady (alcoholic), even tannic, but balance is key.  Cabernet is the varietal that comes to mind first, but other varietal, even a Pinot Noir, can be full-bodied. Other grape varieties known for making big red wines include Zinfandel, Nebbiolo, and Petit Syrah and Syrah.
I hope to see you all this weekend.
~ Jason Perry
Jonathan's Market La Jolla Wine Tasting:
Friday, January 10th, 2014 – 4pm – 7pm
Saturday, January 11th, 2014 – 4pm – 7pm
7611 Fay Avenue
(between Kline St & Pearl St)
La Jolla, CA 92037
Phone: 858.459.2677
View Map
Friday, January 10th, 2014 – 4pm – 7pm
Friday's Selections: $20.00 per person
Featuring the Wines of Spain

2009 Bodegas Fernando Ramirez Erre Punto ($29.99)
The 2009 Erre Punto contains 70% old-vine Viura and 30% old-vine Malvasia. It is slightly more expressive with a bit more depth, concentration, and complexity.
Bodegas Fernando Remirez de Genuza ranks among the top half-dozen producers in Rioja. Fernando Remirez de Ganuza has been able to accomplish this by melding the best aspects of traditional and contemporary Rioja styles into his own unique expression. White wine is a new addition to the portfolio." Jay Miller Wine Advocate – 92 Points!
2005 Algueira Riberia Sacra ($29.99)
Medium to dark ruby-colored, it offers Pinot Noir-like aromatics with pleanty of spicy red fruits and a touch of oak.  This leads to an elegant wine with incipient complexity, a silky texture sweet red berry flavors, and good length.  The wine can be enjoyed now and over the next 6 years (02/08) Robert Parker Wine Advocate 90 Points!
2005 Martinet Bru Priorat ($39.99)
"The 2005 Martinet Bru is purple-colored with an excellent nose of cedar, smoke, mineral, black cherry, and black currant. Structured, with enough tannin for 5-7 years of further evolution, this intense, lengthy wine will require considerable patience. The 2005 will drink best from 2008 -2015." Jay Miller Wine Advocate 91+ Points
2006 Sierra Cantabria Collecion Privada ($39.99)
"The 2006 Collecion Privada was sourced from some of the estate's oldest Tempranillo vines. Malolactic fermentation was in barrel and the wine was aged for 18 months in new French and American oak. It gives up an alluring bouquet of pain grille, liquid mineral, lavender, incense, and blackberry. On the palate it is layered, medium to full-bodied, ripe, and complex. Give this lengthy effort 3-4 years of additional cellaring and drink it from 2013 to 2026." Jay Miller Wine Advocate 92 Points!
2011 Clio Cuvee ($49.99)
One of the most desired wines in the world perennially is Bodegas El Nido's Clio.  For eight straight years this gorgeous, fruit-driven wine has averaged 95 points from Robert Parker's Wine Advocate. With the 2011 vintage set to arrive, one thing is for sure, the quality of the overall vintage in Spain (and for Western Europe for that matter) in 2011 was excellent to say the least with some properties proclaiming they have produced their finest wines in a generation – 2011 is turning out to be the finest vintage ever for the appellation of Jumilla.
Saturday, January 11th, 2014 – 4pm – 7pm
Saturday's Selections: $25.00 per person
Featuring Wines of California

2010 Solitude Chardonnay ($27.99)
Solitude Chardonnay is barrel fermented in French oak, utilizing Burgundian yeast strains. Malo-lactic fermentation, yeast contact, and stirring occur during the seven months of oak aging. Traditional Burgundian techniques combined with California cellar practices produces the ultra premium Chardonnay that is consistently marked with high quality and value.
2012 Tamber Bey Sauvignon Blanc ($29.99)
New to the Tamber Bey portfolio is our Sauvignon Blanc from the Tench Vineyard in Oakville. Winemaker Frederic Delivert developed a unique aging program for this wine, aging 60% of the wine for six months in both Oak and Acacia wood barrels and the other 40% in stainless steel. Blending both lots together has created a complex and fresh wine that is delightfully balanced.
2008 Star Angel Red ($39.99)
Marked by complex flavors built around rich mineral, graphite, dried berry, sage and cedar notes that are slow to unfold but offer wonderful depth, focus and length as they do. Syrah, Grenache and Mourvèdre. Drink now through 2022. 3,000 cases made. –JL Wine Spectator 92 Points
2009 Leviathan Red ($49.99)
A tight, young and vibrant red, with a pure, focused core of dried berry, currant and dill, expanding and gliding through the finish, where touches of dried herb and cedar reverberate. Cabernet Sauvignon, Merlot, Syrah and Cabernet Franc. Drink now through 2023. 6,700 cases made. –JL Wine Advocate 91 Points
2010 Snowden Cabernet ($49.99)
Snowden's 2010 Cabernet Sauvignon The Ranch is one of the bigger, juicier wines readers will come across in this vintage. Mocha, chocolate, spices, plums and black cherries seem to literally jump from the glass. Merlot plays a pretty important role in the 2010, which gives the wine much of its roundness and early accessibility. Round, expressive and racy, the 2010 Ranch is a terrific effort from Snowden. Anticipated maturity: 2014-2024. Wine Advocate 92 Points!
Hope to see you all out this weekend!