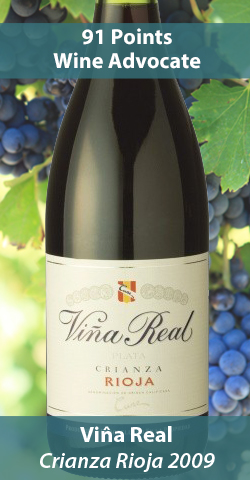 On Friday we will taste three wines from Portugal and two from Spain.  All of this evenings wine is red.  Two of the Portuguese wines are brand new to Jonathan's from Pratz & Symington.  The latter one received 94 Points from Robert Parker's Wine Advocate.  Our third Portuguese wine is just hitting its prime, the 2006 Quinta Vale D. Maria.  Are first Spanish red is a great value, the Vina Real Criaza which hails from the same house as this year's Wine Spectator Wine of the Year.  Our final Spanish red is another performing at its peak right now, the Martinet Bru Priorat.  If you prefer wines over Champagne be sure to join us tonight since we will be featuring bubbles on Saturday.
On Saturday we will be featuring a special New Years Sparkling Wine Tasting.  The price of the tasting is 25.00 but will include 5 high-quality Sparkling Wines/Champagne.  We will begin with one of the best values available- the Domaine Carneros by Tattinger Brut (93 Points).  We will follow with one more domestic sparkler, the Schramsberg Blanc De Noirs (90 Points). We will then move to Champagne France and taste the Henriot Blanc de Blancs (92 Points), before culminating with the Premier Cru Marion-Bosser Brut and our Grand Cru of the evening, the Charles Mignon Brut Rose Comte de Marne.  Please come out and celebrate the arrival of 2014 here at Jonathan's Market.
See you all this weekend.
~ Jason
Jonathan's Market La Jolla Wine Tasting:
Friday, December 27th, 2013 – 4pm – 7pm
Saturday, December 28th, 2013 – 4pm – 7pm
7611 Fay Avenue
(between Kline St & Pearl St)
La Jolla, CA 92037
Phone: 858.459.2677
View Map
Friday, December 27th, 2013 – 4pm – 7pm
Friday's Selections: $20.00 per person
Featuring the Wines of Portugal and Spain

2009 Vina Real Crianza ($19.99)
Another sensational value is the 2009 Rioja Vina Real Crianza. Made from 90% Tempranillo blended with other authorized varietals, this effort comes from vineyards in the foothills of Sierra Cantabria. Exceptionally ripe with a dark ruby/purple color, excellent texture, and outstanding concentration, length and equilibrium, this is one of the finest value-priced Riojas in the marketplace. Enjoy it over the next 4-5 years." R. Parker – Wine Advocate 91 Points!
2010 Post Scriptum Douro ($26.99)
Intense colour with hints of violet on the rim. Bouquet of black cherry and cassis with well integrated wood. Very soft tannins on the front of palate, developing into a soft structure with plenty of freshness on the finish. "Ripe and complex, this has big, spicy fruit that rises above the tannins to give a sweet, full mouthfeel. Below the fruit, the dry tannins and wood aging promise the aging potential of three years." Wine Enthusiast 90 Points!
2005 Martinet Bru Priorat ($39.99)
"The 2005 Martinet Bru is purple-colored with an excellent nose of cedar, smoke, mineral, black cherry, and black currant. Structured, with enough tannin for 5-7 years of further evolution, this intense, lengthy wine will require considerable patience." J. Miller Wine Advocate 91 Points!
2009 Pratz & Symington Chryseia Douro ($54.99)
The 2009 "CHRYSEIA" is 70% Touriga Nacional and 30% Touriga Franca, aged for 13 months in new oak. From a small, dry, hot vintage, this needed a little time to show better. It is beginning to strut its stuff now and starting to fulfill the promise I thought it had. The oak has started to integrate much better. While it retains its intensity of flavor and is hardly for the shy, it has begun to show a bit more class and integration, not just flamboyance and sex appeal. Showing just hints of complexity now, it certainly will reward more time in the cellar. It is a big, big Chryseia, but it showed well in Portugal this last summer and again when retasted in the USA very recently. At the moment, I would still give the nod to the more evolved and expressive 2007, but this certainly has the potential to be the best Chryseia ever. Drink 2014-2024." Mark Squires Wine Advocate 94 Points!
2006 Quinta Vale D. Maria Douro ($44.99)
The 2006 seems a little more focused, a little smaller scaled on opening than the sexy '05 or the powerful '04 and '03. That said, this is a big success in the vintage, and a candidate for wine of the vintage. It has surprisingly good structure and intensity, delicious fruit and a pretty respectable finish for a 2006. This has come along beautifully since I first saw it at the winery. It will be approachable early, but a couple of years in the cellar would help. Drink 2010-2019." Mark Squires Wine Advocate 92 Points!
Saturday, December 28th, 2013 – 4pm – 7pm
Saturday's Selections: $25.00 per person
Featuring Jonathan's Special New Years Champagne Tasting

Domaine Carneros Brut ($34.99)
"A gorgeous sparkler, showing effortless balance, with floral lemon and brioche aromas that lead to elegant but complex flavors of creamy raspberry, vanilla and spicy almond. Drink now through 2014. 45,000 cases made." –TF Wine Spectator 93 Points!
Schramsburg Blanc De Noirs ($39.99)
Balances richness with delicacy, offering aromas of cinnamon pear and fresh ginger that lead to focused flavors of Meyer lemon, cherry and creamy vanilla spice. Drink now. 10,719 cases made. –TF Wine Spectator 90 Points!
Henriot NV Blanc De Blancs ($54.99)
The NV Brut Blanc de Blancs is a beautifully balanced, harmonious wine. There is just enough roundness and generosity to balance the focus of the Chardonnay in this accessible, harmonious Champagne. Hints of butter, smoke and spices wrap around the generous finish. This is Lot L1107221010. Disgorged October 2010. Anticipated maturity: 2011-2015. Antonio Galloni Wine Advocate 91 Points! Wine Spectator 92 Points!
Marion Bosser Premier Cru Brut ($49.99)
Marion Bosser is s small Champagne house that has been family owned since 1891. Mother-daughter team Bernadette and Elodie perpetuate the family tradition making high-quality Champagne in their native village of Hautvillers, the village where Dom Perignon dedicated his life to Champagne. The Chardonnay they use is sourced from Premier and Grand cru classified villages within the Cote de Blancs, famous for quality. Offers complex aromas of apple, lemon, red fruit, biscuits, chalk, yeast and toast. It is crisp, fresh and balanced with a nice mouthfeel and a moderately long finish. A mere 66 cases produced.
Charles Mignon Rose Grand Cru ($69.99)
The Cuvee Comte de Marne Rose champagne is composed of 55% Pinot Noir, 45% Chardonnay and to which 10 to 15% of Bouzy Rouge is added. This champagne is made using the finest grapes, Grand Cru, and is aged in cellar for four to five years.  Comte de Marne Rose is and beautiful orange, grey, rose colour finished with a genlty mousse and small gentle bubbles. Floral notes on the nose and a sublte rose fragrance. On the palate there are light spices with hazelnuts and apricots.
Hope to see you all out this weekend!