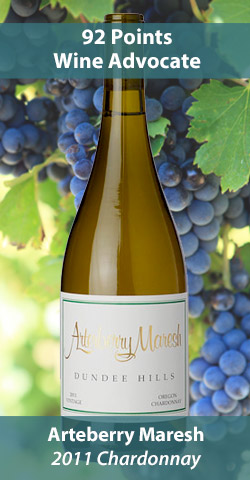 On Friday we will experience wines of Bordeaux.  Due to the warm climate, Bordeaux blends typically contain large percentages of Cabernet and or Merlot and then small percentages of Malbec, Cabernet Franc and/or Petit Verdot.  I have chosen one white and four red wines.  The white wine is a blend of Semillon and Sauv Blanc from Baron's de Rothschild.  The four red wines have never been offered at the tastings and will culminate with the 2009 Malartic Lagraviere, which received 92+ Points from Robert Parker.  Tonight is a great opportunity to try some brand new wines to Jonathan's.
On Saturday we will be trying wines from Oregon in Washington.  The finer Oregon wines are typically cool climate varietals like Chardonnay and Pinot.  They are often compared stylistically to the wines of Burgundy.I have chosen a Chardonnay from Arterberry Maresh and Domaine Serene.  We have two Pinot Noirs on the list, one from King's Ridge and the other from Soter Winery.  In Washington warm climate varietals thrive so they tend to produce high quality Bordeaux varietals, most notably Cabernet and Merlot.  We will finish the evening with the 2006 Cote Bonneville Carriage House red.  It is from the highly acclaimed Dubrul Vineyard and received 93 Points from Wine Spectator.
See you tonight or tomorrow!
~ Jason Perry
Jonathan's Market La Jolla Wine Tasting:
Friday, January 24th, 2014 – 4pm – 7pm
Saturday, January 25th, 2014 – 4pm – 7pm
7611 Fay Avenue
(between Kline St & Pearl St)
La Jolla, CA 92037
Phone: 858.459.2677
View Map
Friday, January 24th, 2014 – 4pm – 7pm
Friday's Selections: $20.00 per person
Featuring "The wines of Bordeaux"

2011 Arteberry Maresh Chardonnay ($34.99)
"Bottled after 20 months of long but passive lees contact, the Arterberry-Maresh is alluringly and stimulatingly scented with fresh lime, tangerine, iris and ginseng.  There are lovely clarity, buoyancy, and salvia-inducing salinity here such as one misses in Chardonnay from anywhere outside of Chablis. All I know for sure is that from analogy with the corresponding 2009, I'm pretty confident that this long-finishing 2011 will reward through at least 2016." DS-  Wine Advocate 92 Points!
2011 Domaine Evenstad Chardonnay ($54.99)
2011 Chardonnay Evenstad Reserve tasted alongside proved highly promising. Apple and candied lime zest inform the nose and polished, palpably lees-enriched yet simultaneously bright and juicy palate. Somehow, these aspects – as well as hints of caramel from barrel toast – are better-integrated than in the corresponding 2010, and there are clarity and lift as well as sheer length that point toward delightful performance over at least the next several years.
2011 King's Ridge Pinot Noir ($19.99)
Wineries throughout the Willamette Valley turn out vintage after vintage of splendid pinot noir, many in styles reminiscent of their French cousins. Among them is Union Wine Company.  In addition to pinot noir, the winery focuses on Pinot Gris and Riesling. This wine introduces itself with aromas of raspberry, mocha and a bit of cedar. Layered in red fruit and spice, the well-structured wine moves from light and smooth to nicely tart on the finish. It's distinctive, and a fine example of what American pinot noir can be.
2011 Soter North Valley Pinot Noir ($34.99)
"Soter's 2011 Pinot Noir North Valley brilliantly showcases its vintage's virtues, as well as confirms his and Cahill's belief in its superiority to 2010. A silken texture is allied to animation, brightness and refreshment; sweetly ripe though tart-edged and piquantly pit-inflected fresh red berry fruit is tinged with smoky black tea and pungent green herbs. Somehow, the overall effect is not at all bifurcated or awkwardly edgy but instead reflects productive tension, culminating in a long, buoyant finish at once soothing and stimulating in its burst of berry seed-crunching. I predict that this terrific value will show handsomely through at least 2018." DS. Wine Advocate – 92 Points!
2006 Cote Bonneville Carriage House ($54.99)
Polished, focused and open-textured, letting its pure plum, currant and rose petal flavors emerge easily from the deftly balanced frame, persisting against velvety tannins. 54% Cabernet Sauvignon, 40% Merlot and 6% Cabernet Franc. Drink best from now through 2014. Only 1,000 cases made. –HS Wine Spectator – 93 Points!
Saturday, January 25th, 2014 – 4pm – 7pm
Saturday's Selections: $20.00 per person
Featuring "Wines of Oregon and Washington"

2012 Baron's De Rothschild Blanc ($17.99)
This little Bordeaux Blanc has a great pedigree; it's made by the Barons de Rothschild Lafite family. A blend of Sauvignon Blanc and Semillon, the nose is fruity and elegant, with white flowers, minerals and citrus fruit. The palate has a good balance between body and liveliness, and a long finish. An easy-drinking, pleasure wine for serving as an aperitif with goat's milk cheeses or with fine seafood dishes.
2008 Chateau Renard Mondesir ($24.99)
A blend of 85% Merlot and 15% Cabernet Franc the Renard Mondesir is lively, with tobacco and iron notes running through the core of crushed plum and red currant fruit. A dark olive hint marks the finish.  Drink now. 150 cases made. –JM Wine Spectator – 87 Points!
2007 Chateau Pipeau ($29.99)
This sexy, seductive 2008 offers abundant notes of Asian plum sauce, blueberries and black currants, a seductive, plush texture, impressive purity and a long, elegant finish. Dark ruby/purple and medium to full-bodied, this wine should be drunk now and over the next 8-10 years." Robert Parker Wine Advocate – 90 Points!
2010 Chateau Caronne St Gemme ($39.99)
This wine is well-structured, with tobacco and cedar framing damson plum, cassis and black cherry fruit. The tobacco edge re-emerges on the finish, with savory and dark olive notes. 50% Cabernet Sauvignon, 35% Merlot and 5% Petit  Merlot. Will drink at it' best from 2014 through 2024. 20,000 cases made. –JM Wine Spectator 90 Points!  Wine Advocate 90 Points!
2009 Malartic Lagraviere ($89.99)
Probably the best wine that has come from this estate, along with their 2005, the final blend of 59% Cabernet Sauvignon, 38% Merlot and the rest Petit Verdot boasts Michel Rolland as the consulting oenologist. This organically farmed vineyard has turned out a deeply layered wine with a striking perfume of graphite, wet stones, red and black currants, tobacco leaf and underbrush. The compelling aromatics are followed by a medium-bodied but intensely concentrated wine with loads of ripe fruit, and a long, nuanced, impressively endowed finish. Accessible already, this wine should continue to drink well for 15 or more years." Robert Parker Wine Advocate – 92+ Points
Hope to see you all out this weekend!