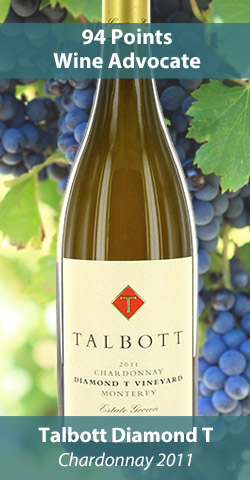 Just a quick addition to our scheduling for this weekend, we will be holding an impromptu wine and spirit tasting on Friday afternoon 2/14/14 (Valentine's Day) from 1pm-4pm at Jonathan's.  This event will pour small samples with reps featuring William Hill Wines and Greenbar Craft Spirits.  We would certainly love to have you all show up a little bit earlier if you can make it before our Friday tastings.
Here are our regular tasting notes:
On Friday we will be featuring Talbott Winery.  Talbott Vineyards devotes itself to handcrafting world-class wines.  Furthermore, Jeb Dunnuck from Robert Parker's Wine Advocate was extremely impressed with the Talbott offerings he tasted claiming, "I was blown away by these current releases.  Across the board the wines show beautiful balance and loads of class. In addition, the Kali Hart and Logan releases are serious values that should not be missed!"  The evening will feature two Chardonnays and two Pinot Noirs and then culminate with a great little Cabernet from Fisticuffs Winery.
On Saturday we will be featuring California Petite Sirah. The "petite" in the name of this grape refers to the size of its berries and not the vine, which is particularly vigorous. Petite Sirah produces dark, inky colored wines that are relatively acidic, with firm texture and mouth feel; the bouquet has herbal and black pepper overtones, and typically offers flavors of blue fruit, black fruit, plums, and especially blueberries. We will begin with the elegant Hanzell Chardonnay before diving into the Petite Syrah selections. First one from the boutique winery Andrew Will, then two from wineries many of you know I have an affinnity for, Niner and T-Vine.  We will finish with the 94 point Jaffurs Winery.
See you this weekend!
Jason
Jonathan's Market La Jolla Wine Tasting:
Friday, February 14th, 2014 – 4pm – 7pm
Saturday, February 15th, 2014 – 4pm – 7pm
7611 Fay Avenue
(between Kline St & Pearl St)
La Jolla, CA 92037
Phone: 858.459.2677
View Map
Friday, February 14th, 2014 – 4pm – 7pm
Friday's Selections: $20.00 per person
Featuring "Talbott Winery"

2012 Talbott Logan Chardonnay ($24.99)
"This wine is a light, bright yellow. It shows musky pear skin, peach pit and citrus pith on the fragrant nose. On the palate, spicy orchard, pit fruit flavors, sweeter honeydew, and tangerine qualities gain strength with air. It closes silky and long, with resonating spiciness and lingering sweet citrus fruit qualities. This elegant wine has the balance to repay a little patience." Steven Tanzer 90 Points International Wine Cellar!
2011 Talbott Diamond T Chardonnay ($54.99)
"The 2011 Chardonnay Diamond T Vineyard is decadent stuff. All barrel-fermented and aged for 14 months on lees in 45% new French oak, it's a rich, full-flavored effort that stays balanced and pure, with knockout detail and clarity on the palate. Offering up notes of grilled peaches, toast, honey, vanilla custard and flower oil, it's a full-bodied, balanced white that has great underlying acidity and focus. Drink it over the coming 3-4 years. Drink now-2017." Jeb Dunnuck Wine Advocate 94 Points!
2012 Talbott Logan Pinot Noir ($24.99)
Talbott Vineyards devotes itself to handcrafting world-class wines.  This wine is crafted using carefully selected all estate grown grapes from our Sleepy Hollow Vineyard. This wine combines fruit from both mature vines and youthful elite Pommard and Dijon clone vines, to create a lush medium bodied Pinot Noir with flavors of ripe cherry and blueberry.
2011 Talbott Sarah Case Pinot ($69.99)
"My favorite of the Pinots and more fresh and lively than the Diamond T Pinot Noir, the 2011 Pinot Noir Sleepy Hollow Vineyard Cuvee Sarah Case offers gorgeous complexity and elegance, with sweet cherries, red currants, spice box, underbrush and earthy nuances giving way to a rich, medium to full-bodied red that has silky tannin, great acidity and an all-around classy feel. It will be better in another year or two and have a decade of longevity, possibly longer. Drink 2014-2021." Jeb Dunnuck Wine Advocate 93 Points!
2011 Fisticuffs Cabernet($29.99)
This Napa Valley Cabernet can spar with the heavyweights! Hourglass Winery owners Jeff & Carolyn Smith team up with their good friends, winemaker Rob Lawson (Ghost Block, Mirror & The Fearless Rider) and his wife Pavi to produce a delicious, crowd pleasing and affordable wine that delivers a mean uppercut. Classic flavors of black fruit, cassis and baking spice surround the ring and the aromas on this wine and will beat any smelling salts after a knockout punch.
Saturday, February 15th, 2014 – 4pm – 7pm
Saturday's Selections: $20.00 per person
Featuring "California Petit Sirah"
2008 Hanzell Chardonnay ($64.99)
The attractive, high-toned aromas are of citrus blossoms, pear, green apple, vanilla, lemon oil, anise, clove, graphite, and clean mineral. A bit tightly wound initially, the mouth-watering acidity belies the full body and concentrated, sweet lemony fruit. As the wine opens up, the inherent richness and flavor intensity rise to demonstrate the quality and longevity of the vintage. The unfolding flavors are of ripe apple, citrus, clove and caramel on a long, mineral-laden finish.
2007 Andrew Lane Petite Sirah ($19.99)
Andrew Lane draws fruit from some of the finest vineyards in the Napa Valley, specializing in an Oakville-hillside Cabernet Franc, Cabernet Sauvignon, Gamay Noir and Petite Sirah Their small, artisan winery celebrates community around the world through limited production wines. The Petite Sirah shows blueberry on the palate with huckleberry, blackberry, pencil lead, roasted thyme, and earth. It has a silky mouthfeel, with a long rich and lush finish.
2008 Niner Petite Sirah ($27.99)
This wine is well-structured with a balance of earth, spice and black olive. On the nose, there are hints of cocoa followed by brambly blackberries, and a sweet and savory tobacco facet. The wine finishes with chewy tannins.
2008 T-Vine Petite Sirah ($37.99)
T-Vine was founded in 1992 by winemaker Greg Brown, with the intent to produce small lot wines of old vine origins such as Grenache, Zinfandel and Petite Sirah. Though full-bodied and densely packed with dark rich fruit and thick tannins, the 08 Petite Sirah is remarkably balanced, polished and smooth – a Greg Brown winemaking calling card. It is worth noting that among the sources of this limited production Petite Sirah is the half-acre Oak Glade Vineyard, unique for its pre-prohibition cuttings. Only 670 cases made.
2011 Jaffurs Petite Sirah ($44.99)
"Last of the 2011s and one of the most elegant Petite Sirahs out there, the 2011 Petite Sirah Thompson Vineyard is a knockout effort that offers up thrilling aromas of smoky black and red raspberries, tar, licorice, mineral and dark chocolate. Full-bodied, tannic and structured, yet also seamless and silky, with loads of depth and richness, it needs 2-3 years of bottle age and will have 15+ years of total longevity. Drink now-2026." JD Wine Advocate 94 Points!
Hope to see you all out this weekend!