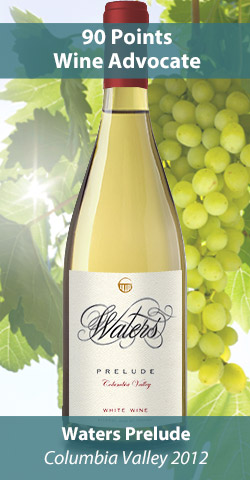 On Friday we will once again have a special guest here Jesse Cassanova of Casa de Uvas wines.  We will sample five brand new wines to Jonathan's from his portfolio, highlighted by the 2010 Waters Cabernet from Colombia Valley which received 93 points from Robert Parker's Wine Advocate.  I know a number of you hear last week enjoyed having an expert here to talk about their wines, and Jesse will not disappoint. We will be inside due to the 100% chance of rain for the next few days and will do our best to accommodate everyone.
On Saturday night we will taste wines from Barnett Winery.  Due to the high cost of the wines it will only be four wines on tap, but they are truly wonderful. I tasted them a couple of weeks ago and immediately brought them into the store and was anxious to share one of our newest acquisitions.  The Chardonnay is from my favorite vineyard for Chardonnay, San Giacomo Vineyard.  The Pinot is from a single vineyard as well, and both the Cabernet and Merlot are all estate grown fruit. As on Friday we will be inside due to the weather so there is no need to worry about dressing warm and staying dry.
See you this weekend.
Jason Perry
Jonathan's Market La Jolla Wine Tasting:
Friday, February 28th, 2014 – 4pm – 7pm
Saturday, March 1st, 2014 – 4pm – 7pm
7611 Fay Avenue
(between Kline St & Pearl St)
La Jolla, CA 92037
Phone: 858.459.2677
View Map
Friday, February 28th, 2014 – 4pm – 7pm
Friday's Selections: $20.00 per person
Featuring the wines of "Casa de Uvas"

2011 Sierra Madre Pinot Blanc ($16.99)
Aromas of butterscotch, caramel and lime leaf waft above the glass with wonderful bright citrus notes. On the palate, experience a rich, creamy taste of baked apple with an energizing tartness on the finish. We certainly have nothing against Chardonnay at Sierra Madre, but the 2010 Pinot Blanc is a marvelous alternative. Classic Pinot Blanc pairings include lightly sauced dishes made with seafood, chicken, or vegetables.
2012 Waters Prelude ($31.99)
"Looking at the whites and an outstanding blend of 53% Roussanne (vinified all in stainless steel) and 47% Viognier (vinified all in neutral wood), the 2012 Prelude comes from the Alder Ridge Vineyard and offers up a pure, steely bouquet of poached pear, citrus rind and clean minerality to go with a more voluptuous, rich and rounded palate feel. Impressive for its purity, richness and detail, it should be consumed over the coming 2-3 years. Drink now-2015." Jeb Dunnuck – Wine Advocate 90 Points!
2004 Vina Cerrada Gran Reserva ($29.99)
"Mild and floral on the bouquet, this has touches of citrus and gritty cherry. The palate feels fresh, lively and healthy, with a baked, spicy flavor along with a briary berry note. Solid but mild on the finish; drink now–2015." Wine Enthusiast 89 Points!
2010 Waters Syrah ($49.99)
"The reds are outstanding across the board. A pretty, elegant and lively Syrah, the 2010 Syrah Loess (97% Syrah and 3% Viognier aged in 10% new French oak, all from the Loess Vineyard) delivers beautifully pure blackberry, blueberry, underbrush, smoke and violet aromas to go with a medium to full-bodied, detailed and brilliantly focused palate. Complex aromatically and perfectly balanced on the palate, this impressive 2010 will benefit from short-term cellaring and drink nicely through 2022+. Drink 2015-2022." Jeb Dunnuck – Wine Advocate 91 Points!
2010 Waters Cabernet Reserve ($84.99)
"A classic, age-worthy Cabernet Sauvignon, the 2010 Cabernet Sauvignon Reserve is a blend of 75% Cabernet Sauvignon and 25% Malbec that comes from the Cold Creek and Stone Tree Vineyards in the Columbia Valley. Brilliantly pure, detailed and delineated, with aromas and flavors of cassis, mulberry, underbrush, lead pencil and hints of crushed flowers, it flows onto the palate with a full-bodied, broad, mouth coating texture that carries juicy acidity and sound tannic grip that builds through the mid-palate and finish. Aged all in once-used French oak, it needs 3-4 years of bottle age (or more) and will have 15+ years of ultimate longevity. Drink 2016-2026." Jeb Dunnuck – Wine Advocate 93 Points!
Saturday, March 1st, 2014 – 4pm – 7pm
Saturday's Selections: $20.00 per person
Featuring "Wines from Barnett Winery".
2011 Barnett Chardonnay ($37.99)
Honeysuckle and Bosque Pear are immediate on the nose of the 2011 San Giacomo Chardonnay. The nose also offers hints of white pepper, caramel, lily-perfume with some soapstone minerality. This Chardonnay has good viscosity, which becomes richer in time. More tropical notes of mango and pineapple are present on the palette. The residual Malic acid balances out the viscosity of this weighty wine. Bright with fruit in its youth this wine will develop nicely over the next 7-8 years (2019-2020).
2011 Barnett Pinot Noir ($44.99)
The 2011 Donnelly Creek is more of a deeper richer style of Pinot. Black cherry, boysenberry and pomegranate dominate the primary aromatics, while dusty cinnamon and cedar are more apparent afterwards. This is the richest Donnelly Creek yet. Similar fruit from the nose comes out on the pallet, but more spice (mostly ground pepper) is much stronger here. Very firm tannins are balanced by the acidity. This full rich wine will hold nicely over the next 7-8 years (2019-2020).
2011 Barnett Spring Mountain Merlot ($64.99)
The attractive 2011 Merlot Spring Mountain reveals notes of mocha, sweet black cherries, caramel and chocolate. With a luscious texture as well as medium to full body this high quality example makes a mockery of the anti-Merlot sentiments that were provoked by the movie "Sideways." This serious, delicious Merlot is already drinking well, and should continue to do so for a decade." Robert Parker – Wine Advocate 89 Points
2011 Barnett Cabernet Estate ($79.99)
This opaque wine currently shows crushed violets, cocoa nibs and mixed black cooking spices. Some of the subtle minerality is only beginning to show. The palate is very plush and darker small berry fruit carries through here. Very firm chalky tannins begin to build on the palate, which is backed by firm acid. The 10% Cabernet Franc and 3% Petit Verdot bring extra levels of complexity to this wine. This is a deeper and firmer Cabernet than in previous years, a true classic mountain wine that will take time to show its best, 11-13 years (2024-2026).
Hope to see you all out this weekend!