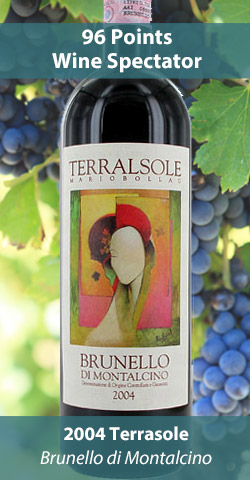 On Friday we will enjoy wines from Italy.  Italy is the home of the oldest wine-producing regions in the world, and Italian wines are known worldwide for their broad variety. Italy shares with France the title of largest wine producer in the world.  We will begin with the Elena Walch Gewurtreminer, which is showing wonderfully with a couple years in the bottle.  Then we will try four different red wines from various regions of  Italy.  The evening will close with the 2004 Terralsole Brunello di Montulcino which received 96 Points from Wine Spectator and landed at #31 on their Top 100 Wines of 2010!
On Saturday we will explore Napa Valley Cabernet Franc.  This varietal is one of the major red wine varietals grown worldwide.  It is principally grown for blending with Cabernet Sauvignon and Merlot in the Bordeaux style, but can also be vinified alone.  Cabernet Franc is lighter than Cabernet Sauvignon, making a bright pale red wine color and contributing finesse and a peppery perfume to blends with more robust grapes.  We will begin the evening with a wonderful Sauvignon Blanc from Honig Winery before diving into four different Cabernet Franc's.  The evening will culminate with the highly acclaimed Keenan Merlot. Robert Parker considers Keenan a, "one of the finest producers in California and a marvelous source of top notch Cabernet Franc."
See you this weekend.
~Jason Perry
Jonathan's Market La Jolla Wine Tasting:
Friday, February 7th, 2014 – 4pm – 7pm
Saturday, February 8th, 2014 – 4pm – 7pm
7611 Fay Avenue
(between Kline St & Pearl St)
La Jolla, CA 92037
Phone: 858.459.2677
View Map
Friday, February 7th, 2014 – 4pm – 7pm
Friday's Selections: $20.00 per person
Featuring "The wines of Italy"

2010 Elena Walch Gewurztraminer ($19.99)
"A pale, golden-tinged straw in color. Subdued aromas of grapefruit and green fig are complemented by cinnamon and floral elements. It is soft and smooth in the mouth, with flavors similar to the aromas but only average intensity. The finish displays moderate persistence. A solid entry-level gewürztraminer." Steven Tanzer 87 Points!
2003 Gualdo del Rennero Merlot ($39.99)
Gualdo del Re's 2003 Il Rennero (100% Merlot aged in barrique) performed very well when tasted blind alongside some of the region's more famous bottlings. A deep, dark ruby, it presents a compelling mix of blueberry jam, cassis, chocolate and sweet toasted oak, with an engaging, plump personality, notable length on the palate and outstanding freshness considering the vintage. Though not the most complex Italian Merlot, it is sure to please many with its generous, up-front qualities. Antonio Galloni. Wine Advocate 91 Points!
2006 Basilisco Aglianico($39.99)
The 2006 Aglianico del Vulture Basilisco is a fabulous wine loaded with varietal character. Juicy dark cherries, plums, spices, leather, earthiness and game come together in this unusually supple, refined wine from Basilisco. The finish is equally composed, with superb integration of aromatics, fruit and structure. This is a highly enjoyable red from Basilicata's Vulture district. Needless to say, it is highly recommended. Anticipated maturity: 2010-2016." Antonio Galloni. Wine Advocate 91 Points!
2007 Valdisanti Tolanai ($44.99)
The 2007 Valdisanti is 75% Cabernet Sauvignon, 20% Sangiovese and 5% Cabernet Franc that spent 16 months in French oak. It is the most complete of these 2007s, redolent with heady scents of dark fruit, licorice, leather and smoke. Balsamic notes develop in the glass, adding further layers of complexity and depth. This finishes with a joyful exuberance that is impossible not to admire. Anticipated maturity: 2014-2022.
2004 Terralsole Brunello di Montalcino ($74.99)
"This changes all the time as you taste it, with aromas of dark fruit and porcini mushroom turning to cigar box and dried flowers. Full-bodied, with masses of fruit and chewy tannins. Really powerful and long. Best after 2011. 1,450 cases made." –JS Wine Spectator 96  Points!   #31 2010 Wine Spectator Top 100!
Saturday, February 8th, 2014 – 4pm – 7pm
Saturday's Selections: $20.00 per person
Featuring "Napa Valley Cabernet Franc"
2012 Honig Sauvignon Blanc ($19.99)
The 2012 Sauvignon Blanc offers plenty of fig, melon and caramelized grapefruit characteristics in its fresh, crisp personality. With excellent texture and medium body, this delicious, dry, complex, satisfying Sauvignon should provide plenty of enjoyment over the next year. The good news is there are 50,000 cases. This winery has a long and impressive track record working with Sauvignon Blanc and continues to produce a classic/textbook example of this varietal in Northern California.
2006 Beaucannon Cabernet Franc ($24.99)
This Full-bodied Cabernet Franc shows bright acidity vying with prominent tannins that quickly fade as juicy black cherry and red apple fruit comes to the fore. Deeper layers of the wine reveal notes of cocoa and cinnamon spice.
2008 Dare Cabernet Franc ($36.99)
"This is a good full bodied red. Displays a very floral nose, with suave oak treatment. The Dare shows attractive, pliant flavors of red berries and flowers. The finish features building tannins that coat the teeth and very good energy and floral lift." Tanzer.  International Wine Cellar 89 Points!
2006 Revolver "The Fury" Cabernet Franc ($44.99)
Look for amazing character from this wine right from the first aroma– violets, blackberry, and sweet herbs are a very intriguing lead into a depth filled pallet balanced by slightly toasted oak and moderate tannins. Definitely enjoyable now and previous vintages have proved to grow in intensity and some of the ruggedness turns suppler with time. The Fruit for this wine comes from a select few Cabernet Franc vineyards all south of Yountville in the Napa Valley.
2006 Keenan Cabernet Franc ($59.99)
"Keenan is a marvelous source of top-notch Cabernet Franc, as evidenced by the small quantity (350 cases produced) of their 100% Cabernet Franc, one of the finest made in California. The 2006 version reveals an ethereal nose of bouquet garni, red and black currants, and a hint of spring flowers, followed by a layered, medium-bodied red that is remarkably light on its feet. The tannins are round and silky, and the finish is long and velvety. This beauty will be even better with several more years of bottle age, and it should evolve for 15+ years." Robert Parker. Wine Advocate 91 Points!
Hope to see you all out this weekend!