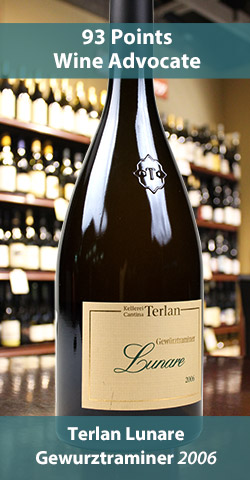 Hi Friends.
I am looking forward to seeing you again after a week off.  On Friday we will be tasting wines from Italy.  All five wines on tap for the evening received a minimum of 88+ Points from Robert Parker's Wine Advocate.  We will begin with a nice Gewürztraminer that is truly built to last, the Terlano Lunare.  Our four reds encompass four different varietals from grown all over Italy.  I am particularly excited to taste the Amarone which has recently been reduced from its former price tag of $74.99.  Hope to see you all Friday.
Also a note: Fat Cat Beer Company will be sampling some of their great Microbrews inside the store from 5-8pm, including their Lager, Brown Ale, Wheat Beer, Pale Ale and IPA.
Saturday will be our first battle of a white wine, California Chardonnay.  I have chosen three high quality ones for our tasting pleasure- Ramey, Newton, and Talbott.  We do have a couple of nice reds on tap as well, and I plan to have a couple extra reds on hand for those who don't appreciate good white wines, but Chardonnay will be the star of this show.  We have previously had battles of Cabernet, Cabernet Franc, Pinot Noir, Syrah, Petit Sirah, and Malbec so this was a long time coming.
Hope to see many of you this weekend.
~ Jason Perry
Jonathan's Market La Jolla Wine Tasting:
Friday, March 14th, 2014 – 4pm – 7pm
Saturday, March 15th, 2014 – 4pm – 7pm
7611 Fay Avenue
(between Kline St & Pearl St)
La Jolla, CA 92037
Phone: 858.459.2677
View Map
Friday, March 14th, 2014 – 4pm – 7pm
Friday's Selections: $20.00 per person
Featuring the wines of "Italy"

2006 Lunare Gewurztraminer ($49.99)
"The 2006 Gewurtztraminer Lunare possesses intricate layers of passion fruit, mango, spices and vanilla. It is an exotic, full-bodied white loaded with personality and style. This, too, is a terrific effort from Terlano. Anticipated maturity: 2008-2016." A.G. 

Wine Advocate 93 Points!
2009 Terredora Dipaolo Aglianico ($17.99)
"Readers searching an Aglianico that won't break the bank will want to check out Terredora's 2009 Aglianico. There is plenty of varietal character in the dark wild cherries, underbrush, tobacco, tar, spices and cured meats. The tannins dry out a bit on the finish, but that is a relatively small criticism for a wine at this level. Three months in oak add body without marking the wine. This is a gorgeous wine, especially for the money. It will show at its best if given some aeration in advance. Anticipated maturity: 2012-2019." AG 

Wine Advocate 88+ Points!
2006 Brigaldara Amarone della Valpolicella ($59.99)
"The 2006 Amarone della Valpolicella is a very pretty, harmonious wine made in a perfumed, mid-weight style. Dried cherries, flowers, tar, spices and leather are some of the nuances that emerge from this plump, generous Amarone. The aromas and flavors already show lovely complexity, making this an excellent choice for drinking over the next few years. Anticipated maturity: 2010-2018." Antonio Galloni 

Wine Advocate 90 Points!
2005 La Spineta Il Colorino ($32.99)
"The 2005 Colorino di Casanova is a dark and powerful of these three wines. A dark, plush core of wild cherries, plums, underbrush, leather and licorice hides behind a wall of imposing tannins. The wine needs a few years for the elements to meld together, but there seems to be quite a bit of potential here as the wine opened up beautifully with some time in the glass. Sweet menthol, spice and mineral notes linger on the long, satisfying finish. This is a beautiful effort from Giorgio Rivetti. Anticipated maturity: 2011-2017." 

Wine Advocate 90 Points!
2004 Cascina Morassino Ovello Barbaresco ($54.99)
"The estate's 2004 Barbaresco Ovello presents a much darker color as well as a heavier dose of oak than the Morassino. Ovello is one of the region's most distinctive sites, so it is a shame to see much of its detail covered by the oak, which also contributes to the harder tannins on the finish. Still, this is beautifully made wine with a dark, spiced personality and plenty of style. Anticipated maturity: 2009-2019."Antonio Galloni 

Wine Advocate 90 Points!
Saturday, March 15th, 2014 – 4pm – 7pm
Saturday's Selections: $20.00 per person
Featuring "The Battle of California Chardonnay".
2010 Ramey Sonoma Coast Chardonnay ($39.99)
"Ramey's 2010 Chardonnay Sonoma Coast is laced with lemon, pastry, crushed rocks and mint. Beautifully delineated and focused the 2010 stands out for its energy and verve. This is a gorgeous entry-level offering. Anticipated maturity: 2013-2016. Once again, I tasted an amazing range of wines with David Ramey. To me, the Ramey Chardonnays have a Chassagne-like richness that is quite appealing, yet they remain laid back in style by California standards." Robert Parker Wine Advocate 92 Points!
2011 Newton Unfiltered Chardonnay ($59.99)
"The 2011 Chardonnay Unfiltered exhibits notes of white peaches and honeysuckle, a beautiful, medium to full-bodied texture, superb purity, good acidity and a sensual finish. This highly successful 2011 can be consumed over the next 3-4 years." Robert Parker 

Wine Advocate 93 Points!
2011 Talbott Diamond T Vineyard Chard ($54.99)
"The 2011 Chardonnay Diamond T Vineyard is decadent stuff. All barrel-fermented and aged for 14 months on lees in 45% new French oak, it's a rich, full-flavored effort that stays balanced and pure, with knockout detail and clarity on the palate. Offering up notes of grilled peaches, toast, honey, vanilla custard and flower oil, it's a full-bodied, balanced white that has great underlying acidity and focus. Drink it over the coming 3-4 years. Drink now-2017." Jeb Dunnuck 

Wine Advocate 94 Points!
2010 Turnbull "Old Bull" Red ($19.99)
"This is a rich red similar to Marietta's Old Vine Red, but with a more serious Napa Cab slant to it. Turnbull has really ratcheted up their wines recently, and this is another perfect example. This bold red blend is packed with dense, rich fruit and spice, but skillfully manages to balance its ripeness and alcohol like a much more expensive and serious wine. It's a great quaffer for the big wine lover in your house!" 

Serving Suggestion: Gourmet burgers could really become decadent with this!
2011 Cameron Hughes Lot 450 Cabernet ($29.99)
Lost 450 Cabernet is classically constructed with blueberry essence, graphite, and licorice notes carefully etched on a vibrant and richly textured core.  Underlying minerality and pure intensity make this formidable Cabernet a complex and seductive tour de force.
Hope to see you all out this weekend!