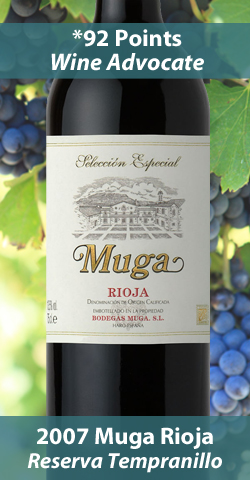 On Friday we will be tasting some great wines from Spain. Spain is the most widely planted wine producing nation in the world, but it is the third largest producer of wine in the world, the largest being France followed by Italy. This is due, in part, to the very low yields and wide spacing of the old vines planted on the dry, infertile soil found in many Spanish wine regions. Major Spanish wine regions include the Rioja and Ribera del Duero which are known for their Tempranillo production; Jerez, the home of the fortified wine Sherry; Rías Baixas in the northwest region of Galicia that is known for its white wines made from Albariño; and Catalonia which includes the Cava and still wine producing regions of the Penedès as well the Priorat region.
On Saturday, we will taste some wines from the Niner Wine Estates. Niner Wine Estates is the visionary initiative of Richard Niner, who believes that a blend of exceptional people, vineyards, tools, and ideas is the key to creating world-class wines and providing a one-of-a-kind experience in the heart of Paso Robles wine country. Niner Wine Estates owns and operates three estate vineyards: Bootjack Ranch located on the east side of Paso Robles, Heart Hill Vineyard located on the west, and Jespersen Vineyard located in the Edna Valley wine-growing region.
We hope to see you here!
Jason Perry
Wine Specialist
Jonathan's Market La Jolla Wine Tasting:
Friday, June 28th, 2013 – 4pm – 7pm
Saturday, June 29th, 2013 – 4pm – 7pm
7611 Fay Avenue
(between Kline St & Pearl St)
La Jolla, CA 92037
Phone: 858.459.2677
View Map
Friday, June 28th, 2013 – 4pm – 7pm
Friday's Selections: $20.00 per person
2011 Martin Codax Albarino ($17.99)
The 2011 Albarino begins well with an attractive, well-defined nose with hints of white peach and green apples. The palate is fresh and nicely balanced. It is not a complex Albarino, but it is clean and vibrant with pear and hints of orange peel towards the finish. That will do nicely at this price. Drink now." Neil Martin -  Wine Advocate 86 Points!
2005 Adega Algueira Mencia ($29.99)
From an obscure D.O. located in Galicia, the 2005 Algueira is 100% estate grown Mencia aged for 11 months in French oak. Medium to dark ruby-colored, it offers Pinot Noir-like aromatics with plenty of spicy red fruits and a touch of oak. This leads to an elegant wine with incipient complexity, a silky texture, sweet red berry flavors, and good length. The wine should evolve with 1-2 years of additional bottle age but can be enjoyed now and over the next 6 years." Jay Miller – Wine Advocate 90 Points!
2005 Callejo Crianza ($32.99)
The 2005 Crianza was sourced from 35+-year-old Tempranillo vines and aged for 12 months in French and American oak. It has an expressive perfume of pain grille, pencil lead, spice box, and assorted black fruits. Medium to full-bodied, layered, and spicy, this nicely balanced, lengthy wine will evolve for 2-3 years and drink well through 2015." Jay Miller – Wine Advocate 91 Points!
2007 Muga Rioja Tempranillo ($32.99)
"The 2007 Reserva has an attractive, bashful bouquet that demands coaxing, with scents of singed leather and allspice. The palate is very well-balanced with crisp tannin. It is a little rustic but there is a surfeit of personality. It has lovely leafy red fruit married with white pepper and leather towards the meaty finish. Drink 2015-2030." Neal Martin – Wine Advocate 92 Points!
2005 Martinet Bru Priorat ($44.99)
The 2005 Martinet Bru is purple-colored with an excellent nose of cedar, smoke, mineral, black cherry, and black currant. Structured, with enough tannin for 5-7 years of further evolution, this intense, lengthy wine will require considerable patience." Jay Miller – 91 Points Wine Advocate.
Saturday, June 29th, 2013 – 4pm – 7pm
Saturday's Selections: $20.00 per person
2012 Niner Sauvignon Blanc ($27.99)
Fermentation began in tanks, moving to a mixture of stainless-steel, once-filled and neutral French-oak barrels, about halfway through the fermentation. The wine was aged "sur lies" (French for "on the yeast lees"), which brings a lovely creaminess to the mouth-feel – without Malo-lactic fermentation, which would take all that creaminess and make it into butter. This wine has vibrant aromas of honeydew melon, meringue, citrus and lemon curd. It is balanced on the palate with bright acidity and tropical fruit flavors of kiwi, pineapple and lychee, lending itself to many food-pairing possibilities.
2009 Niner Sangiovese ($27.99)
Aromas include malt chocolate, hot cocoa mix, a dried woody character and tart cran-cherry. Vanilla, caramel and nutmeg baking spices round out the velvety flavor profile, with big texture and good tannin structure. In true Italian-style, this Sangiovese simply begs for food!
2009 Niner Twisted Spur ($32.99)
This delicious estate blend of Syrah, Cabernet Franc, Petite Sirah and Carmenere is redolent with many of the qualities that we love in these varieties – notes of juicy blueberry, blackberry, mocha, caramel and sweet tobacco fill the glass. These flavors transition into beautiful earthy aromas of cedar, lichen and forest floor. Firm tannins and ideal structure combine in this lively Paso Robles blend.
2009 Niner Petit Syrah ($27.99)
This wine is well-structured with complex fruit characteristics of plum and blackberry intertwined with pleasing herbal notes. On the nose, there are hints of cedar. In the mouth, the wine is rich yet dry, with chewy tannins and an extended, lingering finish.
2008 Niner Fog Catcher ($54.99)
This barrel select blend has complex aromatic and flavor layers that evolve in the glass, beginning with wood characters followed by tart berry and lovely notes of rosemary and thyme. Flavors are full and big but not overripe, with chalky tannins and a long, dry leafy finish. For a soft approach, we recommend decanting this wine.
ALL WINES SATURDAY WILL BE 15% OFF DURING THE TASTING!