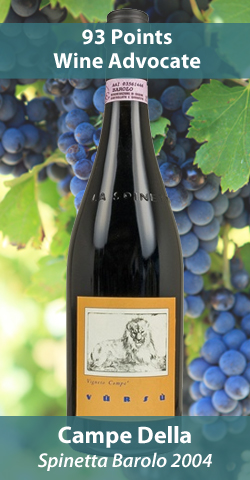 Giorgio Rivetti of La Spinetta in Piedmont started out as a Moscato d'Asti producer but dreamed of making a serious red wine. First he got into Barbera with his extraordinary Cà di Pian. Next he took on Barbaresco and Barolo and became a powerhouse in the region. Now at La Spinetta's estate in Tuscany, he's producing a stunning Vermentino.
The Howell Mountain AVA is an American Viticultural Area located within Napa Valley AVA. Howell Mountain is located in the Howell Mountains on the northeast side of Napa Valley around the town of Angwin, and overlooks the town of St. Helena, California.
Designated an AVA in 1983, Howell Mountain was the first sub-appellation within Napa Valley AVA. Most vineyards in the Howell Mountain AVA are planted between 1,400 feet and 2,200 feet above sea level, well above the elevations in Napa Valley that are most affected by the cool fog and winds from San Pablo Bay. The soil in the appellation is volcanic with excellent drainage. It is an ideal terroir for Cabernet and Merlot.
See you in La Jolla.
Jason Perry
Jonathan's Market La Jolla Wine Tasting:
Friday, July 19th, 2013 – 4pm – 7pm
Saturday, July 20th, 2013 – 4pm – 7pm
7611 Fay Avenue
(between Kline St & Pearl St)
La Jolla, CA 92037
Phone: 858.459.2677
View Map
Friday, July 19th, 2013 – 4pm – 7pm
Friday's Selections: $20.00 per person
Featuring the wines of Georgio Rivetti "La Spinetta"

2010 La Spinetta Moscato D'Asti ($19.99)
"The 2010 Moscato d'Asti Bricco Quaglia is simply lovely in this vintage. Clean, minerally notes frame a precise, beautifully sculpted core of fragrant, varietal fruit. This is a winner from La Spinetta." Antonio Galloni – Wine Advocate 89 Points!
2010 La Spinetta Vermentino ($19.99)
Light golden color. Rich yet complex bouquet with scents of pine and sea grass. A perfect example of what Vermentino should be, brimming with fruits and floral notes adding minerals at the end. Medium-bodied with fresh peach and lime. The crisp acidity and long finish help show this wine's true indigenous Tuscan class. Serve with poultry, fish and any type of appetizers a classic bruschetta (garlic and newly pressed olive oil on toast), with pastas such as cacia pepe or pesto.
2005 Casa Della Spinetta ($34.99)
The 2005 Colorino di Casanova is the darkest and most powerful of these three wines. A dark, plush core of wild cherries, plums, underbrush, leather and licorice hides behind a wall of imposing tannins. The wine needs a few years for the elements to meld together, but there seems to be quite a bit of potential here as the wine opened up beautifully with some time in the glass. Sweet menthol, spice and mineral notes linger on the long, satisfying finish. This is a beautiful effort from Giorgio Rivetti. Anticipated maturity: 2011-2017." Antonio Galloni – Wine Advocate 90 Points!
2007 La Spinetta Nebiolo ($34.99)
"The 2007 Langhe Nebbiolo is simply beautiful. Medium in body, it floats on the palate with red cherries, flowers, spices and minerals, showing an ethereal, delicate personality that is utterly convincing. The fruit blossoms nicely on the palate, with an attractive roundness that balances that tannins exceptionally well. This entry-level red is the hidden gem in La Spinetta's line-up, and it is highly recommended." Antonio Galloni – Wine Advocate 91 Points!
2004 Campe Della Spinetta Barolo ($99.99)
"Good full medium red. Explosive aromas of strawberry, mocha, dried flowers, minerals and caramel. Powerful and tight-gained, with terrific concentration and grip. This very backward, minty wine comes across as cooler than the 2004 Barbarescos and all the better for it. A wine with outstanding depth of texture and big, building, thoroughly ripe tannins." Wine Spectator 95 Points! "Georgio Rivetti is running the risk of compromising his non-riserva bottlings" – Robert Parker 93 Points Wine Advocate!
Saturday, July 20th, 2013 – 4pm – 7pm
Saturday's Selections: $20.00 per person
Featuring the Battle of Howell Mountain Merlot

2008 The Terraces Chardonnay ($24.99)
"There's lots to like about this cool-climate Chardonnay, from the ripe pineapple, kiwi and lime flavors to the rich touch of lees and vanilla. It has a sharp cut of acidity that's almost Champagne-like, and calls for extremely rich fare to balance." Wine Enthusiast 87 Points!
2012 Cade Sauvignon Blanc ($27.99)
For the 2012 vintage, Cade's winemaking team sourced fruit for this bottling from key growers in the Napa Valley and blended the Sauvignon Blanc with Semillon to enhance the wine's mouthfeel and aroma. Notes of tropical fruit and lemon zest greet your palate with a clean, refreshing finish. As the first organically farmed, LEED Gold Certified Winery in the Napa Valley, Cade takes pride in not just thinking green but acting green.
2006 Bravante Merlot ($46.99)
Their Merlot has long garnered attention and is the wine they have been known for, for a number of years. This is not a delicate Merlot by any means. Rather its a big mountain grown wine that expresses rich dark mountain grown fruit and more resembles a Cabernet Sauvignon than your typical Merlot. The 2006 vintage is a dark wine with big aromas including chocolate, blackberry and hints of sage. The wine is very concentrated, especially on the mid palate. The finish shows dusty expressive tannins which are broadly distributed; this helps maintain a very balanced structure.
2005 Ladera Merlot ($49.99)
The 2005 Ladera Merlot is dark ruby in the glass, but leaning more heavily toward garnet than one might expect for a 2005. The nose is fruit-centric with black cherry, canned plum and cassis accented gently by notes of spice and coffee. The palate is nearly full-bodied with strong tannins but a finish of just medium length. Flavors include black cherry, espresso, dark chocolate and dark spice. The 2005 Ladera Merlot Howell Mountain is a well-crafted wine with attractive flavors.
2006 La Jota Merlot ($59.99)
"The 2006 Merlot (99% Merlot and 1% Cabernet Sauvignon) is unquestionably a sleeper of the vintage. Lots of chocolate, cocoa, black cherry, earth, and subtle herbs make for a creamy, lush, full-bodied, sexy wine that is ideal for drinking over the next 7-8 years." Robert Parker – Wine Advocate 90 Points!
Hope to see you all out this weekend!