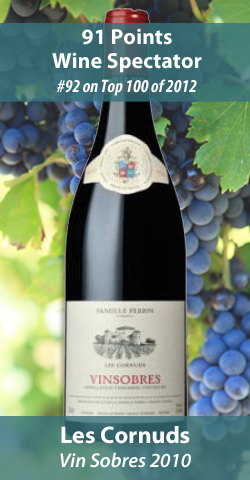 Wines made from Syrah are often powerfully flavored and full-bodied. The variety produces wines with a wide range of flavor notes, depending on the climate and soils where it is grown.  Aroma characters can range from violets to berries (usually dark as opposed to red), chocolate, espresso and black pepper. No one aroma can be called "typical" though blackberry and pepper are often noticed. With time in the bottle these "primary" notes are moderated and then supplemented with earthy or savory "tertiary" notes such as leather and truffle. Syrah has a long documented history in the Rhône region of southeastern France, but it was not known if it had originated in that region.  It is grown in abundance in the United States, South Africa, and Australia as well.
When someone says "big red wine", what do you think of? I tend to think of a flavorful, full-bodied, rich wine with good concentration and balance. Big red wines also tend to be a bit heady (alcoholic), even tannic, but balance is key.  Cabernet is the varietal that comes to mind first, but other varietal, even a Pinot Noir, can be full-bodied. Other grape varieties known for making big red wines include Zinfandel, Nebbiolo, and Petit Syrah and Syrah.
Jonathan's Market La Jolla Wine Tasting:
Friday, July 26th, 2013 – 4pm – 7pm
Saturday, July 27th, 2013 – 4pm – 7pm
7611 Fay Avenue
(between Kline St & Pearl St)
La Jolla, CA 92037
Phone: 858.459.2677
View Map
Friday, July 26th, 2013 – 4pm – 7pm
Friday's Selections: $20.00 per person
Featuring Worldwide Syrah

2012 Stepping Stone Rose of Syrah ($19.99)
The elegant almost rich texture of red currants, strawberries and cream dance slowly across an expansive palate carried by a good edge of racy citrus acidity and juicy mild tannins that flows seamlessly to a long mouthwatering finish.
2009 D'Arenberg Shiraz ($21.99)
"Superb, bright clear crimson; it's not the first thing that normally comes to mind with d'Arenberg, but this is an elegant, fine, medium-bodied wine; the fruits are more in the red than black spectrum, and it is spice more than dark chocolate that joins the fruit, oak and tannins, all perfectly weighted."
2007 Star Angel Syrah ($24.99)
Full-bodied, intense and spicy, showing loamy earth, dried currant and berry flavors, with mineral and dried herb notes. Ends with drying tannins. Drink now through 2016. 3,000 cases made. –JL Wine Spectator – 87 Points
2010 Les Cornuds Vin Sobres ($24.99)
Glass-staining ruby. Aromas of dark berries, licorice and smoky spices, with a floral nuance gaining strength with air. Juicy, focused and nicely concentrated, offering hefty cassis and bitter cherry flavors brightened by a cracked pepper quality. A smoky note comes up on the long, spice-dominated finish. This pungent wine is really showing its syrah right now. 91 Points – Wine Spectator / #92 Top 100 of 2012
2006 Domaine Stephan Cote Rotie ($99.99)
A hint of reduction quickly gives way here to a wild mix of bramble, steeped blackberry, roasted, melted licorice, tar and dark tapenade notes, which all weave together through a singed iron-nish that shows serious length. Syrah with 10 percent Viognier. Best from 2012 through 2022.—J.M. Wine Spectator
Saturday, July 27th, 2013 – 4pm – 7pm
Saturday's Selections: $20.00 per person
Featuring California Big Reds

2010 Solitude Chardonnay ($27.99)
Solitude Chardonnay is barrel fermented in French oak, utilizing Burgundian yeast strains. Malo-lactic fermentation, yeast contact, and stirring occur during the seven months of oak aging. Traditional Burgundian techniques combined with California cellar practices produces the ultra premium Chardonnay that is consistently marked with high quality and value.
2012 Tamber Bey Sauvignon Blanc ($29.99)
New to the Tamber Bey portfolio is our Sauvignon Blanc from the Tench Vineyard in Oakville. Winemaker Frederic Delivert developed a unique aging program for this wine, aging 60% of the wine for six months in both Oak and Acacia wood barrels and the other 40% in stainless steel. Blending both lots together has created a complex and fresh wine that is delightfully balanced.
2008 Star Angel Red ($39.99)
Marked by complex flavors built around rich mineral, graphite, dried berry, sage and cedar notes that are slow to unfold but offer wonderful depth, focus and length as they do. Syrah, Grenache and Mourvèdre. Drink now through 2022. 3,000 cases made. –JL  Wine Spectator – 92 Points
2009 Leviathan Red ($49.99)
A tight, young and vibrant red, with a pure, focused core of dried berry, currant and dill, expanding and gliding through the finish, where touches of dried herb and cedar reverberate. Cabernet Sauvignon, Merlot, Syrah and Cabernet Franc. Drink now through 2023. 6,700 cases made. –JL  Wine Advocate – 91 Points
2010 Snowden Cabernet ($49.99)
Snowden's 2010 Cabernet Sauvignon The Ranch is one of the bigger, juicier wines readers will come across in this vintage. Mocha, chocolate, spices, plums and black cherries seem to literally jump from the glass. Merlot plays a pretty important role in the 2010, which gives the wine much of its roundness and early accessibility. Round, expressive and racy, the 2010 Ranch is a terrific effort from Snowden. Anticipated maturity: 2014-2024. Wine Advocate – 92 Points
Hope to see you all out this weekend!