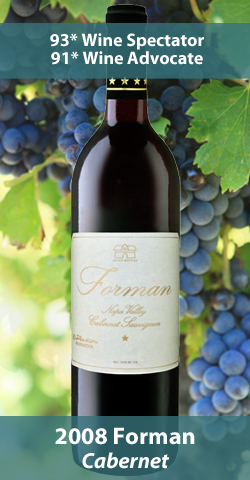 In celebration of our Independence Day I have decided to up the ante somewhat on our wines.  Therefore, our most faithful wine tasters are in for a treat. On Friday we will begin with a couple great value whites that successfully hold their own versus a number of more expensive whites.  The Foxglove Chardonnay has received 91 or 92 points from Robert Parker at only $15.00 cost.  From there we will move on to some really flashy big California Cabernet's.  The night will be highlighted by the 2008 Forman Cabernet.  Robert Parker has touted Forman as "One of the better values in high-end California Cabernet."
On Saturday we also have a stellar lineup in store.  We will once again keep it local in honor of the July 4th celebration.  As with Friday we will start with a couple great value whites before moving into some blockbuster red blends.  Both the BSide Red Blend, as well as Kuleta's Frog Prince Bordeaux Blend are brand new editions to Jonathan's, that I tasted recently and was very excited to bring aboard.  Anyone who has had a chance to taste the Niner wines I just brought in should be anxious to give these a whirl.  The night will culminate with the 2007 Cain Five, possibly the most highly touted wine we have opened at a tasting yet.
~ Jason Perry
Jonathan's Market La Jolla Wine Tasting:
Friday, July 5th, 2013 – 4pm – 7pm
Saturday, July 6th, 2013 – 4pm – 7pm
7611 Fay Avenue
(between Kline St & Pearl St)
La Jolla, CA 92037
Phone: 858.459.2677
View Map
Friday, July 5th, 2013 – 4pm – 7pm
Friday's Selections: $20.00 per person
Featuring California Big Reds
2011 Joel Gott Sauvignon Blanc ($12.99)
"Lemongrass, Meyer lemon, apple and tangy apricot flavors are aromatic, bright and very refreshing, with fresh ginger on the finish. Drink now."  Wine Spectator 88 Points!
2011 Foxglove Chardonnay ($14.99)
The Varner brothers make some of our favorite value wines in California under their "negociant" label, Foxglove–always fruit-filled, balanced and polished–and this $15 Chardonnay is a fantastic offering from the cool 2011 vintage. We like it, and so do the critics: the previous four vintages of Foxglove Chardonnay scored 90 or 91 in Robert Parker's Wine Advocate, and have been called "one of the top values in California wine."
2009 Whitehall Lane Cabernet ($39.99)
"What a beautiful wine this is for drinking now and over the next few years. it's lush and approachable, but it also has plenty of complexity, offering waves of blackberry, cherry, red currant, mocha and delicately toasted oak." Editors Choice 92 points Wine Enthusiast
2007 Jaffe Estate Metamorphosis ($59.99)
Classic bench-land, Napa Cabernet Sauvignon flavors with ripe, Bing cherry and plum most prominent.  The palate is weighted towards the entry which is big and bright.  This launches the fruit across the palate to a fine, elegant finish.  Supple tannins extend from the palate entry to the finish without showing a rough edge.  Polish and balance is the theme for this delicious wine.  The finish is extended by a harmonious suggestion of vanilla and spice. This is a thoroughly contemporary bottling made in a traditional style which reinterprets qualities that made Napa Valley Cabernet Sauvignon famous: balance, elegance, restraint and longevity.
2008 Forman Cabernet Sauvignon($89.99)
"One of the better values in high end Napa Cabernet, the 2008 Cabernet Sauvignon Estate is a blend of 75% Cabernet Sauvignon and the rest Cabernet Franc and Petit Verdot. Elegant Bordeaux-like aromas of berries, loamy soil, graphite, mocha, black currants and cedar are followed by a medium-bodied, stylish wine with excellent texture, underlying floral notes and a long finish. Nearly as French-like as Napa's Dominus wines, it should age effortlessly for 10-15 years." Robert Parker Wine Advocate 91 Points; Wine Spectator 93 Points; Stephen Tanzer 92 Points!
Saturday, July 6th, 2013 – 4pm – 7pm
Saturday's Selections: $20.00 per person
Featuring California Meritage
2011 Whitehall Lane Sauv Blanc ($19.99)
This 2011 wine follows Whitehall Lane's style of a fruit forward and crisp Sauvignon Blanc. 70% of the fruit was fermented in temperature controlled stainless steel tanks and 30% in new French oak barrels. The barrel-fermented portion was aged for only seven weeks. Utilizing both tank and barrels for fermenting accentuates the crisp fruit flavors and layers of complexity. 12% Semillon was blended in for enhanced sweet, round flavors and mouth-feel. This is a refreshing wine with aromas of grapefruit, lemon grass and just a hint of toasty oak. It is light to medium bodied and delivers rich and mouth watering citrus flavors, excellent balance and a clean finish.
2009 Clos Du Val Chardonnay ($24.99)
Clos Du Val's 2009 Chardonnay is pale gold in color with aromas of crème brulée accented with hints of pear, white peach and apricot. The palate is met with rich, tropical fruit flavors and a subtle touch of citrus. While creamy and full bodied, this chardonnay exhibits a balance and elegance which are characteristic of Clos Du Val's style. The result is a wine that complements food and culminates in a long, crisp finish.
2010 B-Side Red Blend ($24.99)
In crafting the 2010 B Side Napa Valley Red Wine Blend, winemaker Greg Kitchens used five different varietals from over seven sub-appellations. The wine opens with a heady bouquet of black cherries, dried plums, blackberries and peat moss. One's first sip is greeted by a flavorful cacophony of black currants, dried blueberries, and Blackstrap molasses with hints of black pepper and toasted coconut emerging on the finish. This full-bodied wine is lush and rich with finely integrated tannins, yet it also shows impeccable balance. If Cabernet Sauvignon represents the "A" side of Napa Valley, then this artfully blended wine demonstrates just how great the "B" side can be.
2009 Kuleto Frog Prince ($29.99)
Kuleto's Frog Prince is gorgeous, opulent, and intense.  A Bordeaux style blend of 67% Cabernet delivers right out of the bottle. Feels softly tannic, yet opulent, with enormously complex flavors of blackberry, cassis, cola, violets, minerals, cedar and finishing with a delicious cake batter note! This is a wine to savor now and cellar for easily a decade.
2007 Cain Five ($99.99)
Cain makes some of the most classically styled and age-worthy red wines in California. They are not bawdy, voluptuous wines, but wines of grace and class. The 2007 Cain "Five" is the perfect example of this. From an incredible vintage where a lot of winemakers made flashy wines, this blend of 68% Cabernet, 16% Merot, 6% Malbec, 5% Petit Verdot and 5% Cabernet Franc shows remarkable restraint. Made entirely from fruit grown in the Cain Vineyard, the "Five" is balanced and rich, but still intense. It will benefit from aging five to seven years, and even up to a decade or more.
Hope to see you all out this weekend!