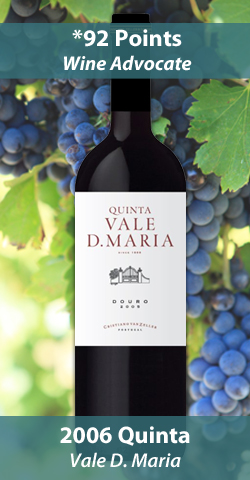 On Friday, we will be tasting some wines from Western Europe. Wine, linked in myth to Dionysus/Bacchus, was common in ancient Greece and Rome, and many of today's major wine-producing regions of Western Europe were established with Phoenician and, later, Roman plantations. Wine making technology improved considerably during the time of the Roman Empire: many grape varieties and cultivation techniques were known; the design of the wine press advanced; and barrels were developed for storing and shipping wine. By the Middle Ages, wine was the common drink of all social classes in South Western Europe, where a variety of grapes were cultivated.
On Saturday, we will sample some more great wines from Napa Valley. Napa Valley AVA is an American Viticultural Area located in Napa County, California; Napa Valley is considered one of the premier wine regions in the world. Records of commercial wine production in the region date back to the nineteenth century, but premium wine production dates back only to the 1960s. The combination of Mediterranean climate, geography and geology of the region are conducive to growing quality wine grapes. John Patchett established the Napa Valley's first commercial vineyard in 1858.
See you out this weekend.
~ Jason Perry
Jonathan's Market La Jolla Wine Tasting:
Friday, August 16th, 2013 – 4pm – 7pm
Saturday, August 17th, 2013 – 4pm – 7pm
7611 Fay Avenue
(between Kline St & Pearl St)
La Jolla, CA 92037
Phone: 858.459.2677
View Map
Friday, August 16th, 2013 – 4pm – 7pm
Friday's Selections: $20.00 per person
Featuring the wines of Western Europe:

2012 Hill Family Sauvignon Blanc ($19.99)
The 2012 Hill Family Estate Sauvignon Blanc is a blend of 2 vineyards. Each offered an irresistible combination for Sauvignon Blanc. The nose has graceful honeysuckle, lime peel, hyacinth and elder flower notes. The palate is creamy and opulent, with well centered honeydew melon and nectarine flavors, while the wine finishes bright and satisfying with long, lingering white peach notes.
2011 Frog's Leap Chardonnay ($25.99 )
Much of the complexity and style of the 2011 Frog's Leap Chardonnay comes from the unique combination of barrel fermentation followed by aging in concrete vats. The result is a wine with compelling flavors and a bright crisp mouth feel. Lightly scented citrus and stone fruit aromatics are followed by flavors of apricot, wet-stone and vanilla. Seductive and elegant, you will be tempted to a second and third sip. The beauty of this wine immediately opens up culinary possibilities rarely found in bigger California Chard's.
2007 Keenan Merlot ($29.99)
"The seductive, soft, plush 2007 Merlot offers a luscious combination of herb-tinged mocha, chocolate-infused black cherry and currant fruit, plum, and anise. The complex aromas are followed by a lush, succulent wine with dark fruit flavors showing a hint of spicy oak. This beauty should drink well for 10-12 years." Robert Parker – Wine Advocate – 89 Points!
2005 Von Strasser Cabernet ($49.99)
This is what Cabernet is all about! It is a big, bold wine with intense fruit, a full body and a long smooth finish. Look for blueberry and cassis lined with chocolate and anise. The Estate Cab is very approachable early but will continue to improve with age and reward your patience.
2006 Chateau Le Grand Roche Cab ($49.99)
Very fine Cabernet Aromas; dusty with rich cocoa and ripe berry fruits. This is a beautiful clean expression of ripe mountain grown Cabernet.  There is a subtlety to the nose and flavor which suggests fine second-tiered Bordeaux.  The flavors are quite rich and satisfying. This wine is too good to be known as a second label wine.  It speaks volumes for the winemaking of Rick Forman.
Saturday, August 17th, 2013 – 4pm – 7pm
Saturday's Selections: $20.00 per person
Featuring wines Napa Valley

2009 Patrick Piuze Premier Cru Chablis ($59.99)
"The 2009 Chablis Montee de Tonerre possesses considerable freshness and focus. Clean saline notes meld into white flowers and smoke in this textured, precise Chablis, one of the most harmonious of the premier crus here. Anticipated maturity: 2012-2016." Robert Parker – Wine Advocate – 91 Points!
2003 Azamor Selected Vines ($29.99)
The 2004 SELECTED VINES is 1/3rd each Syrah and Touriga Franca, with the rest divided more or less evenly between Alicante Bouschet and Trincadeira. The wine was aged in 15% new French oak and 15% new American oak barrels. It is softly textured, with light tannins and a modest mid-palate, but the finish delivers loads of tasty fruit to the palate. It is a bit compact, but rather charming." Mark Squires – Wine Advocate – 87 Points!
2006 Joseph Drouhin Chambolle-Musigny ($44.99)
Dark forest floor, roasted meat, bitter-sweet black fruit, clove, and pepper flavors render this far more somber than I anticipated. Texturally, it is quite refined, with a hint of creaminess. Chalky and saline mineral notes and a fresh fruit skin edge lend invigoration and refreshment to a satisfyingly long finish.  This could use a bit of bottle time to explore its potential synergies, but will I suspect be best enjoyed within 3-4 years." David Schildknecht – Wine Advocate – 89 Points!
2006 Quinta Vale D. Maria ($39.99)
The 2006 TINTO QUINTA VALE D. MARIA has a beautiful nose, floral with blue fruit and vanilla nuances. It is a little too marked by oak at the moment, but the oak has a chance to integrate in that this wine has a chance to age. In other words, this has pretty good structure for a 2006 and it drank quite nicely the next day. In fact, with some of the oak integrating and the wine's structure more apparent, it showed far better the next day. This aromatic wine is one of the nicer '06s. It will be approachable early, but it could use some time. Drink 2010-2019." Mark Squires – Wine Advocate – 92 Points!
2006 Sierra Cantabria ($44.99)
"The 2006 Collecion Privada was sourced from some of the estate's oldest Tempranillo vines. Malolactic fermentation was in barrel and the wine was aged for 18 months in new French and American oak. It gives up an alluring bouquet of pain grille, liquid mineral, lavender, incense, and blackberry. On the palate it is layered, medium to full-bodied, ripe, and complex. Give this lengthy effort 3-4 years of additional cellaring and drink it from 2013 to 2026." Jay Miller – Wine Advocate – 92 Points!
Hope to see you all out this weekend!