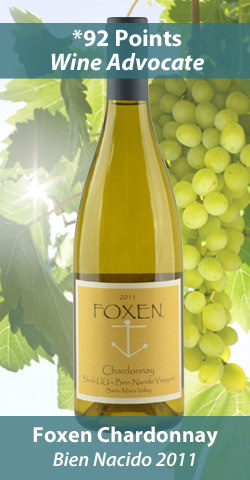 Located on California's South Central Coast, the Santa Barbara County AVA is famous for ripe yet elegant Chardonnay and Pinot Noir. However it is also gaining a reputation for Rhone varietals including Syrah and Viognier.  The County now claims more than 60 wineries and 21,000 acres of vine, with the vast majority of the vineyards in the County's three AVAs: Santa Maria Valley, Santa Ynez and Santa Rita Hills, each with its own distinct terroir. On Friday night we will experience an array of what the AVA has to offer. Beginning with two elegant Chardonnay's, followed by three different red varietals: Pinot Noir, Tempranillo, & Syrah.
On Saturday we will, primarily, experience wines of the Southern Rhône, which is mostly known for its red wines. These include famous names like Châteauneuf-du-Pape, but the area is perhaps best known for the less expensive wines of the Côtes du Rhône. We will begin with a fantastic from Hautvillers in north-eastern France before taking our tour of the Southern Rhone which will culminate with the 94 Point Domaine Du Vieux Lazaret Cuvee CDP.
~ Jason Perry
Jonathan's Market La Jolla Wine Tasting:
Friday, August 30th, 2013 – 4pm – 7pm
Saturday, August 31th, 2013 – 4pm – 7pm
7611 Fay Avenue
(between Kline St & Pearl St)
La Jolla, CA 92037
Phone: 858.459.2677
View Map
Friday, August 30th, 2013 – 4pm – 7pm
Friday's Selections: $20.00 per person
Featuring the wines of Santa Barbara County:

2011 Foxen Chardonnay Bien Nacido Vineyard  ($34.99)
A wine of significant potential, the 2011 Chardonnay Bien Nacido Block UU (from tank) is cool and beautifully focused, with lovely purity in its aromas and flavors. Flowers, lemon peel, crushed rocks and spices are layered into the energetic, polished finish. Anticipated maturity: 2012-2016. Antonio Galloni – Wine Advocate 92 Points!
2009 Zotovich Estate Chardonay ($37.99)
The 09 Chardonnay displays upfront notes of light, toasty oak, Seckel pears and spritzed lime zest.  Crisp green apple acidity coupled with sublime minerality.  The neutral oak ferment really promotes the light oak fully infusing into the wine.  Our 09 is lean, crisp, strikes a balance between fruit, minerality, oak toast and acidity.  Light buttered cracker and light citrus finish.
2010 Longoria Pinot Noir Fe Ciega Vineyard  ($49.99)
Bright ruby-red.  Heady bouquet of candied red fruits, potpourri and candied orange peel, complicated by subtle vanilla and cola nuances and a spicy topnote.  Sappy and appealingly sweet, offering pliant raspberry and cherry compote flavors that take a darker turn with air.  Fine-grained tannins add shape to the long, smooth, smoky finish.  I find this expressive pinot delicious right now." Stephen Tanzer -  International Wine Cellar – 92 Points!
2007 Longoria Tempranillo Clover Creek Vine ($34.99)
"One of the best California Tempranillos of this or any vintage, Longoria's '07 establishes a new benchmark for the variety. Finally we have a dry, crisp and complex Tempranillo, filled with cherry, red currant, tobacco, spice, vanilla and sandalwood flavors, wrapped into polished tannins. A delicious, medium-bodied red wine to enjoy with lamb chops, game, or even roast salmon." Steve Heimoff – Wine Enthusiast – 93 Points!
2007 Dragonette Syrah ($34.99)
"Dragonette Cellar's tightly-knit 2007 Syrah reveals dense cassis, earth, smoke, pepper, and black olive notes in its medium-bodied, rich, dense, pure personality. Still tightly coiled, it should unfold and drink nicely for 7-8 years or longer." Robert Parker – Wine Advocate – 89 Points!
Saturday, August 31st, 2013 – 4pm – 7pm
Saturday's Selections: $20.00 per person
Featuring wines of Rhone France

Non Vintage Marion-Bosser Premier Cru Rose ($64.99)
Elegant, smooth & balanced Premier Cru Champagne made with great care and rigor by a mother and here daughter who perpetuate the tradition of making high quality Champagne in their native village of Hautvillers, where Dom Perignon dedicated his life to making champagne.
2011 E. Guigal Cotes Du Rhone ($17.99)
"60% viognier, the rest marsanne, roussanne, clairette, bourboulenc and grenache blanc; no oak):  Pale yellow.  Spicy peach and yellow plum aromas are enlivened by a tangy mineral quality and a hint of white flowers.  Firm, linear, sharply focused flavors of dried pit and citrus fruits gain weight with air.  Youthfully taut, focused and lithe for a white Cotes du Rhone, finishing with good bite." Stephen Tanzer – International Wine Cellar – 89 Points!
2005 Domaine le Grand Retour Plan De Dieu ($17.99)
The Plan de Dieu is the only Cotes du Rhone Villages without a village.  The wines produced in this are are so unique that they have been granted special status by the French Wine Authorities.  Producers here are required to adhere to stricter wine growing and wine making rules than those prescribed for Côtes du Rhône. In the red wines the Grenache grape must be present at not less than 50%, with 20% Syrah and/or Mourvèdre. A maximum of 20% of other authorized varieties is permitted. Wines from this area typically display flavors of dark fruit.
2010 Domaine Du Vieux Lazaret CDP ($39.99)
"Not surprisingly, the 2010 Chateauneuf du Pape (Domaine de Vieux Lazaret) possesses more power, concentration and substance. Dense black raspberry, garrigue, licorice and floral notes are found in this pure, impressively full-bodied 2010 along with lots of fat, glycerin, flesh and succulence. Enjoy this beauty over the next 10-15 years." Robert Parker – Wine Advocate – 90 Points!
2007 Domaine Du Vieux Lazaret Cuvee CDP ($59.99)
"Perhaps the finest wine I have ever tasted from Jerome Quiot is Vieux Lazaret's 2007 Chateauneuf du Pape Cuvee Exceptionnelle. This fabulous wine boasts an inky/ruby/purple color as well as a sweet nose of cassis, black raspberry liqueur, spring flowers, and hints of graphite and truffles. It is deep, ripe, full-bodied, rich, and multidimensional with a stunningly long, 45+ second finish. Give it 2-3 years of bottle age, and consume it over the following two decades." Robert Parker – Wine Advocate – 94 Points!
Hope to see you all out this weekend!