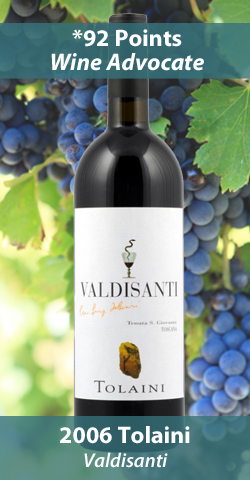 On Friday we will be sampling some great wines from Trinitas Cellars.
Trinitas celebrates the connection among sun, soil, and humanity by working closely with its grower society throughout the Napa Valley and other wine growing regions in Northern California. Furthermore, Trinitas sources a broad range of varietals from the regions where climate and soil conditions are most favorable. Small quantities of these exceptional grapes are then handcrafted into an approachable, California wine to be enjoyed as an aperitif or with food. Some of our best wines come from historical vineyards in Northern California with a selection of vines that are over a century old.
On Saturday we will be sampling some more great wines from Italy.
Italy is home to some of the oldest wine-producing regions in the world and Italian wines are renowned worldwide both for their quality and for their broad variety. Italy shares with France the title of largest wine producer in the world, its contribution representing about 1/3 of world production. Italian wine is exported around the world and is also extremely popular in Italy: Italians rank fifth on the world wine consumption list by volume with 42 litres per capita consumption. Grapes are grown in almost every region of the country and there are more than one million vineyards under cultivation.
I hope to see you out this weekend.
Jonathan's Market La Jolla Wine Tasting:
Friday, August 9th, 2013 – 4pm – 7pm
Saturday, August 10th, 2013 – 4pm – 7pm
7611 Fay Avenue
(between Kline St & Pearl St)
La Jolla, CA 92037
Phone: 858.459.2677
View Map
Friday, August 9th, 2013 – 4pm – 7pm
Friday's Selections: $20.00 per person
Featuring the wines of Trinitas Winery:

2010 Napa Sauvignon Blanc ($22.99)
We split the fermentation into two portions tank and barrel. By doing this we create complexity. The tank fermented portion (84%) is fermented at very low temperature. A cool slow fermentation allows a larger amount of fruity esters to stay in the wine. While the barrel fermented wine (14%) absorbs color, flavor, sugar, and aromatics of spice, vanilla, and toast. The barrels also build structure and lengthen the finish by adding tannin.
2011 Carneros Chardonnay ($27.99)
The Trinitas 2011 Chardonnay is from the Los Carneros appellation of the Napa Valley. Barrel aging in American oak lends to aromas of toasty, sun- kissed straw. Under the toast, subtle hints of bright citrus, vanilla, and toffee will fill your glass. Secondary fermentation creates a mid-palate with rich flavors of creamy butter and caramel. The medium toasted barrels provide the caramel and butterscotch notes. The surprisingly bright finish lingers with hints of baked granny smith apple.
2010 Carneros Pinot Noir ($44.99)
The aroma draws you in with toast and caramel dipped apple notes, which progress into scents of cherry cola, cedar box, tobacco, mocha, and black tea. The palate is rich and round in the mouth and quite full for a Pinot. The flavors are heavily influenced by cola berry and cherry, which enhance the smoothness and drinkability of the wine.
2007 Mendocino Zinfandel ($29.99)
Zinfandel, like this is a great wine for backyard barbecues. Its juicy strawberry and blackberry fruit with an inkling of lavender and dark chocolate will work with barbecue sauces, especially those with a bit of sweetness. The fruit is kept fresh and lively with acidity, and the wine finishes with smooth, ripe tannins that make the wine a pleasure to drink. I'd like to set some aside to age but it's so good I keep drinking it all. To quote Tony Montana "Don't get high on your own supply."
2007 Napa Cabernet ($49.99)
The 2007 Cabernet Sauvignon boasts distinctive flavors which were heightened with the 2007 growing season. It is deep and concentrated with balance and structure. Bright aromas of roses, tobacco and spice lead to a full palate of blackberries, cherries and cocoa. The mid-palate is full and leads to a bright long finish of cherries, caramel, spice, cassis and coffee. The mouth is full, supple, and rich. Flavors of chocolate, espresso, and plum add to the lengthy finish.
Saturday, August 10th, 2013 – 4pm – 7pm
Saturday's Selections: $20.00 per person
Featuring wines from Italy

2011 Masi Masianico ($17.99)
This well-constructed blend combines the freshness, fruitness and the aromatic finesse of pinot Grigio, the epitome of Italian white wine, with the full-bodied smoothness of verduzzo. Citrus, white flowers, and honey on the nose followed by a palate marked by peaches, apricots, and a hint of lemon zest.
2006 Cantina Kellerei Porphyr ($54.99)
The 2006 Lagrein Riserva Porphyr is perfumed and delicate in its mineral-infused blackberries, scorched earth, minerals and flowers. This is a relatively subdued vintage for Porphyr yet the wine flows with gorgeous balance and persistence. The finish is refined and polished. Anticipated maturity: 2012-2018." Antonio Galloni - Wine Advocate 91 Points!
2008 Poggio Antico ($34.99)
Poggio Antico's 2008 Rosso di Montalcino offers up delicate, perfumed red fruit in a mid-weight, somewhat fleeting style. Ideally the wine is best enjoyed over the next few years. Anticipated maturity: 2010-2014." Antonio Galloni – Wine Advocate 88 Points!
2006 Valdisanti ($39.99)
The estate's 2006 Valdisanti is 75% Cabernet Sauvignon, 20% Sangiovese and 5% Cabernet Franc. Here the fruit is marvelously rich and decadent, with layers of cherry preserves, roasted coffee beans, new leather and French oak all woven together in fabric of notable class. The sheer richness of the fruit should allow the Valdisanti to develop gracefully in bottle for a number of years. Dried flowers and mint linger on the long finish. Anticipated maturity: 2012-2024." Antonio Galloni – Wine Advocate 92 Points!
2004 Cascina Morassino Ovello ($49.99)
The estate's 2004 Barbaresco Ovello presents a much darker color as well as a heavier dose of oak than the Morassino. Ovello is one of the region's most distinctive sites, so it is a shame to see much of its detail covered by the oak, which also contributes to the harder tannins on the finish. Still, this is beautifully made wine with a dark, spiced personality and plenty of style. Anticipated maturity: 2009-2019.
Hope to see you all out this weekend!