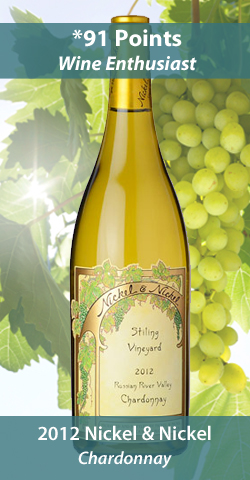 Friday night in El Cajon, we will re-engage our plan from last week and welcome Kit Bartlet from Wine Warehouse.  Kit will pour his California favorites from their book, and he won't stop raving about Boz Scaggs and the wine he makes from his Napa Valley home.  So, of course, we'll be tasting that jewel!
We'll begin with the incredible Nickel and Nickel Chardonnay, then it ramps up with two Pinot Noirs and two Cabernet's, and ends with Boz's Montage blend from Mt. Veeder.
Maybe if we sell enough of his wine, we can get Boz to come down next time?
We will also be pouring the same wines on Saturday afternoon as well, so if you don't get a chance to join us Friday night, then we look forward to seeing you on Saturday.
~Patrick
Harvest Ranch El Cajon Wine Tasting:
Friday, November 22nd, 2013  5pm – 7pm
Saturday, November 23rd, 2013 3pm – 5pm
759 Jamacha Road
El Cajon, CA 92019
619-442-0355
View Map
The Lowdown Wines
This weeks selections: $15.00

Nickel & Nickel Chardonnay 2012   ($47.99 During Tasting)

Sommeliers will love this Chardonnay for its lean, Chablis-like elegance. The lemon and passion fruit flavors stand alongside stony minerality and a leesy, sourdough bread tartness, while the brisk acidity makes the mouth water. Elegant rather than opulent, this gathers momentum as it warms in the glass. 91 Points Wine Enthusiast
Au Bon Climat Pinot Noir 2011      ($21.99 During Tasting)
This wine is just easy to drink. Whether with fresh grilled salmon or left-over roast chicken or just in a glass by itself, the pretty plum and spring strawberry flavors of ABC SB Pinot are simply delicious. There is nothing pretentious here, just well balanced, nicely textured, brightly fruity wine.
Bridlewood Pinot Noir 2011   ($12.99 During Tasting)
Displays lush floral aromas that extend to the palate and combine with dark fruit flavors of raspberry and dark cherry with hints of caramel and toffee.
Educated Guess Cabernet 2011     ($24.99 During Tasting)
Rich, ripe and focused with juicy blackberry and cherry fruit, cocoa and hints of mint all tied together with a creamy french vanilla middle and a finish that in a word is… lingering. Educated Guess fills all the requirements that a serious cabernet lover is looking for.
Martini Sonoma Cabernet 2011     ($15.99 During Tasting)

That's right, the world's greatest and most powerful wine critic, Robert Parker, just wrote that the 2011 Louis Martini Sonoma Cabernet is the "Best Cabernet in the world for its price range!
Boz Scaggs Montage 2010    ($37.99 During Tasting)

A blend of classic southern Rhone varietals: mourvedre, grenache , syrah and counoise.  From Mt. Veeder in Napa Valley, and yes this is the Boz Scaggs you're thinking of who did the Lido song.