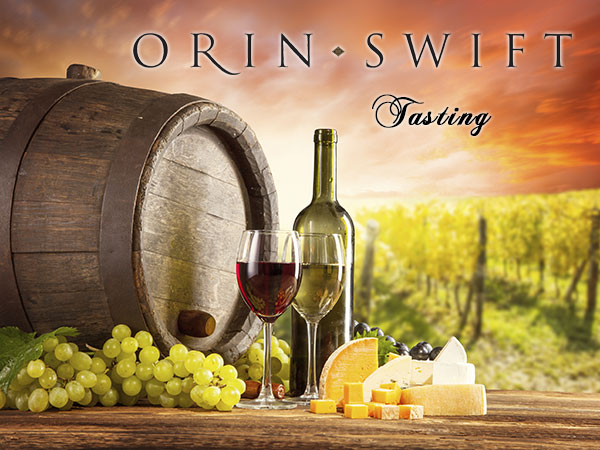 Dave Phinney, owner/winemaker of Orin Swift, rose to fame and fortune with his famous wine "The Prisoner".  He sold that as well as the Saldo Zinfandel label for a gazillion dollars a couple of years ago and is now concentrating on the remaining labels he has.  With these new releases they have set the wine world ablaze with his HUGE scores.  Robert Parker is calling him the winemaker of the year!  See if you agree.
Orin Swift Tasting Event
Tasting Dates:
Friday, March 25th, 2016 – 5pm to 7pm
Tasting Cost: $25
ORIN SWIFT WINE TASTING:
Here are the wines we have selected to share with you.
Mannequin – $29.99 (Glass Price: $14) This is amazing wine, a gorgeous, full-throttle, honeyed wine with a light-gold color, oodles of tropical fruits including pineapple and mango, rose petal and floral notes, and beautifully integrated oak .  It is a magnificent, full-throttle, exuberant dry white .  96 pts Parker!!
Abstract – $29.99 (Glass Price: $14) A magnificent wine, and quite compelling, with notes of blackberry, black cherry, strawberry jam, spring flowers, camphor and incense, the wine is full-bodied, unctuously textured and beautifully put together, with no hint of heat or new oak.  94 pts Parker!
D66 – $39.99 (Glass Price: $19) It has elegant, lively notes of blackberry, cassis, plum, pepper and violets to go with a medium to full-bodied, balanced and yet still hedonistic feel on the palate. A blend of 75% Grenache, 15% Syrah and 10% Carignan, 95 pts Parker!!
Machete – $47.99 (Glass Price: $22) Another innovative and genius effort . It is full-bodied and with a stunning nose of boysenberry, black cherry, chocolate and floral notes. Full-bodied, opulent and multilayered, this is another stunner.   This is unbelievable wine and another great effort.  94+ pts Parker!
Palermo Cabernet Sauvignon – $42.99 (Glass Price: $20) The wine has wonderful notes of spring flowers, espresso bean, black cherry and blackberry fruit, a touch of toast, licorice and forest floor. It is opaque purple, with wonderful purity, sweetness and an expansive, full-throttle mouthfeel.  94 pts Parker!
Special Event Bottle Pricing:
Purchase 3 Bottles – Save 10%
Purchase a Case (12) – Save 15%
Meat/Cheese Pricing:
Small Plate $9.99
Large Plate $14.99