Hello Friends.
We welcome our new Harvest Ranch and Jonathan's fans and subscribers to our weekly wine tasting newsletter.
Each week we send out a weekly Wine Times newsletter highlighting the great wines we have selected and will be sampling at our La Jolla (Jonathan's Market) and El Cajon locations.
For those of you new to our newsletters, we also offer a weekly "By the Glass" special at our Jonathan's Market location in La Jolla. Each week we offer a couple of white and red wines available for purchase by the glass, from 12 Noon until 7pm, Monday through Saturday. This means you can enjoy a sandwich from our deli, or a salad from our salad bar along with a glass of wine. I know many of you have wondered what various wines taste like. This will give us an opportunity to explore new wines without the commitment of buying a whole bottle, or just the chance to taste great wines at an unmatchable price.
Keep in mind, these wines would cost at least twice as much at a restaurant as we are offering them at our retail price. The list of wines to choose will not be large, but the menu will be constantly changing.
Again this week, we will be offering the same wines for the weekly "By the Glass" special as we did last week:
Whites:
Lloyd 2010 Carneros Chardonnay ($10.00)
Alma Mia 2011 Sonoma Sauvignon Blanc ($5.00)
Reds:
Bonnaccorsi 2007 Santa Rita Hills Pinot Noir ($10.00)
Von Strasser 2006 Cabernet Sauvignon ($15.00)
A special note too, we will be having one of our popular 20% OFF Wine Sales this Friday only March 8th, 2013. Make your plans to stop by and stock up on some of your favorite wines and pick up a couple new ones to try.
Our tasting selections are listed below for La Jolla this week.
Thank you very much for your continued support!
- Jason Perry
Wine Specialist
You can visit us online at any time at www.harvestranchmarkets.com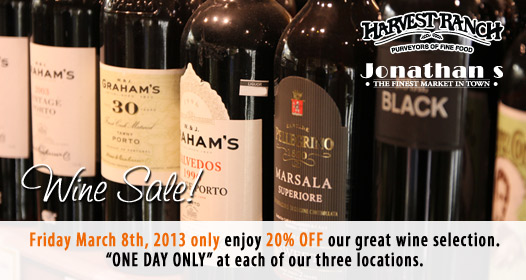 La Jolla Tasting Schedule:
7611 Fay Ave, La Jolla, CA 92037 – View Map
Friday, March 8th, 2013 – 3:00 – 8:00pm
Saturday, March 9th, 2013 – 3:00pm – 8:00pm
Contact: Jason Perry Email Jason
Wine's for this week:
Friday, March 8th, 2013
Lineup: Featuring Wines of Paso Robles $20.00
Here are the wine's we will be sampling:
Tablas Creek 2006 Esprit Blanc ($39.99)
"The flagship white is the 2008 Esprit de Beaucastel Blanc, a blend of 65% Roussanne, 30% Grenache blanc, and a rarity of 5% Picpoul. This is really great stuff in 2008. The wine displays plenty of honeyed citrus, spring flowers, white peach, apricot, quince, and loads of wet rocks, giving a steely definition to its opulent, full-bodied, yet fresh flavors. This is a tour de force in dry white and Rhone Ranger blends. It's impossible to know how long it will last, but I would drink it sooner rather than later." Robert Parker- Wine Advocate 94 Points!
Chronic Cellars 2011 Sofa King Bueno ($22.99)
A blend of 79% Syrah, 12% Mourvedre, 5% Petite Sirah, 4% Grenache
It shows aromas of black licorice, violets, clove, bay leaves, and thyme. On the palate there are flavors of fresh berries, black pepper, licorice, and subtle notes of clove, and thyme. This wine is youthful and fleshy! Bueno has many layers that fill the nose and palate. It is a full bodied wine with balanced tannins and different spices.
Anglim 2007 Hastings Ranch Mourvedre ($39.99)
"Our first varietal Mourvèdre comes from a small 3.3 acre planting in the Adelaida region on Paso Robles' far west side, at one of the area's highest elevations. Spicy white pepper is immediately apparent on the nose, framed by earthy black plum, cherries, spice and rich tannin. This wine is young, and we expect it to be quite age-worthy." Anglim – "Firm and spicy, medium-to-full-bodied, notably peppery, with dried berry fruit and subtle earthy touches. This is elegant and stylish. Drink now through 2016. 233 cases made." –JL Wine Spectator 88 Points!
Austin Hope 2010 Syrah ($44.99)
This red exhibits pure, rich, ripe and concentrated layers of blackberry, boysenberry and black licorice, with tannins that give the flavors depth and traction. Drink now through 2022. 1,175 cases made. –JL Wine Spectator 93 Points #76 Top 100 of 2012!
Tablas Creek Esprit De Beucastel ($54.99)
"The 2008 Esprit de Beaucastel flows with sweet dark cherries, flowers, tobacco and spices. It is a beautiful, classically built wine graced with striking inner perfume, lovely mid-palate juiciness and a round, utterly harmonious finish. Well-integrated, silky tannins linger on the close. This is a fabulous wine from Tablas Creek. My sense is that the wine should be tasted upon release and then again only after a number of years in bottle. In 2008 the blend is 38% Mourvedre, 30% Grenache, 26% Syrah and 6% Counoise. Anticipated maturity: 2018-2028." Antonio Galloni Wine Advocate 94 Points!
ALL FEATURED WINES AVAILABLE 15% OFF TODAY ONLY!
Saturday, March 2nd, 2013
Lineup: Featuring Wines of Australia and New Zealand $20.00
Here are the wine's we will be sampling:
Greywacke 2001 New Zealand Sauv Blanc ($24.99)
This intriguing white delivers a complex aromatic note that includes whiffs of petrol, oolong tea, mineral and lanolin, giving way to an equally complex flavor profile. Crunchy green apple, Meyer lemon and melon flavors are refreshing, balanced, and persistent on the finish. Drink now. 1,500 cases imported. –MW – Wine Spectator 92 Points! #53 Top 100 of 2012!
Molly Dooker "The Violinist" ($29.99)
The current Mollydooker collection begins with the one white wine, the medium straw-colored 2009 Verdelho "The Violinist." It was partially barrel-fermented and aged on its lees in barrel and tank. It gives up fragrant aromas of toast, baked apple, mango, and other tropical aromas. Creamy textured, round, ripe, and concentrated" Jay Miller – Wine Advocate 90 Points!
Tir na Nog 2006 Grenache ($34.99)
"Lithe and distinctive for its orange peel-accented black cherry and licorice flavors, lingering harmoniously on the fine-grained finish." HS Wine Spectator 91 Points!
Elderton 2006 Shiraz ($27.99)
A rich and vibrant dark purple. Chocolate, vanilla and plums on the nose. Great power to palate, with loads of rich plummy and chocolate flavors. Also showing fine, lingering and integrated tannins. A great match for richly flavored meats, game or mature cheddars. "Elderton is making classically styled Barossa Shiraz, marrying raspberry fruit with rich chocolaty overtones and wrapping them in a soft cocoon of supple tannins and balanced acidity. Drink now–2014." Wine Enthusiast 90 Points!
2001 Grant Burge Meshach Shiraz ($89.99)
"Ripe and gooey, dense with delicious cherry pie, blackberry and licorice flavors that persist through a long, glorious finish. Has depth and presence, a real candidate for triumph after long-term cellaring. Best after 2011. 100 cases imported." –HS
Wine Spectator 94 Points!
ALL FEATURED WINES AVAILABLE 15% OFF TODAY ONLY!
El Cajon Tasting Schedule:
759 Jamacha Road, El Cajon, CA 92019 – Click here for Map – (619) 442-0355
Friday, March 8th, 2013 – 5:00-7:00pm.
Please note that to be included in our tastings in El Cajon all registrations must be made before 6:30pm.
Contact: Claire Peterson Email Claire
Wine's for this week:
Friday, March 8th, 2013 Lineup: $TBD
Here are the wine's we will be sampling today:
Please visit store for Friday's selections.
Share: Please forward this email to any of your wine loving friends and family members by clicking on the Forward To a Friend link at the bottom of the page under the Harvest Ranch Market address. Also, make sure if you are on Facebook and Twitter to link up with us to receive updates.
Wine Pairings: In case you haven't checked out our website before, we have a wine pairings section there which you can use as a quick reference guide when pairing your wines.
We invite you to follow us on our social platforms on facebook and twitter to receive up to date information on specials and updates during the week.
If you should have any questions regarding our wine tasting events feel free to call or email Jason Perry in La Jolla or Claire Peterson in El Cajon.
Sincerely,
The Wine Team