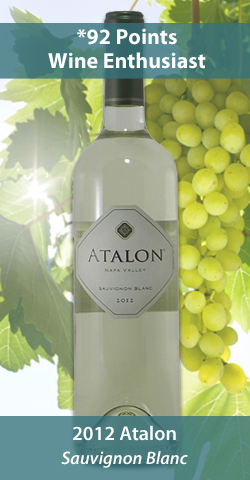 There's been much written about the French wine establishment, and well it should have been, as they set the standards for all the major wine varietals for the modern age.  But, as the Judgment of Paris tasting revealed, the California versions of the major varietals has to be taken seriously.
Friday night in El Cajon, we'll examine some intriguing interpretations of each of the main grape varietals done California Style.  Come and let your voice be heard, as we search for the varietal interpretations that best fit each grape.
~ Patrick Campbell
Harvest Ranch El Cajon Wine Tasting:
Friday, October 25th, 2013  5pm – 7pm
759 Jamacha Road
El Cajon, CA 92019
619-442-0355
View Map
California Style Tasting
This weeks selections: $15.00

Atalon Sauvignon Blanc 2012   ($16.99 During Tasting)

Shows complex flavors of citrus fruits, Asian pears, lychee, cashews, vanilla, minerals and white pepper, with a touch of honey.  Editors Choice! 92 Points Wine Enthusiast!
Benziger Chardonnay 2010    ($12.99 During Tasting)
Bold and silky with buttery aromas of butterscotch and warm croissants. Flavors of ripe peach and pear are followed by notes of soft, creamy vanilla.  Carneros ~ Certified Sustainable. Double Gold SFC
Baileyana Pinot Noir 2011   ($24.99 During Tasting)
This is a big Pinot, with great acid structure, but soft, smooth tannins. Aromas are of anise, cola and deep dark cherry along with smoky barrel notes. Flavors of candied cherry and red licorice are followed by a spicy mid-palate and a nice vanillin, faintly smoky finish.
Amelie Malbec    ($12.99 During Tasting)
Once a Bordeaux blending grape, Malbec is now the calling card of Argentina.  Beaucanon shows a California interpretation, made by a French winemaker in Napa.
Honig Cabernet 2011    ($36.99 During Tasting)

An elegant, balanced Cabernet with flavors of black cherry, plum, and black tea, and hints of nutmeg, allspice, cassis, vanilla, and anise. The broad mid-palate is rich, the finish is long, and the tannins are lush.  Has not been scored yet, but the 2010 got a 93 rating from Wine Spectator.
Bonaccorsi Syrah 2006     ($24.99 During Tasting)

Explosive aromas of blackberry, mulberry, smoked meat and dark chocolate. Deep, palate-staining dark berry flavors are energized by a note of cracked pepper and pick up floral character with aeration.
See you all Friday!