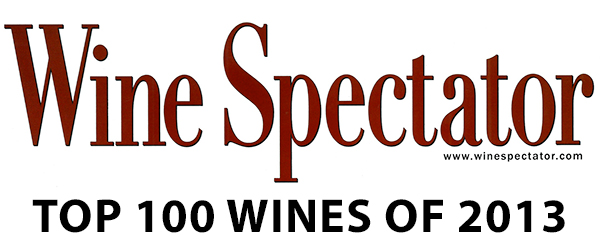 This weekend at El Cajon we're excited to host our annual Wine Spectator Top 100 Wines tasting!
We have a stellar lineup of wines that each received the coveted Top 100 Wines of the World award from Wine Spectator.
Most of these wines are already sold out, so our stock is severely limited.  However, we want our loyal customers to have the opportunity to sample these wines, so come early!  Some will be limited to just one bottle to pour.
See you this weekend!
~ Patrick
El Cajon Wine Tasting Event:
Friday, December 13th, 2013  5pm – 7pm
Saturday, December 14th, 2013  3pm – 5pm
759 Jamacha Road
El Cajon, CA 92019
619-442-0355
View Map
This weeks selections: $15.00

Kung Fu Girl Riesling 2012   ($11.99 During Tasting)

Expressive, bright and vibrant, with apple, lime and citrus blossom flavors, persisting enticingly as the off-dry finish lingers.  #51  TOP100
A to Z Pinot Noir 2011    ($15.99 During Tasting)
Sleek and tightly packed, with delicate layers of cherry and cocoa flavors mingling against refined tannins, persisting pleasantly on the finish.  #55 TOP 100
Rockaway Cabernet 2010   ($72.99 During Tasting)
"Exhibits gorgeous dark berry flavors in a big yet graceful style, turning elegant and supple on the finish, where touches of spice, mocha and light oak come into play. "  #64 TOP 100
Epoch Estate Blend 2010     ($39.99 During Tasting)
"Combines richness with subtlety and finesse, weaving together chocolate and vivid dark berry flavors with touches of hazelnut, gliding to a long graceful finish." #25 TOP 100
Seghesio Cortina Zin 2010     ($42.99 During Tasting)

"Big, very ripe and long on essential blackberry fruit, Seghesio's Cortina bottling is a generously filled wine that succeeds on the strength of both balance and richness. It is quite full in body but is always alive, and its ample acidity affords it plenty of room for improvement with age."  #23 TOP 100
See you all this weekend!