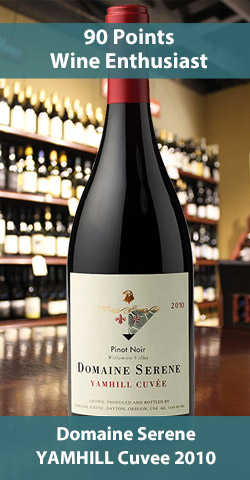 The Pinot Noir Challenge Tasting
We've had a lot of customers asking for another of our periodic Pinot Noir challenges and this week we have a good one. It's Oregon going toe-to-toe against California's Central Coast.
These are the two main challengers to Sonoma and Carneros for supremacy in U.S. Pinot Noirs and we'll provide a variety from the wet and wonderful Willamette Valley to the cool Pacific slopes of the Santa Lucia Highlands.
Please join your referee, Bill Callahan, in sampling an interesting assortment of Pinot Noirs and give us your scorecard afterward!
Harvest Ranch El Cajon Wine Tasting Event:
Friday, April 18th, 2014  5pm – 7pm
Saturday, April 19th, 2014  3pm – 5pm
759 Jamacha Road
El Cajon, CA 92019
619-442-0355
View Map
Featuring "The Pinot Noir Challenge Tasting"

This weekends selections: $15.00

Underwood Pinot Noir 2013   ($10.99 During Tasting)

This Oregon offering exhibits aromas of plum, blueberry and raspberry. The palate is filled with raspberry and cherry fruits with warm cocoa tones.
Kings Ridge Pinot Noir 2012   ($14.99 During Tasting)
The combination of cool and warm Willamette climates found in these regions produces Pinot Noirs stacked with intense raspberry, cherry and floral flavors and aromas. A Wine Spectator Best Buy
Domaine Serene Yam Hill Cuvee 2010   ($42.99 During Tasting)
This Willamette Valley Pinot Noir "has a pleasing roundness and an immediate accessibility, with flavors of red fruit and light chocolate in the foreground and brambly berries at the core." – 90 Points Wine Enthusiast
Luli Santa Lucia Pinot Noir 2012   ($16.99 During Tasting)

An elegant and powerful Pinot Noir with aromatics bright and vibrant with notes of wild strawberry, boysenberry, rose petal and earl grey tea. The palate is broad and full, with lasting flavors of bing cherries and baking spices.
Kali Hart Santa Lucia Pinot Noir 2012   ($16.99 During Tasting)

Spicy red currant and strawberry on the nose and in the mouth. Light-bodied and refreshingly bitter, with good clarity and a subtle touch of jamminess.
August West Santa Lucia Highlands Pinot Noir 2012   ($27.99 During Tasting)

Great conditions for this vintage produced a juicy Pinot tasting of black cherry, plums and earth with a nose of violets and rose petals. Delicious.
See you all this weekend!