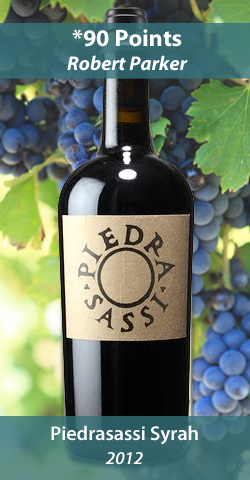 With Thanksgiving quickly approaching, there is no better time to start planning your Thanksgiving dinner menu and selecting wines to complement the feast.  The big question – which wines to go with the variety of tastes, textures and aromas that uniquely present themselves on Thanksgiving Day? Should you choose one wine to carry you through appetizers to desserts – a tough request, but doable. Or should you choose several wines to accent different components of the meal and cater to a variety of guests' palates? The choice is entirely up to you, but this weekend in El Cajon, we'll give some options to get you started.
We'll finish with a delicious dessert wine that can pair with more decadent desserts, or serve as one itself – the Chocolate Amore!
See you Friday!
~ Patrick Campbell
Harvest Ranch El Cajon Wine Tasting:
Friday, November 8th, 2013  5pm – 7pm
759 Jamacha Road
El Cajon, CA 92019
619-442-0355
View Map
Thanksgiving Wines
This weeks selections: $15.00

Milbrandt Chardonnay 2012   ($15.99 During Tasting)

Sleek and distinctive, with tangerine-accented pear and tea leaf flavors. Comes together smoothly on the lively finish, revealing a salted caramel note. 89 Points Wine Spectator.
Monchof Riesling     ($12.99 During Tasting)
Fresh and racy, this features firm minerality and flavors of ripe apricot, baked pear and guava. Lush midpalate, finishing with notes of clove and hints of basil. Expressive. From Napolean's former vineyard. 90 Points Wine Spectator.
Siduri Pinot Noir 2012   ($21.99 During Tasting)
Tucked away in a nondescript industrial zone in Santa Rosa, California, Siduri's Adam Lee produces a manic variety of much-praised, small-lot and single vineyard Pinot Noir. But the nicely priced appellation series–Russian River Valley, Sonoma County, and Sonoma Coast–are as eagerly anticipated as they are quick to sell out.
Il Fauno Super Tuscan 2008     ($24.99 During Tasting)
"This is a thickly layered and opulent Tuscan blend that is enhanced by territory-driven aromas of grilled herb and rosemary oil. The best part for me, however, is the soft richness this wine delivers in the mouth." 94 Points Wine Advocate.
Piedrasassi Syrah  2012     ($16.99 During Tasting)

"Offers up gorgeous purity of fruit with layered, complex notes of blackberries, olive, underbrush, pepper and hints of leather all emerging from the glass. It's a screaming value and readers need to latch onto a couple of these." 90 Points Robert Parker.
Trentadue Chocolate Amore    ($18.99 During Tasting)

Made from Merlot grapes grown in Geyserville, this opulent dessert wine combines the rich headiness of Port with a hint of chocolate extract. What a pairing! Pour some of this over ice cream or sip with molten chocolate cake.
See you all Friday!