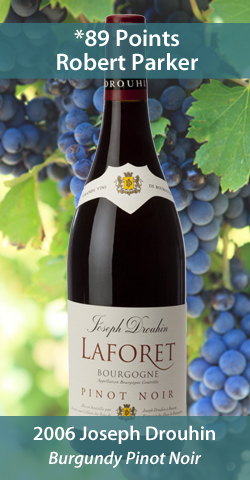 Hi Folks!
This weekend's wines for your tasting pleasure will have a distinct French accent to them although they won't all be from La Belle France! Highlighting the tasting will be classics from Bordeaux and Burgundy but we'll also see how winemakers in other parts of the world are crafting French-style wines with great success from Paso Robles to Sonoma County to the Mendoza highlands in Argentina.
Please join us for another exciting adventure through the wonderful world of wine.
~ Patrick Campbell
Harvest Ranch El Cajon Wine Tasting:
Friday, December 6th, 2013  5pm – 7pm
759 Jamacha Road
El Cajon, CA 92019
619-442-0355
View Map
French Style
This weeks selections: $15.00

Adelaida Pavanne 2009   ($23.99 During Tasting)

Delicious white Southern Rhone blend of  predominantly Roussanne with Marsanne, Grenache Blanc and Viognier.  Nice white fruit with a hint of floral & vanilla nose. 90 Points – Wine Enthusiast
Joseph Drouhin Burgundy Pinot Noir 2006   ($44.99 During Tasting)
This Pinot Noir comes from Chambolle-Musigny, in the heart of Côte de Nuits, between Morey-Saint-Denis and Vougeot. Fine lace and silk are the words most often associated with this wine. Bright, intense colour and complex aromas evoking violet, black cherry and damp earth. 89 Points – Robert Parker
Reignac Bordeaux Superior 2005   ($32.99 During Tasting)
"Another top-notch effort from the home property of the brilliant Yves Vatelot. Has a dense ruby/purple color and notes of graphite, black currant, some sweet cherries, and spice box. It is a medium to full-bodied wine with beautiful concentration, decent acidity, and ripe tannin. 90 Points – Robert Parker
Domaine Dureiu Chateauneuf du Pape 2005     ($42.99 During Tasting)
Classic Red Southern Rhone blend consisting of Grenache, Syrah and Mourvedre in varying proportions. Lovely garnet in color. Big, but balanced. Lovely grenache/cherry fruit wrapped in a cloak of juicy acidity and tons of garrige with the tannins underneath it all. Long sweet finish. 90 Points – Robert Parker
Farrier Alexander Valley Presshouse 2009     ($17.99 During Tasting)

This is one of California's nicer Bordeaux-style blends from Sonoma County that has rich flavors and is a powerful wine that's ripe in blackberries, black currants and mocha. 90 Points – W&S
Enamore Allegrini/Renacer 2011     ($25.99 During Tasting)

Bordeaux blend of Malbec (60%), Cabernet Franc (20-25%), Cabernet Sauvignon (10%), done in the Amarone style! Wine not yet rated!
See you all this weekend!