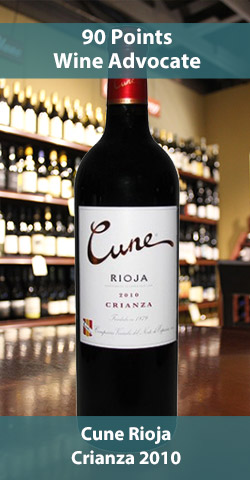 "The latest from Spain Tasting"
Our last tasting of Spanish wines was so popular we sent our wine sleuth, Patrick Campbell, scouring the Spanish countryside for more nuggets and he returned with some sensational finds.
Actually, he's not the only one to notice how good they are. Most of these wines received 90 + ratings from Robert Parker and other top wine reviewers.
So, please join us for an exciting assortment of Riojas from the North near the Basque country and Priorats from southwest of Barcelona that boast quality and a superb variety of tastes that, as always, are reduced in price for the tastings hosted by Senor Bill Callahan.
Harvest Ranch El Cajon Wine Tasting Event:
Friday, April 4th, 2014  5pm – 7pm
Saturday, April 5th, 2014  3pm – 5pm
759 Jamacha Road
El Cajon, CA 92019
619-442-0355
View Map
Featuring the "Why Not Us" Tasting

This weekends selections: $15.00

Telmo Rodriguez Rueda Basa Blanco 2012  ($11.99 During Tasting)

This blend of Verdejo, Viura, and Sauvignon Blanc is a vivacious and energetic white from the Rueda region of Spain that is ultra refreshing.
Cune Rioja Crianza 2010  ($11.99 During Tasting)
A blend of 80% Tempranillo with Garnacha and Mazuelo. All grapes come from the 'Rioja Alta' subzone, where higher altitudes and Atlantic influences make for a climate ideal for producing wines of elegance and finesse. — 90 Points Wine Advocate
LA Montesa Rioja 2010  ($16.99 During Tasting)
"Displays an attractive bright red ruby color, subtle notes of perfectly ripe red cherries, flowers, spices, wild herbs. Delicious and a great value." – 93 Points Robert Parker
Artadi Vinas de Gain Rioja 2010  ($24.99 During Tasting)

From 30-50-year-old vines, the palate is explosive, with clean acidity and balance, pure, hedonistic with great depth. It slowly develops some minty, balsamic aromas coating the red fruit, with notes of fennel. — 91 Points Wine Advocate
Martinet Bru Priorat 2005  ($37.99 During Tasting)

A blend of 45% Grenache and Cabernet Sauvignon, Merlot and Syrah is "Pinot noir-like in its clarity and red berry flavor expression, picking up weight and chewiness on the back end." – 91 Points Wine Advocate
Idus de Vall Llach 2009  ($43.99 During Tasting)

Predominantly Carinena and Garnatxa with Cabernet Sauvignon, Merlot and Syrah, this is an elegant wine which surprises with mineral tones, a profound complexity of aroma and flavor. — 94 Points Wine Enthusiast
See you all this weekend!