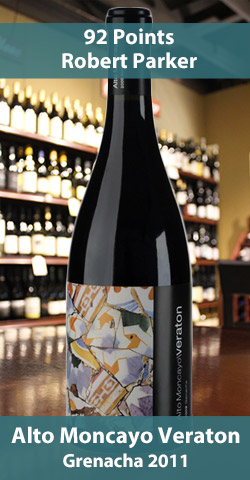 "Let's Go Exotic Tasting"
We've put together an exotic combination of wines from California's Napa Valley and Santa Lucia Highlands, Southern France, Spain and Argentina for your tasting pleasure this weekend.
We'll start off with a Napa white blend and Chardonnay and then move into a punch-you-in-the-mouth Miura Pinot Noir followed by an Alto Moncayo Granacha that is the little brother of an Alto Moncayo that garnered a 100-Points rating from Robert Parker. This one only got a shameful 92!
We'll wrap up with a D 66 Orin Swift Rhone blend from Dave Phinney's French vineyards and a Norton Reserve Malbec that was No. 36 on Wine Spectator's Top 100 of 2013.
Please join your non-exotic host, Bill Callahan, and sample these terrific wines that are offered at our usual wine-tasting discounted prices.
Harvest Ranch El Cajon Wine Tasting Event:
Friday, May 9th, 2014  5pm – 7pm
Saturday, May 10th, 2014  3pm – 5pm
759 Jamacha Road
El Cajon, CA 92019
619-442-0355
View Map
Featuring the "Let's Go Exotic Tasting"

This weekends selections: $15.00

Cameron Green White Blend 2012   ($11.99 During Tasting)

This Napa Valley white  is comprised of 60% Rutherford Sauvignon Blanc, 20% Old Wente Clone Oak Knoll Chardonnay and 20% Oakville Pinot Grigio fermented in neutral French oak and features flavors of citrus and pear.
Acacia Carneros Chardonnay 2012   ($16.99 During Tasting)
Appealing flavors of baked apple, ripe d'Anjou pear and white nectarine punctuated by Meyer lemon zest, honeycomb, ginger spice and crème brûlée.
Miura Pinot Noir Pisoni Vineyard 2007   ($49.99 During Tasting)
This winery's pinot noirs have been described as "not for the faint of heart" and this vintage delivers a striking nose of intense berry bombast and is rich and lush on the palate with full-bodied black cherry flavor.
Alto Moncayo Veraton Granacha 2011   ($24.99 During Tasting)

"A fabulous nose of spring flowers, ground pepper, blackberries and black cherry liqueur is followed by a full-bodied, super-intense wine that easily competes with wines priced two to three times higher." – 92 Points Robert Parker
D 66 Orin Swift Vins de Pay des Cotes Catalanes 2009   ($24.99 During Tasting)

The inaugural release of this wine from winemaker Dave Phinney, D66 is a project based in the south of France in the village of Maury. The wine is the classic Orin Swift style,  80% grenache with 12% syrah and 8% carignan.
Norton Reserve Malbec 2011   ($16.99 During Tasting)

No. 36 on WS Top 100 of 2013: "Toasty yet ripe, showing ample mesquite and mocha notes to the raspberry ganache and rich plum fruit. Silky tannins line the dark, cream-tinged finish." – 92 Points
See you all this weekend!