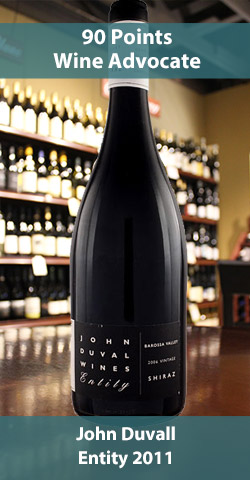 On Friday we have a special guest in store, Kelly Wilkinson, who represents Trinitas Winery.  Kelly has done tastings on a couple occasions in El Cajon, Del Mar, and once here last year at Jonathan's.  All of them have been well received so this promises to be no exception.  The five wines we have from Trinitas are the Sauvignon Blanc, the Chardonnay, the Old Vine Zinfandel, the Mysterium red blend, and the Cabernet Sauvignon from the heralded 2007 vintage.
On Saturday we will taste wines from Australia.  Australia is well regarded for its wines made from Shiraz, but many other varietals perform particularly well.  We have two white wines on tap that are inexpensive but both received 90 Points and a smart buy designation from wine spectator.  The three reds for the evening look very promising.  A 93 Point Wine Advocate Shiraz from Gemtree and a pair of John Duval wines.  John Duval has scored over 90 points 25/27 times when reviewed by Robert Parker and the 2011 Entity and 2010 Plexus we have in store were no exception to the rule.
Jason Perry
Jonathan's Market La Jolla Wine Tasting:
Friday, March 21st, 2014 – 4pm – 7pm
Saturday, March 22nd, 2014 – 4pm – 7pm
7611 Fay Avenue
(between Kline St & Pearl St)
La Jolla, CA 92037
Phone: 858.459.2677
View Map
Friday, March 21st, 2014 – 4pm – 7pm
Friday's Selections: $20.00 per person
Featuring the wines of "Trinitas Winery"

2011 Trinitas Sauvignon Blanc ($22.99)
The 2011 Sauvignon Blanc immediately shows itself as crisp and refreshing. Enjoy soft aromas of citrus fruits and hints of vanilla while taking in a mouthful of tropical flavors such as guava, pineapple, and with a kiss of honey on the finish. 

We split the fermentation into two portions: tank and barrel. By doing this we create complexity and balance.
2012 Trinitas Chardonnay ($27.99)
The Trinitas 2011 Chardonnay is from the Los Carneros appellation of the Napa Valley. Barrel aging in American oak lends to aromas of toasty, sun- kissed straw. Under the toast, subtle hints of bright citrus, vanilla, and toffee will fill your glass. Secondary fermentation creates a mid-palate with rich flavors of creamy butter and caramel. The medium toasted barrels provide the caramel and butterscotch notes. The surprisingly bright finish lingers with hints of baked granny smith apple.
2007 Trinitas Zinfandel ($22.99)
The two vineyards that make up the blend are JMR and Conrado Vineyards. Zinfandel like this is a great wine for backyard barbecues. Its juicy strawberry and blackberry fruit with an inkling of lavender and dark chocolate will work with barbecue sauces, especially those with a bit of sweetness. The fruit is kept fresh and lively with acidity, and the wine finishes with smooth, ripe tannins that make the wine a pleasure to drink.
2009 Trinitas Mysterium ($27.99)
The five grapes comprising this wine are harvested then each varietal is separately fermented and barrel aged for 18 months. Doing this develops more complexity in each varietal and also allows for the very best blend to be assembled. The blend for the 2008 vintage is made up of Zinfandel (53%), Carignane (35%), Alicante Bouschet (6%), Petite Sirah (5%), and Black Malvasia (1%).The 2009 vintage was a usual Northern California vintage pushing bright red fruit.
2007 Trinitas Cabernet ($49.99)
Our 2007 Cabernet Sauvignon boasts distinctive flavors that were heightened by the 2007 growing season. It is deep and concentrated with balance and structure. Bright aromas of roses, tobacco and spice lead to a full palate of blackberries, cherries and cocoa. The mid-palate is full and leads to a bright long finish of cherries, caramel, spice, cassis and coffee. The mouth is full, supple, and rich. Flavors of chocolate, espresso, and plum add to the lengthy finish.
Saturday, March 22nd, 2014 – 4pm – 7pm
Saturday's Selections: $20.00 per person
Featuring the wines of "Australia".
2012 D'Arenberg The Hermit Crab
Smooth and polished, balanced with lively acidity to set off the ripe pear, litchi and floral flavors, which persist beautifully on the long, deft finish. Drink now through 2008. 1,500 cases imported. –HS 

Wine Spectator 90 Points! "Smart Buy Designation"
2012 Robert Oakley Chardonnay ($19.99)
"Polished, generous and expressive, weaving apricot and floral notes through the pear and citrus flavors, lingering easily on the open finish. Drink now through 2019. 4,200 cases imported." –HS 

Wine Spectator 90 Points! "Smart Buy Designation"
2007 Gemtree White Lees Shiraz ($49.99)
Gemstone's flagship wine is the 2007 White Lees Shiraz which spent 28 months in new French oak. Saturated purple in color, it displays a distinguished aroma of Asian spices, smoked meat, blueberry, blackberry liqueur, and licorice. Structured for cellaring, it has outstanding depth and grip, incipient complexity, and layers of savory fruit. Give this lengthy effort 5-7 years to unwind and drink it from 2015 to 2027." Jay Miller 

Wine Advocate 93 Points!
2011 John Duval Entity ($44.99)
Medium to deep garnet-purple in color, the 2011 Entity Shiraz is attractively scented of crushed blackberries, red plums and mulberries with underlying Szechuan pepper and Provencal herb hints. Medium to full-bodied, it has a good concentration of red and black berry flavors in the mouth marked by an herbal streak and a vibrant acid backbone. It finishes long and chewy. Drink it now to 2020+." Lisa Perotti-Brown 

Wine Advocate 90+ Points!
2010 John Duval Plexus ($44.99)
"Deep garnet-purple colored, the 2010 Plexus Shiraz, Grenache, Mourvedre is a blend of Shiraz 52%, Grenache 29% and Mourvedre 19%. This wine opens with notes of blackberry preserves, blueberry compote and warm black plums over suggestions of vanilla, cinnamon toast, anise, espresso and mandarin peel. Full-bodied and generously fruited with warm black berry and spice flavors plus a touch of oak, it has a good backbone of medium to firm finely-grained tannins and just enough acid to balance through the long finish. It's delicious now but should improve with 2-3 years in bottle and drink well to 2022+." Lisa Perotti-Brown
Hope to see you all out this weekend!