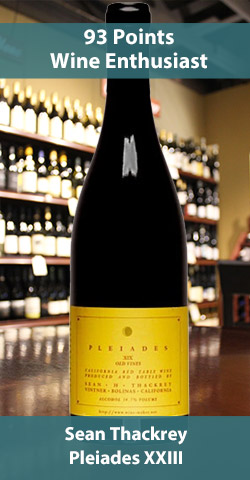 On Friday we will have a special guest Catherine Uzeta from Springboard Distributors here to show some fine wines from Eric Kent and Sean Thackrey Wineries.  The Eric Kent wines are brand new to the store and I was truly overwhelmed by the Sauvignon Blanc.  Winemaker Sean Thackrey has a truly cult following and I highly encourage you to check out his website http://www.wine-maker.net/ just so you can see the type of eccentric winemaker we are dealing with.  His wines are beautiful, see you Friday.
On Saturday we will be having a wine tasting despite it being the day before Easter.  Hopefully some of you can make it out to kick off the holiday with a Battle of the Domestic Syrah's.  We have four California Syrah's and one Washington one in store for you.  It will be a red wine lover's night that will end in fine fashion with the fabulous Gramercy Syrah that received 95 points from Robert Parker's Wine Advocate.
~ Jason Perry
Jonathan's Market La Jolla Wine Tasting:
Friday, April 18th, 2014 – 4pm – 7pm
Saturday, April 19th, 2014 – 4pm – 7pm
7611 Fay Avenue
(between Kline St & Pearl St)
La Jolla, CA 92037
Phone: 858.459.2677
View Map
Friday, April 18th, 2014 – 4pm – 7pm
Friday's Selections: $20.00 per person
Featuring the wines of "Eric Kent and Sean Thackrey Wineries"
2013 Eric Kent Sauvignon Blanc ($24.99)
We tweaked our approach to further preserve Sauvignon Blanc's mouthwatering acidity and freshness. You'll find the same wonderful texture and heady tropical and floral aromatics displayed by the 2012, all with bit more snap and verve. Honeysuckle, peach, pineapple, juicy pink grapefruit and notes of citrus zest on the finish produce a wine that satisfies on every level.
2013 Eric Kent Rose ($19.99)
Beautiful dark reddish hue, with a nose of watermelon, ruby red grapefruit, white pepper, savory spice and a wonderful mineral note on the finish. The first sip delivers fresh cranberry, rhubarb and hints of ripe apple peel all similar to last year, but the follow-through highlights a seductively round tannin intermingled with crushed rock notes that make it a fascinatingly "serious" wine for rosé.
Sean Thackrey Pleiades XXIII ($24.99)
"*Editors' Choice* How many ways can you say delicious? It's impossible to exaggerate how appealing this light-hearted wine is. It's vibrant with candied raspberries, pomegranates, orange zest, vanilla, brown sugar and cinnamon spice flavors, yet finishes dry and clean. The blend includes Sangiovese, Viognier, Pinot Noir, Syrah and Mourvèdre." – 93 Points Wine Enthusiast
2009 Sean Thackrey Andromeda ($49.99)
The Pinot Noir Devil's Gulch Ranch has a nice foresty/earthy nose with hints of strawberry, black cherry, and spice. Dark medium/ruby, the wine displays nice fruit, and a round texture.  One of California's most iconic and mystical winemakers, Sean Thackrey has logged in 20 or more vintages of consistently stunning wines that perhaps say it all with the simple quote on his label: -Sean A. Thackrey, Vintner, Bolinas, California.-" – Robert Parker
2010 Sean Thackrey Sirius ($49.99)
The 2010 Petite Sirah Sirius Eaglepoint Ranch presents a nuanced bouquet of black and blue fruits, eucalyptus, wet gravel, bay leaf, and leafy tobacco. Fresh and with notable purity to the aromas, the wine is medium to full-bodied on the palate and perfectly balanced, showing a rich, concentrated mid-palate, a light, seamless texture, and the classic Petite Sirah richness and length on the finish. Given the balance, concentration, and variety, I can only image that this will be incredibly long lived. Nevertheless, it's approachable now, yet should benefit from 3-5 years of bottle age.
Saturday, April 19th, 2014 – 4pm – 7pm
Saturday's Selections: $20.00 per person
Featuring "Domestic Syrah"

2012 Tensley Santa Barbara County Syrah ($24.99)
Mormann's Vineyards mild days and cool nights lend its fruit notes of cedar, black and white pepper and spice. The rest of the fruit comes from the Thompson, Tierra Alta, Colson Canyon and Camp Four vineyards. Camp 4 brings in bright notes of raspberry and red plums while the Thompson steps in with structure, earth, and chewy tanins. The Tierra Alta is floral notes and finesse while the Colson rounds this wine out bringing depth, pepper, chocolate and jammy blackberry and purple plum flavors.
2010 Tensley Los Padres Syrah ($24.99)
"A new entry level wine and a knockout effort that represents a serious value, the 2012 Syrah Los Padres (2% Viognier) was aged 3 months in neutral oak before being moved to stainless steel tanks and bottling. Showing real Syrah character with lively blackberry fruit, bacon fat, game, violets and hints of rosemary, it is soft and upfront on the palate and delivers loads of character in an easygoing package. It's a brilliant mid-week drinker and worthy of a multi-bottle purchase. Drink now-2017." Jeb Dunnuck Wine Advocate 90 Points!
2011 Novy Syrah ($24.99)
"Starting off the reds and spending 17 months in barrel, the inky-colored 2011 Syrah offers up a deep, decadent profile of smoked black fruits, lavender, bacon fat and crushed flowers on the nose. Medium to full-bodied, rich and mouth-filling on the palate, with juicy, integrated acidity, this knockout Syrah is a joy to drink now, yet should evolve gracefully through 2017. Drink now-2017." Jeb Dunnuck Wine Advocate 91 Points!
2011 Ramey Sonoma Coast Syrah ($44.99)
"Ramey's 2011 Syrah is flat-out gorgeous. In this vintage, the Syrah includes the Rodgers Creek fruit, so it is more varietal than is typically the case. Savory herbs, dried flowers, black cherries and black pepper are some of the many notes that flow through to the finish. Quite simply, the 2011 is an extraordinary wine in its price range." Wine Enthusiast 94 Points!
2010 Gramercy Syrah ($64.99)
"More rich, full and voluptuous, while still not losing the house style, the 2010 Syrah Lagniappe is a knockout Syrah that easily matches the brilliant 2009. Perfumed, intense and complex, with Northern Rhone-like aromas of wild berry fruit, smoked bacon, lavender and black pepper, it flows onto the palate with a classically constructed, firm mouthfeel that carries vibrant acidity, beautiful richness and a great finish. A 100% Syrah from Red Willow, Minick and SJR vineyards that spent 23 months in 14% new French oak, it builds brilliantly in the glass and will thrill for 10-12 years. Drink now-2022." JD Wine Advocate 95 Points!
Hope to see you this weekend.