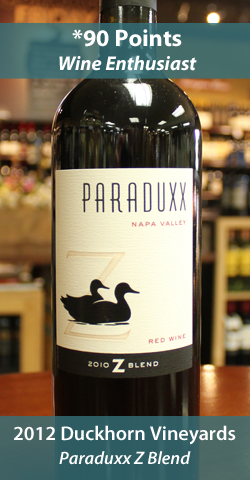 This Friday will be the battle of the Zinfandel's.  And, our timing could not be better with Thanksgiving on the horizon.  A lot of people say Pinot Noir is the wine for Turkey Day, but if you prefer a bit more body and spice, Zinfandel is a great wine to pair with turkey and the smorgasbord of sides that come with it. Zinfandel's dark berry fruit and spicy finish (think: Black pepper, cinnamon and hints of anise) pair exceptionally well with a spice-rubbed and BBQ'd bird, cranberry dressing and wild mushroom stuffing. -RB Cellars. Come out and see who will win the battle of the Zin.
We had a request for a "Big Red Saturday," so I turned to no other than Napa Valley.  "When I hear the term "Big Red," I tend to think of a flavorful, full-bodied, rich wine with good concentration and balance. Big red wines also tend to be a bit heady (alcoholic), even tannic, but balance is the key"-myvinespot.  We will begin with two delightful white wines, before turning to our three big California Cabernet's which culminates with the opulent Kristen Story Rhapsodie.
See you this weekend.
~Jason Perry
Jonathan's Market La Jolla Wine Tasting:
Friday, November 15th, 2013 – 4pm – 7pm
Saturday, November 16th, 2013 – 4pm – 7pm
7611 Fay Avenue
(between Kline St & Pearl St)
La Jolla, CA 92037
Phone: 858.459.2677
View Map
Friday, November 15th, 2013 – 4pm – 7pm
Friday's Selections: $20.00 per person
Featuring "The Battle of the Zinfandel":
2011 Walt Sonoma County Chardonnay ($34.99)
This appellation blend is crafted from the fruit of several Dutton family proper ties in the Green Valley, the coolest sub-appellation of the Russian River Valley. In addition, we sourced select fruit from the Sangiacomo family's vineyard in the Sonoma Coast, a cool and breezy site that produces wines of terrific fruit concentration. A bright golden color with tints of green, the wine has a nose that delivers stone fruits, toast, honeysuckle and hints of vanilla. The palate is broad and full with flavors of pear, lemon curd, and melon that lead into a lively, fruity finish.
2011 Rombauer Napa Valley Zinfandel ($39.99)
Rombauer is strikingly fruit-forward. A dark red in color with a ruby hue, it is bursting with aromas of ripe cranberries, blackberries and crushed raspberries. Nuances of clove and mint add character and dimension to the ripe fruit flavors. Beautiful acidity intertwined with richness seamlessly creates an expressive and dense mid-palate. Vanilla and plum flavors round out an unforgettable finish.
2008 Grgich Napa Valley Zinfandel ($39.99)
'This wine's gentle richness frames floral Zin flavors of red raspberry and crushed red peppercorn. It's tightly formed while maintaining that textural caress." Wine and Spirits 91 Points! "Tart and lively, with appealing cherry and bell pepper aromas and crisp red plum, anise and pepper flavors that linger toward a hint of rustic tannins. Drink now through 2016." Wine Spectator 89 Points!
2011 Orin Swift "The Prisoner" ($39.99)
The wine has a dense red and black hue that is framed in vibrant crimson. Aromas of Bing cherry, espresso, roasted fig and vanillin oak accents are persistent. The entry is powerful and generous supported with lively acidity while flavors of ripe raspberry, pomegranate and wild berry fruit linger harmoniously. Soft, integrated tannin chains allow the wine to be approachable now and provides for a pleasant finish. —Dave Phinney, winemaker  51% Zinfandel,19% Cabernet Sauvignon, 15% Syrah,12% Petite Sirah,2% Charbono, and 1% Grenache
2010 Duckhorn Paraduxx Z Blend ($44.99)
Fusing the robust flavors of California's native Zinfandel with the grandeur of Cabernet Sauvignon, Paraduxx has embraced the best of both core varietals to produce a world-class blend with a decidedly Californian personality. 90 Points – Wine Enthusiast!
Saturday, November 16th, 2013 – 4pm – 7pm
Saturday's Selections: $20.00 per person
Featuring "Wines of Napa Valley":
2012 Tamber Bey Chardonnay ($34.99)
This wine is Tamber Bey's first release of a 'Oakless' Chardonnay, made from the same Dijon Chardonnay Clone that is in the renowned Deux Chevaux Vineyard Chardonnay. Fermented and aged entirely in Stainless Steel, this new wine brings out and incredible bright and fresh sensation of the fruit. It all starts with an explosion of banana, ripe Danjou pear and an undertone of melon. Then the soft entrance evolves on roundness, a sap-like flavor and texture supported by the acidity, with notes of banana again, sweet-gum and touches of salinity.
2012 Cade Sauvignon Blanc ($27.99)
The 2012 vintage of Sauvignon Blanc has aromas of pear, green melon, cucumber, peach, Mandarin orange blossom, and white flowers. The palate is laced with flavors of lemon, lime, green apple, and grapefruit. The combination of oak and stainless steel gives the wine smooth texture and weight and a kiss of oak without overpowering the vibrant fruit aromatics. The finish is bright in acidity with flavors that linger on the palate of cantaloupe, orange blossom, Asian Pear, and lemon cream pie.
2009 Tyler Florence Cabernet ($19.99)
Our 2009 Tyler Florence Cabernet Sauvignon has opulent rich cherry dark berry and cassis cherry, character perfectly balanced by supple tannins and hints of toasted vanilla and toffee — a classic expression of this world-famous Cab region.
2011 Honig Cabernet ($44.99)
"An elegant, balanced Cabernet with flavors of black cherry, plum, and black tea, and hints of nutmeg, allspice, cassis, vanilla, and anise. The broad mid-palate is rich, the finish is long, and the tannins are lush." The 2011 vintage has yet to be rated, but the 2009 vintage received 92 Wine Spectator Points and the 2010 vintage received. 93 Wine Spectator Points
2006 Kristian Story Rhapsodie ($59.99)
"The 2006 Kristian Story Rhapsodie exhibits a deep black-crimson color with inviting aromas of black cherry, currant, and fresh earth. Despite significant tannic structure, the palate generously offers concentrated flavors of crème de cassis, mocha, and blueberries interlaced with graphite, mineral and sage. The intense fruit and earth elements persist through a long memorable finish, complemented by firm tannins and a touch of acidity. Anticipated maturity: 2010 – 2021."
Hope to see you all out this weekend!