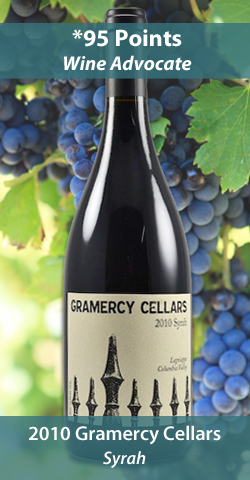 On Friday, upon request we will visit the Burgundy region of France for two whites and three reds. The most famous wines produced here, those commonly referred to as "Burgundies," are dry red wines made from Pinot Noir grapes and white wines made from Chardonnay grapes.  The highlight white wine of the evening is a Grand Cru Blanchots Chablis from Patrick Piuze that received 93 and 92 Points from Wine Spectator and Wine Advocate respectively.  The feature red of the evening is a Premier Cru Volnay from Nicolas Rossignol that scored 92 Points from Wine Spectator, "Purity, class, and delicacy mark this red with eloquently displayed raspberry and cherry flavors."  Don't miss this one.
Turkey alone pairs with virtually anything, whether it is a fruity Zinfandel or a peppery Syrah, the important thing is to pair them appropriately. A good rule of thumb is to pair opposites like sweet with spicy or savory, and big fruit flavors with mild or soft.  For this reason, white wines and tame slightly tannic reds do particularly well with turkey dinner. On Saturday we will go down the list of some of the more highly recommended Thanksgiving wine varietals like Sauvignon Blanc, Riesling, Pinot Noir, Zinfandel and Syrah.  If you are searching for those Turkey day wines, be sure to join us.
~ Jason Perry
Jonathan's Market La Jolla Wine Tasting:
Friday, November 8th, 2013 – 4pm – 7pm
Saturday, November 9th, 2013 – 4pm – 7pm
7611 Fay Avenue
(between Kline St & Pearl St)
La Jolla, CA 92037
Phone: 858.459.2677
View Map
Friday, November 8th, 2013 – 4pm – 7pm
Friday's Selections: $20.00 per person
Featuring "The Wines of Burgundy":
2010 Laroche Tete De Cuvee ($19.99)
A bright clear yellow in color the Laroche 100% Chardonnay Tete De Cuvee has elegantly fruity notes, and is lively and balanced, showing characteristic flavors of white Burgundy.  2010 was a vintage of patience.  The key to success was a generous and perfectly timed ripening period in September. As a consequence, very healthy, well-balanced, richly flavored grapes were harvested, showing liveliness and remarkable wine aromas. This vintage bears the imprint of the Laroche style.
2008 Patrick Piuze Blanchots Grand Cru ($84.99)
"Piuze's 2008 Chablis Blanchots smells of ocean breeze, fresh lime, as well as fusil, smoky emanations as if from crushed chalk. Pronouncedly mineral on the palate, it at the same time exhibits a succulence of grapefruit and white peach that goes beyond the other wines in its collection. It offers a startlingly pungent and piquant burst of fresh lime, cherry, peach, cherry pit, and tenaciously persistent maritime mineral character. A real essence of Kimmeridgian terroir, I would not be surprised to see this prove worth following for a decade." David Schildnecht – Wine Advocate 92 Points! Wine Spectator 93 Points!
2006 Joseph Drouhin Chambolle Musigny ($44.99)
"Fine lace and silk are the words most often associated with this wine. It is bright, intense in color with complex aromas evoking violet, black cherry and damp earth. According to the vintages, there are also notes of truffle and game. Refined tannins coat the palate. Good balance between texture and acidity. It shows a long aftertaste, with notes of cherry and candied fruit." Veronique Boss- Drouhin
2010 Jaffelin Bourgone Les Chapitre ($19.99)
Founded in the Rue Paradis at the heart of the old part of Beaune, the Maison Jaffelin has retained the traditions of the Chapitre – which is home to the famous cellars constructed in the thirteenth century by the Notre Dame Collegiate Church.  Jaffelin practices rigorous selection combined with traditional vinification to ensure this wine will express its terroir fully.  The high acidity in the wine ensures a longer life and allows this wine to taste bright and fruity.
2006 Nicolas Rossignol Volnay Santenots 1er ($79.99)
"Purity, class and delicacy mark this red. The floral and berry aromas and freshly crushed raspberry and cherry flavors are eloquently displayed. Glides to a lingering finish. The bright structure is integrated. Best from 2013 through 2024. 525 cases made." –BS Wine Spectator 92 Points!
Saturday, November 9th, 2013 – 4pm – 7pm
Saturday's Selections: $20.00 per person
Featuring "Thanksgiving Pairing Wines":
2012 Stepping Stone Sauvignon Blanc ($19.99)
Sauvignon Blanc frequently shows crisp citrus flavors making it an ideal pairing for turkey and mashed potatoes. This wine to exude a fresh and invigorating aromatic mix centered on layers of tropical fruits. Pineapple, honeydew melon and passion fruit are lifted by bright citrus notes.  The palate is crisp, lively and extremely playful offering citrus and intense tropical notes.
2006 Domaine Zind Humbrecht Riesling ($64.99)
A white wine that may either be bone dry or fairly sweet, excellent with any dishes that are spicy, salty or sweet. Riesling's innate flavors of apple, apricot, honey and its clarifying acidity give it a significant pairing edge with the likes of sweet potatoes, turkey meat and spice-laden or herb-filled stuffing. This is citric and vivacious thanks to high acids, so the balance strikes me as ideal. Lime, grapefruit, litchi, and coconut in the nose give this the aura of a Riesling-Gewurztraminer blend. Chalky, alkaline notes on the palpably dense but satiny palate are joined by enlivening citrus juice, leading to a long, saliva-inducing finish." David Schildnecht Wine Advocate 90 Points!
2011 Robert Stemmler Pinot Noir ($29.99)
One wine that the Wine Spectator recommends for Thanksgiving is the Robert Stemmler Pinot Noir.  Rich earth, loam and truffle notes elevate the core of fresh, crisp cherry and cranberry flavors. The floral and spice aromatics leading to a firm finish. Wine Spectator 90 Points!
2008 T-Vine Napa Valley Zinfandel ($37.99)
This would be a great wine pick for those looking for a heartier red wine with the capacity to accommodate spice, bitter and sweet flavor profiles. In 2008 the decade old vines chose to produce much less fruit, but didn't hold back on the intensity. The result is spicy goodness, and the classic blackberry jamminess which is the trademark of Jim Frediani's Vineyard.
2010 Gramercy Syrah ($69.99)
The prevalent peppery notes of Syrah will partner well with the herb-infused stuffing and both the white and dark turkey meat. Therefore, I have chosen the This wine is "perfumed, intense and complex, with Northern Rhone-like aromas of wild berry fruit, smoked bacon, lavender and black pepper, it flows onto the palate with a classically constructed, firm mouthfeel that carries vibrant acidity, beautiful richness and a great finish." Jed Dunnuck Wine Advocate 95 Points!
Hope to see you all out this weekend!