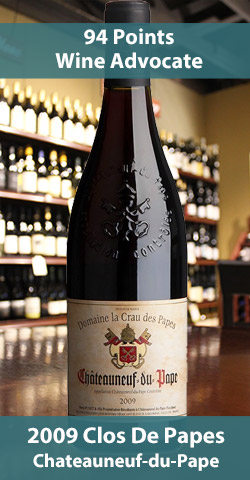 On Friday we will feature a block buster $50 event with 6 elite wines.  We have two whites and four reds in store for you from wine regions all over the world.  We will begin with Patrick Piuze's Grand Cru Chablis and the Clos Du Papes Chateauneuf Du Pape Blanc.  The reds are equally as exciting beginning with a Premier Cru Pinot Noir and finishing with three extremely fine blends.  Please note you may opt for a $20 tasting and sample the three wines indicated with an * on your tasting notes.
On Saturday I have put an exceptional lineup together of some of my favorites.  We will tour various regions of California and explore a number of different varietals.  Since we only have a couple of tastings left at Jonathan's I wanted to share some of my favorites with the you.
See you this weekend.
~ Jason Perry
Jonathan's Market La Jolla Wine Tasting:
Friday, May 9th, 2014 – 4pm – 7pm
Saturday, May 10th, 2014 – 4pm – 7pm
7611 Fay Avenue
(between Kline St & Pearl St)
La Jolla, CA 92037
Phone: 858.459.2677
View Map
Friday, May 9th, 2014 – 4pm – 7pm
Friday's Selections: $50.00 per person
Our $20 tasting includes only the wines marked with an (*)
Featuring the "Best of the Best" Tasting
*2008 Patrick Piuze Blanchots  ($84.99)
"It seems a bit pinched now in 2010.  It displays an airy quality and racy structure. A mix of lemon, apple, green plum and stone flavors is underscored by a stony intensity. This is long, so give it some time to come together. Will be at its best from 2013 through 2030. 75 cases made. –BS Wine Spectator 93 Points!
2009 Clos De Papes Chateauneuf-du-Pape ($114.99)
"A fatter, more buttery, more tropical fruit and honeyed style of wine is the 2009 Chateauneuf du Pape blanc. Creme brulee notes intermixed with honeysuckle, peach and apricot marmalade are all present in this gorgeous wine, which possesses good definition but lower acidity and less minerality than the 2010." Parker Wine Advocate 94 Points!
2007 Nicolas Rossignol Pommard ($124.99)
"The Rossignol 2007 Pommard Les Epenots – representing 75 cases from 50 year old vines – features rare meat juices; tender, ripe red fruits; and a subtly saline savor, informing a polished palate and joined by tobacco, soy, and Szechuan pepper in its long, savory finish. There, the wine's tannin becomes evident, but is entirely well-integrated. This is one serious, multi-registered 2007 that ought to be worth following for at least a decade!" David Schildknecht Wine Advocate 92 Points!
*2005 Cain Five ($89.99)
The 2006 is a warm, plump, plush wine. A Dark Crimson in color with a The nose is subtle nose of black juicy fruit and hints of roasted walnuts. It speaks of a warm sun and ripe fruit with no hint of overripe dried fruit. The palate tells the same story with its full, plush tannins that slip right down without grabbing at the back of your throat.
2006 Picconero Tenuta Toscana ($139.99)
"The 2006 Picconero is 65% Merlot, 30% Cabernet Sauvignon and 5% Petit Verdot. Sweet grilled herbs, dark blackberries, cassis, graphite, crushed rocks and French oak flow effortlessly from this virile, brooding Tuscan red. The wine's balance and sense of harmony are both superb. The sheer muscle of the fruit should allow the Picconero to develop beautifully in bottle over the coming years. This is going to be a fascinating wine to follow. Anticipated maturity: 2014-2026." AG Wine Advocate 93+ Points!
*2007 Don Maximiano Red ($89.99)
The 2007 Don Maximiano Founder's Reserve is composed of 82% Cabernet Sauvignon, 6% Petit Verdot, 6% Cabernet Franc, and 6% Syrah that spent 20 months in new French oak. A glass-coating opaque purple color, it surrenders an enticing nose of toasty new oak, graphite, scorched earth, cinnamon, clove, violets, blueberry, and blackberry. On the palate, it reveals a suave personality that combines elegance and power. Impeccably balanced, it has the structure to evolve for 4-6 years and should provide pleasure through 2027." Jay Miller Wine Advocate 94+ Points!
Saturday, May 10th, 2014 – 4pm – 7pm
Saturday's Selections: $20.00 per person
Featuring "Jason's Favorites"

2009 Wedell Cellar Chardonnay ($74.99)
Our 2009 Wedell Cellars "Hillside Vineyard" Chardonnay is all about Terrior. The wine is unlike any other Chardonnay from the Edna Valley Appellation. Although it has undergone 100% malolactic fermentation there is no hint of butter and while it has been aged for a considerable amount of time in new French oak, the oak is complimentary but not overpowering. This Chardonnay has an incredible rich mouth feel, immersing you in a spectacular balance of oak, fruit and acidity with a lingering complex finish. Because it is so balanced, we feel that we have created a wine that while enjoyable now will age and mature beautifully for many years to come…
2012 Dragonette Cellars Radian Vineyard Pinot Noir ($54.99)
Bright red. Energetic red berry and Asian spice aromas are complicated by notes of smoky minerals, orange zest and pungent herbs. Taut, linear and gently sweet, offering vibrant redcurrant and raspberry flavors and a hint of bitter chocolate. A sexy floral pastille element comes up with aeration and carries through a long, supple and gently tannic finish.
2005 Ladera Howell Mountain Merlot ($49.99)
The 2005 Ladera Merlot is dark ruby in the glass, but leaning more heavily toward garnet than one might expect for a 2005. It is bright with lightly pigmented legs. The nose is fruit-centric with black cherry, canned plum and cassis accented gently by notes of spice and coffee. The palate is nearly full-bodied with strong tannins but a finish of just medium length. Flavors include black cherry, espresso, dark chocolate and dark spice. The wine did not change noticeably with extended decanting. The 2005 Ladera Merlot Howell Mountain is a well-crafted wine with attractive flavors. It won't spawn lengthy conversation, but will go very well with a flavorful steak or braised short rib. Drink now through 2016. Highly Recommended.
2010 Tamber Bey Rabicano ($49.99)
The 2010 Rabicano introduces itself with vivid, dark ruby color outlined with a pink rim. The floral nose expresses red raspberries and strawberries mixed with incense, sage and a hint of clove. The mouth feel is lush and creamy, thanks to the addition of Merlot that tones down the bold structure of the Cabernet Sauvignon and Petit Verdot. Pomegranate and red currant fruit intermixes with spices and smokiness. The finish delivers notes of graphite and clay.
2009 Haywood Cabernet ($54.99)
"A ripe, opulent style, with rich, juicy plum, blackberry and wild berry flavors, showing touches of licorice, spice, cedar and light dusty earth. Tightly focused, offering mild tannins that give the flavors the right amount of traction. Drink now through 2024. 120 cases made. –James Laube Wine Spectator 93 Points!
Hope to see you this weekend.