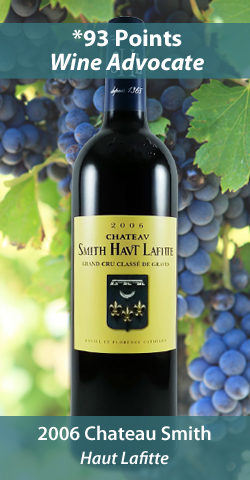 The Jonathan's Wine Tasting tour bus will visit five different AVA's here in California while concentrating on what each does best.  The cool climate of the Russian River AVA as well as the Sonoma Coast AVA are well known for their Chardonnay's and we have two great ones on tap, Dutton Goldfield and Athair.  We will stay in the cool climate of the Santa Lucia Highlands for a Miura Pinot Noir before moving on to Napa for the stellar T-Vine Merlot.  The evening will end in Paso Robles with a nice blend from RN Estate.
Bordeaux is the largest wine growing area in France. It is responsible for producing wines ranging from large quantities of everyday table wine, to some of the most expensive and prestigious wines in the world.  On Saturday Jonathan's wine tasters will experience Bordeaux, and taste wines ranging from every day wines like the Barons de Lafitte Rothschild, to the prestigious Grand Cru Chateaux Smith Haut Lafitte.  It will not be an event to miss.
~ Jason Perry
Jonathan's Market La Jolla Wine Tasting:
Friday, October 25th, 2013 – 4pm – 7pm
Saturday, October 26th, 2013 – 4pm – 7pm
7611 Fay Avenue
(between Kline St & Pearl St)
La Jolla, CA 92037
Phone: 858.459.2677
View Map
Friday, October 25th, 2013 – 4pm – 7pm
Friday's Selections: $20.00 per person
Featuring "A California Tour":
2011 Dutton Goldfield Russian River Chardonnay ($35.99)
This presents a rich mix of white peach, nectarine and white flowers, both potent and graceful, lingering with a citrusy finish. Drink now through 2018." James Laube – Wine Spectator – 90 Points!
2012 Athair Sonoma Coast Chardonnay ($29.99)
Our 2012 Sonoma Coast Sangiacomo Vineyards Chardonnay was produced from vineyards perfectly suited for Chardonnay grapes with the coastal influence and well-drained soils.  The Sangiacomo Family practices what they call 'precision viticulture' which includes pruning, irrigation and canopy management in close partnership with their clients to maximize quality and minimize environmental impact. Jim is very involved in this process, making adjustments along the way to foster the qualities he desires in the wine. This Chardonnay has a golden-hued color and aromas of honeydew melon and pear. On the palate it displays a juicy mix of concentrated flavors, smooth textures and a dollop of creamy, European butter. Excellent natural acidity lends depth, balance, and a lingering finish and allows it to have a cellaring potential of 5-7 years.
2007 Miura Santa Lucia Highlands Pinot Noir ($49.99)
"Deep blueberry and black raspberry fruit notes intermixed with hints of charcoal and incense emerge from this medium to full-bodied Pinot Noir. Silky tannins, good acidity, and a layered, rich mouthfeel suggest it can be drunk over the next few years." R Parker – Wine Advocate – 91 Points!
2008 T-Vine Napa Valley Merlot ($37.99)
There are just 420 cases of T-Vine's Napa Valley Merlot out in the world, and it's a sad thing, since it's just the kind of Merlot detractors need to taste to redeem this varietal's damaged reputation. Made from fruit grown on Calistoga's Kenefick Ranch, this Merlot is beautiful, with plum and blueberry fruit, saddle leather and spice, all coming together in wonderful, integrated harmony.
2005 RN Estate Pasa Robles Cuvee De Trois ($49.99)
59% cabernet sauvignon, 23% cabernet franc and 18% merlot) Ruby-red. Fresh blackberry and oak spice aromas are suave and impressively pure. Lush, open-knit dark berry and red cherry flavors are tannin-free and quite deep, finishing with an echo of vanilla and baking spices. This is drinking very well now." Steven Tanzer – 90 Points – Tanzer International Wine Cellar
Saturday, October 26th, 2013 – 4pm – 7pm
Saturday's Selections: $20.00 per person
Featuring wines of "Bordeaux":
2011 Barons de Rothschild Bordeaux Blanc ($17.99)
60% Semillon 40% Sauvignon Blanc this wine is a bright, pale straw-yellow in color. The nose is intense and elegant, with good aromatic complexity of white flowers, citrus fruit, and mineral notes. The palate has a good balance between body and liveliness.  It shows aromas of fresh fruit with a long finish. This is a wine for pleasure, intense and easy- drinking.
2011 Barons de Rothschild Bordeaux ($17.99)
Barons de Rothschild Lafite Collection Reserve Speciale Bordeaux is a wine that comes awfully close to having one of the highest-priced sounding names in the world.  That is because of its proximity to Chateau Lafite-Rothschild, the first-growth estate of Pauillac in the Medoc region of France. The primary elements on the palate are in fact quite directly built of merlot. Acids bolster the fruit to give it a little verve, but the tannins are subdued. The bright finish does end very clean.
2005 Domaine de la Solitude ($24.99)
A garnet red in color with a light rim. The nose is dominated by juicy plums, blackberries, vanilla and a slight hint of blackcurrant. Displays a light mouth feel for a wine with 55 % Cabernet Sauvignon. The 35% Merlot is surprisingly dominating.  Right now the wine has very little tannins, nevertheless, it is a balanced and delicate Bordeaux.
2005 Chateau Le Doyenne ($29.99)
"A sensational bargain, this unfined/unfiltered blend of 80% Merlot and the rest Cabernet Sauvignon and Cabernet Franc exhibits a deep ruby color along with a big, sweet nose of sandy, loamy soil, spice wood, damp earth, and copious quantities of cherries and currants. Hedonistic, lush, elegant, and pure, it can be enjoyed over the next 3-4 years". Robert Parker – Wine Advocate – 88 Points!
2006 Chateau Smith Haut Lafitte ($99.99)
"A top-notch success, the dense ruby/purple-colored 2006 Smith-Haut-Lafitte offers aromas of smoky, juicy black currants, graphite, earth, truffles, and forest floor. Full-bodied with superb purity, noticeable but sweet tannins, this round, generous, long wine should drink nicely for 15-20+ years.  One can't say enough about the work proprietors Daniel and Florence Cathiard have done at Smith-Haut-Lafitte." Robert Parker – Wine Advocate – 93 Points!
Hope to see you all out this weekend!