Ready-To-Eat Holiday Dinner's:
At Harvest Ranch Market, the Holidays are a special time of year for us. For years we have been providing the best, pre-cooked Holiday Dinners, complete with all the trimmings, READY-TO-EAT! We pre-cook each dinner specific for each customer in our ovens the day of Thanksgiving and Christmas and have them ready for you at your scheduled pickup time. Each dinner package requires about an hour to hour and a half of reheat time. So let us do the cooking, you keep your guests happy and you can take all the credit for it!
The process is simple! Simply place your order online or by calling your local store, give them the details of your order and when you want to pick up. We will confirm your order with you, and have everything ready at your scheduled pickup time. Just reheat and you're done!
Diestel Turkey Ranch: At the Diestel Family Turkey Ranch, we insist on providing our birds with the very best environment which allows them to grow naturally. Diestel turkeys enjoy the freedom of being raised on the range in the clean foothills of the Sierra Nevada's – never confined. From our feed mill, a Diestel turkey is fed only the finest grains – free from animal by-products.
Dietz & Watson: From the start, we have been committed to providing products that are both good and good for you. We use only the highest quality hand-trimmed, lean beef, ham, turkey and chicken breasts. We never use artificial colors, flavors, fillers, extenders or MSG. In 1996, we started the Dedicated To Your Healthier Lifestyle® program—a collection of more than 60 delicious deli meats that exceed USDA, FDA and health organization standards for healthy eating.
Brandt Beef: The Brandt family has been in the livestock and farming business since the early 1900s and started feeding cattle commercially in 1945.  With the onset of consumer concerns regarding hormones and antibiotics in the early 1990s, the Brandt family made a decision to go against the industry standard and raise their animals naturally. Today, Brandt Beef is proud to be feeding its animals a vegetarian corn-based diet for more than 365 days without hormones and antibiotic free.
Re-Heat Instructions for Holiday Turkeys and Sides:
Turkey:
Preheat Oven to 350 degrees.
Reheat Turkey in roasting pan 1 hour and 15 minutes or until internal temperature reaches 160 degrees.
Mashed Potatoes, Stuffing and Candied Yams:
Transfer Side Dish to a microwave safe dish.
Heat on High approximately 5 minutes or until the middle is hot.
Gravy:
Transfer Gravy to a microwave safe dish.
Heat on High approximately 3 minutes or until bubbling.
Holiday Gift Baskets:
We custom design all of our gift baskets based on the items you choose. Whether it be a seasonal wine, some fresh fruit, chocolate or one of our imported cheeses, our crew are ready at each store to design one for you. Our classic Fruit & Cheese Basket below is one of our most popular, but we want you you to create your own. You can also visit our gift basket page to get some additional ideas.

Classic Fruit & Cheese Basket:
Fresh, ripe seasonal fruit, imported cheeses and crackers, cookies, nuts and chocolates. An optional addition may be Champagne or Wine.
Harvest Ranch Market Gift Cards: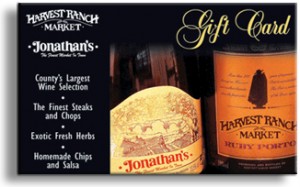 Our signature gift cards are a perfect gift for friends, family or as a customer Thank You. Stop by any of our locations today and pick a couple up.