As you already know, Harvest Ranch and Jonathans Markets have the finest selection of fine wines in San Diego. We also carry the finest selection of specialty cheeses that go perfect with any of our delicious wines.
Tamarack Cellars Firehouse Red – Columbia Valley 2008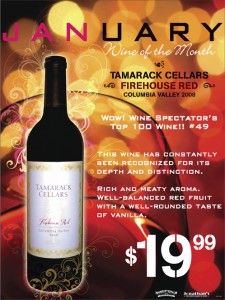 Tastes like really, really good red wine. Which varietal is lending which notes? Who cares? Rounded, lush, layered and lovely, the ultimate food wine, pairing well with everything from pasta and pizza to grilled meat and roasted chicken. Bright raspberry, currant, mocha, a touch of pepper spice, soft tannins and a lingering finish… year in and year out, it's like partying with an old friend.
Voted #49 on Wow! Wine Spectator's Top 100 Wine List, this wine has constantly been recognized for its depth and distinction.


Janaury Price – $19.99 each.
Click here to find one of our locations.